Container Gardening
Why you should try it, plus three great examples from local nurseries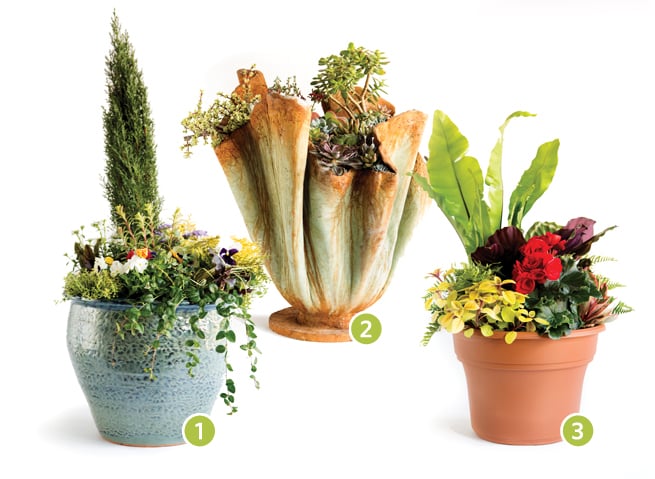 Container gardens let anyone be a gardener. With containers that come in a variety of shapes and sizes, they're easily customizable to any size space—from a sweeping back deck to a sunny living room or a small front porch. Since they're off the ground, they're less prone to attacks from pesky insects, making caring for them easier. And once you have a good foundation, it's easy to pull out spent springtime blooms to replace them with summer-loving plants when the seasons change. Here, three local nurseries offer container plantings in different styles.
1. Texture
Plants of different heights and textures add interest. In this container from the Gardens of Blackhawk ($162.86, 4225 Park Road Shopping Center, 704-525-2682), perennials, including pincushion flowers and dianthus, are mixed with annuals such as Irish moss, violas, creeping lemon thyme, and two kinds of cypress—Vintage Gold and Tiny Tower Italian.
2. Statement Piece
Create a showpiece with an unexpected container and hardy, easy-to-care-for succulents (they can last outdoors even in 40-degree weather) including jade, echeveria, sedums, and kalanchoe. This collection of succulents from Rountree Plantation ($533.32, 517 Rountree Rd., 704-523-6362) makes for a striking display in an unusual planter by John Lamos.
3. Contrast
Complementary colors create drama. In this container from Oakdale Greenhouses ($69.96, 5626 Statesville Rd., 704-596-4052), ferns, coleus, peperomia, begonia, and calathea in shades of green and yellow contrast beautifully against a red begonia.