Cooking for the King
Personal chef Glen Lyman dishes on cooking for Lebron James and Steve Smith, and his ideal kitchen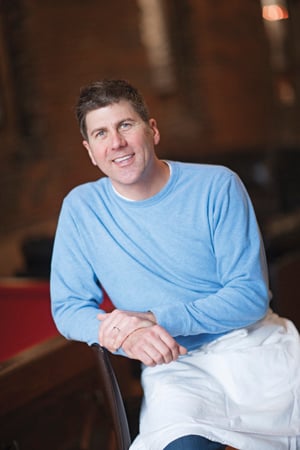 G
lenn Lyman got his nickname, "G," from his first big client, NBA superstar LeBron James. After spending five years traveling around the country as personal chef for "The King," Lyman has settled in Charlotte to run his personal chef business, G|Cooks. Here he discusses James's preferred foods and the kitchen of one of his favorite local clients, Steve Smith.
How did you get the gig cooking for King James?
I had just started my home-cooking business and my wife was the manager of the building where he was living in Cleveland. He was just eighteen. His business manager said he needed a good pregame meal. I said, "All right, what does he like?" He said one of his favorite meals was chicken and shrimp pasta. After the meal I was putting away the pots and his manager said "King James will see you now." I went in, met LeBron, and he told me he liked my food. He left me two tickets to the game.
Give us the goods on LeBron!
I was with him every day for five years. He even brought me to Las Vegas when he trained for the Olympics. I try to respect my clients' privacy, but it would probably be OK to tell you he loves SpongeBob—he has these giant slippers. One year we all went to his Halloween party and he was Batman. The people that made the movie had custom made him the suit.
What's your ideal cooking space?
One you can move around in, one with a good layout. An island always gets in the way. Think about it: you have to walk around the island to get to the fridge, the oven, or the sink. Steve Smith has the best kitchen I've ever cooked in. He has a stove with six burners and a double griddle. He has two ovens that he picked out himself. It's incredible. I can have six things on the burner at one time and two different dishes going in the oven.
What would you like to do next?
I love TV. I was a finalist to get on The Next Food Network Star a couple of seasons ago. I didn't make it on the show—I think I don't have enough drama in my life—but I have the itch.
What would you name the show?
G Cooks, of course!
What kind of things did you cook for LeBron James on a regular basis?
He burned so many calories a day he could pretty much eat anything. He had no body fat on him; it was my job to keep at least a little on him. He doesn't eat a lot of red meat or pork. He eats tons of poultry—chicken, fish, shrimp, turkey, and a lot of pasta and vegetables. Over the five years I probably made 300 different things for him. A guy with that much money can eat whatever, wherever he wants, but that's not what he wanted—he wanted good meals in his own home. And he loves Ben & Jerry's Chunky Monkey ice cream!"
How did the nickname start?
G came from LeBron. He used to call me "G Unit" and one day he was doing an interview with Ahmad Rashad. He asked him how he was going to eat well and LeBron told him "G Unit." It stuck.
What's your cooking style?
I make the food you eat every day; I just make it better for you. I do that with more healthful ingredients. It's all about the ingredients and flavors. I like to buy fresh and local, and I believe families eat best when they sit down to dinner together. I like food to smell good for a while. A lot of my clients are hard-working professionals that still want to come home and eat a decent home-cooked meal. My mantra is lean and mean during the week, low and slow on the weekends. I like to draw out the cooking process. And I say eat like you mean it!
What's it like cooking for Steve Smith?
I love the guy. He loves to cook and he's good. His wife is good, too. I went over to his house a few days before Thanksgiving and we fried a turkey together. He wanted to practice before he cooked for the whole family. I went over there with a bag of my special seasoning, thinking he wouldn't know to do that, and he started laughing at me. He had already seasoned it. Perfectly! He really is a good cook. He's got a gorgeous grill, but mine is better! It took him a while for him to let me on it because it's his baby. He loved my food so much that one day he goes, "OK, listen, it's killing me to say this, but I want you to use my grill."
What's your favorite place to eat in Charlotte?
We don't go out to eat a lot because I'm always cooking, but my favorite Queen City restaurant is the Vietnam Grill because pho is my favorite food. I love it, but I don't make it because it's so complicated. My wife and I also really enjoy Nolen Kitchen.
You're known for your honey garlic chicken wings. What do you consider some of your specialties?
I make a phenomenal meat loaf. In our house, Monday night is pasta night, and we have shells and a really great Italian meat sauce. It's my favorite thing that I make for us.