Cool as Ice
With an extensive menu, large patio, and more than 250 brews, Icehouse is South End's newest hot spot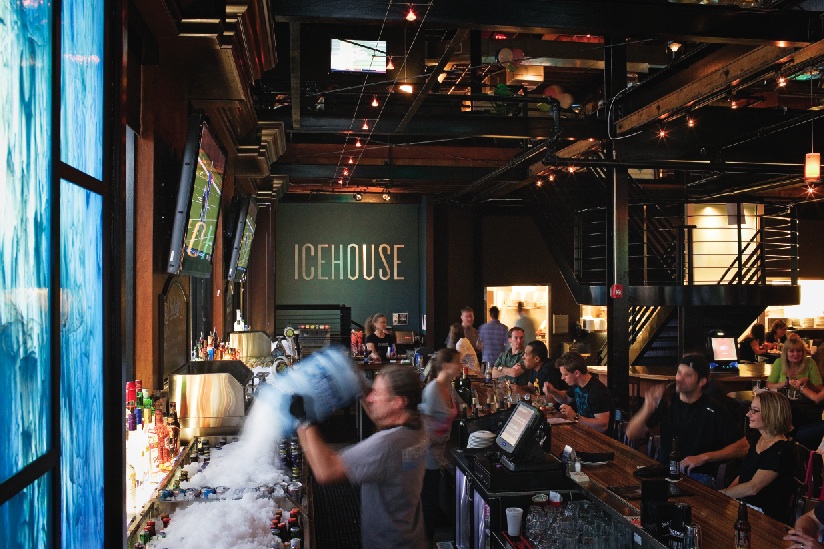 What: Icehouse South End
The 411: The space that housed South End Brewery has been renovated, and reopened under local restaurateur J. D. Duncan (Bonterra, Sunset Grille). Icehouse South End occupies just half the original downstairs interior, but Duncan has added an upstairs loft.
Vibe: The word ICEHOUSE in frosted blue glass is embedded in dark wood at the entrance, and the interior reflects this same chic design with hues of blue and dark brown. There are plenty of pub tables and stools, and anywhere you sit you're sure to see one of the twenty flat-screen TVs. Upstairs, check out pool tables and a few video games, as well as a private room, where a glass wall allows you to view the crowd below.
Who's there: Icehouse has quickly become a hot spot for viewing, drawing crowds during the summer for the World Cup and College World Series and the large outdoor patio is sure to be a destination as the weather cools.
What sets it apart: The food menu is large, including appetizers like the Thai Beef Spring Rolls (with a sweet chili sauce) as well as wraps, tacos, burgers, and entrées such as salmon and rib eye. And the Carolina Pulled Pork Plate reminds you that this place is owned by the guy who helped open Mac's down the street. Plus, beer enthusiasts will love the drink menu, which features more than 250 brews.
Where: 2100 South Blvd., 704-375-1128, icehousesouthend.com
Watch: An exclusive video