Cool Bites: Best Salads in Charlotte
The best salads to sate our parched palates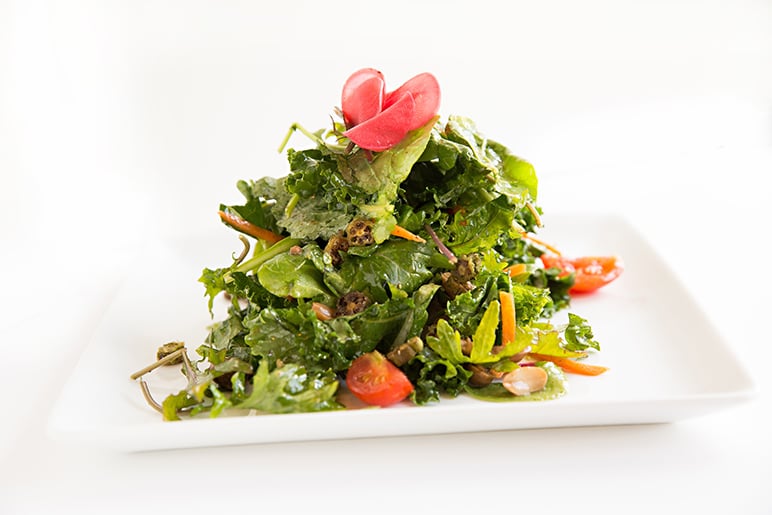 THE SNAP OF a cold, refreshing cucumber and the peppery bite of arugula make for a welcome meal when the weather is hot, so we tracked down the best salads in Charlotte. From the classic garden variety to an alternate bun for barbecue, here's where we found them.
---
Bistro La Bon
What: Beet salad
You'll find beet salad on numerous menus around town, and it's usually a combination of beets, fruit, nuts, and cheese. At Bistro La Bon, the dish pairs beets with figs, pecorino cheese, passion fruit, arugula, and candied pistachios. 1322 Central Ave., 704-333-4646.
---
JackBeagle's
What: Pulled pork salad
A massive scoop of vinegary, smoked pulled pork sits on a bed of spring greens, adorned with toppings that include mango salsa, Kansas City barbecue sauce, and cilantro lime vinaigrette. It may be a bit out of the ordinary, but at a bar such as JackBeagle's, this salad is right at home. As bartender Matt Alexander puts it: "All the flavors combined are just pretty dang good." 3213 N. Davidson St., 704-334-5140.
---
The Summit Room
What: Kale salad
Maybe it's the sorghum vinaigrette; maybe it's the okra chips, boiled peanuts, and house-pickled radishes; or maybe it's the vinegary kick to the greens. Whatever it is, this bold salad isn't your typical kale concoction. 1531 East Blvd., 980-237-2227.
---
The Asbury
What: Tomato salad
Chef Chris Coleman and Chef de Cuisine Matthew Krenz's take on the tomato salad explores multiples tastes of the heirloom tomato, with roasted, puréed, and poached forms of the vegetable together on one plate. Basil ice cream, compressed peach, sunflower seed butter, and sorrel are also on hand to play off the sweet, tart, and sometimes-savory taste of the summer tomato. 235 N. Tryon St., 704-342-1193.
---
Luna's Living Kitchen
What: Sprout It Out salad
Luna's specializes in vegan and raw fare, so its customers expect more from a salad than they would elsewhere. For meat and non-meat eaters alike, the Sprout It Out salad—a combination of local spring mix, butter lettuce, spiral-cut sweet potatoes, avocados, tomatoes, and Brazil nut "parmesan"—is filling and delicious. The hemp dressing, a mixture of tahini, hemp oil, brown rice vinegar, salt, and pepper, ties it all together. Atherton Mill, 2000 South Blvd., Ste. 300, 704-333-0008.