Copperhead Strike Coaster Unveiled at Carowinds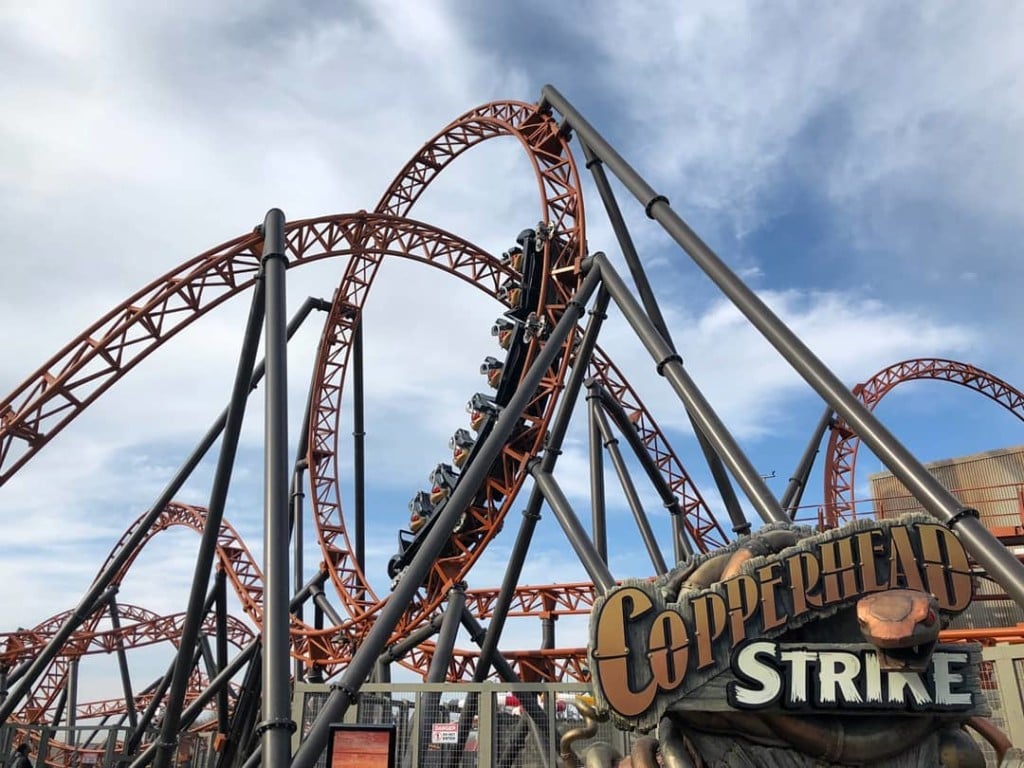 FROM ZERO to 42 miles per hour in 2.5 seconds, Copperhead Strike whipped its first riders through loops and drops today at Carowinds. The rollercoaster, which is part of the park's new Blue Ridge Junction area, is the Carolinas' first with a double launch. At its top speed, riders are traveling at 50 miles per hour—that's the speed limit of the I-277 loop around uptown.
The ride is smooth, only reaching a peak height of 82 feet (that's compared to Carowind's tallest rollercoaster, Fury 325, at 325 feet), but it's tight turns and twists make it a thrilling 2-minutes-and-24-seconds ride.
As with every coaster at Carowinds, there's a story behind the name. Granny Byrd is known for her delicious jam in the Blue Ridge Mountains, aka Copperhead Country. Riders travel through Granny's barn where the see jars and copper vats boiling, but instead of making jam, she's caught making moonshine. "Trespassers! Y'all git outta here!" a voice shouts, and your getaway car is flung forward and upside down through a loop.
Copperhead Strike, and the surrounding seven-acre Blue Ridge Junction themed area, marks the largest single year investment at the North and South Carolina park since it opened in 1973. Lisa Stryker, the park's communications director, says, "2019 is a monumental year for Carowinds." This year, the park also plans to open an on-site hotel late this year and a 101-room dormitory to expand their internship program.
Carowinds opens for the season this Saturday, March 23, from 10 a.m. to 10 p.m. For more information about their hours and other rides, visit carowinds.com.