Costume Cruise, Boofest, Grave Diggers Ball, Fall Festival and More, Oct. 22 to Oct. 25
Strap on your masks, fasten those angel wings and straighten out the pirate patch. With a slew of costume parties, this weekend is one big dress rehearsal for Halloween in the Queen City.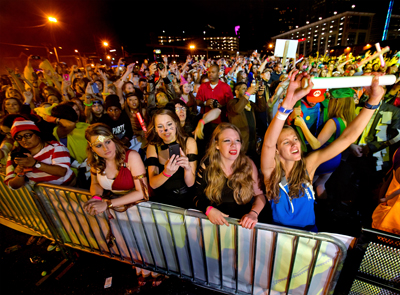 We hope you have your costumes ready, Charlotte. This weekend is a test run for Halloween, and costume contests are the name of the game. Of course if you'd like to be yourself this weekend in the lead up to Halloween, by all means. Sycamore and Passion8 are throwing one-year anniversary bashes in the same weekend. It never gets old living here. See y'all out there!
Thursday, Oct. 22
The Haunted Mill Party Bus
This trick-or-treat event is mostly all treat. The Haunted Mill is a terrifying annual addition to Charlotte's Halloween scene, and this event gives you a good excuse to get your scare on. For a $30 ticket, you'll get transportation to and from the Haunted Mill, admission to the haunted locale and a round of black light mini-golf. The bus leaves Tilt on Trade, 127 W. Trade St., at 8 p.m. Buy your ticket here, if you dare.
Date For Cure: Best Bachelorette and Bachelor Charity Auction
Open your wallets so you can open your hearts. Up for auction tonight are some of Charlotte's most eligible singles, and all proceeds Trust Your Struggle Cancer Support Group and Metro Proponent Foundation. DJ Buttafingaz has the music under control tonight. The evening begins at 7:30 at Studio Movie Grill, 210 E. Trade St. Tickets are $12, and you can buy them here.
Friday, Oct. 23
Costume Cruise
You don't have to be a pirate tonight at this seafaring costumed booze cruise, but you'll fit right in if you are. At this dress-up cruise around Lake Norman, a $35 ticket buys you transportation to and from Lake Norman, free drinks on the way and free entrance to Prohibition before and after the cruise. Registration starts at 6:45 p.m. at 200 N. Tryon St., and the bus leaves for the lake at 8 p.m. Buy tickets here.
Meet and Greet Halloween Costume Party
Halloween has taken over Charlotte this weekend, and Awesome Random Adventures is joining in on the frightful fun. The 20s and 30s meetup group is throwing this monster mash that includes free appetizers from 8 p.m until 10 p.m., free cover at a host of Uptown bars and the chance to win gift certificates in a slew of giveaways. The event is stoplight themed, which means you'll get a color-coded wristband to signify your relationship status. Saucy! Come dressed in your best (costume, that is). The party is at Vida Vida, 201 E. Trade St. at 8 p.m. Tickets are $22. Buy them here.
Blue Olive Boofest
You know the drill. Wear your best costume, win a prize. The winner at this event takes home a $25 gift certificate. There's no cover and $3 Corona specials. The event starts at 9 p.m. at Blue Olive Lounge, 14021 Conlan Circle.
Saturday, Oct. 24
Grave Diggers Ball
Flo Rida and Omi join this enormous costume party and concert tonight. With attendance in the thousands year after year, this is one of the bigger Halloween-themed parties in Charlotte. Tickets are $15 for the festivities. For more information on location, time and to buy tickets, go here.
Sycamore Brewing One-Year Anniversary Party
Join one of South End's newest breweries as it celebrates its first year of business. The anniversary party starts at noon and lasts until 10 p.m. and features live music all day, food trucks and more. The event at 2161 Hawkins St. is free.
Fall Festival
Get your scarves ready for this free fall festival in Uptown. The event will include food trucks, a rock climbing wall, games and crafts. Pumpkins will also, of course, be on hand for purchase. The festival begins at 11 a.m. at 1600 W. Trade St.
Barktoberfest
You thought the Oktoberfest craze was over, didn't you? Bring Fifi or Fido to this festival that features a one-mile walk, free lunch for the first 200 people, a costume contest for dogs and live music. Doggie treats and ice cream will be provided for each dog at the Canine Cafe. The event is at Triple C Brewing Co., 2900 Griffith St., starting at 10 a.m. Tickets are $20 for humans and free for dogs. Buy them here.
Passion8 One-Year Anniversary Party
It seems many of Charlotte's favorite new spots are celebrating their first anniversary today. Passion8, the Elizabeth favorite, celebrates one year of business today with cocktails and heavy appetizers. Tickets are $30 for the celebration at 4 p.m. at 1523 Elizabeth Ave. Buy tickets here.
Sunday, Oct. 25
BREWPUBLIK and Unknown Brewing Tailgate Party
The Philadelphia Eagles visit town tonight to take on our Panthers. The game is at 8:30 p.m., so here's a perfect daytime tailgate to get you through the rest of the day. For $20, you get entrance into Unknown Brewing, transportation to and from the brewery and a ticket to a craft beer showdown between Unknown Brewing and Victory Brewing. The tailgate begins at 1 p.m. at 1327 S. Mint St. Buy your ticket here.
Verify dates, times, prices, and other info at the web addresses listed for each event.
Be sure to bookmark www.charlottemagazine.com/Blogs/Dusk-Till-Dawn to stay plugged into Charlotte's nightlife and social scene. Click here to sign up to receive the weekly Dusk Till Dawn e-newsletter.
Want your event featured in Dusk Till Dawn? Follow me on Twitter @Jared_misner and let me know about your event, or send me an email at dusktilldawnblog@gmail.com.
Send Jared an email at DuskTillDawnblog@gmail.com, or send him a tweet @Jared_Misner.

Also by Jared Misner:

→This Weekend's Social Events
→Bowling For Books, First Friday Fort Mill, Electric Luau Party, Soulmatic Carolina Music Fest and More, Aug. 6 to Aug. 9
→The Moon Walk, Candy Fest, Silly String Party, Booze Cruise and More, July 30 to Aug. 2
→Christmas in July, More Christmas in July, National Dance Day, National Tequila Day and More, July 23 to July 26