Cottage Chic Marks 10 Years
Dilworth shop sells clothing, handcrafted jewelry, specialty children's toys, and more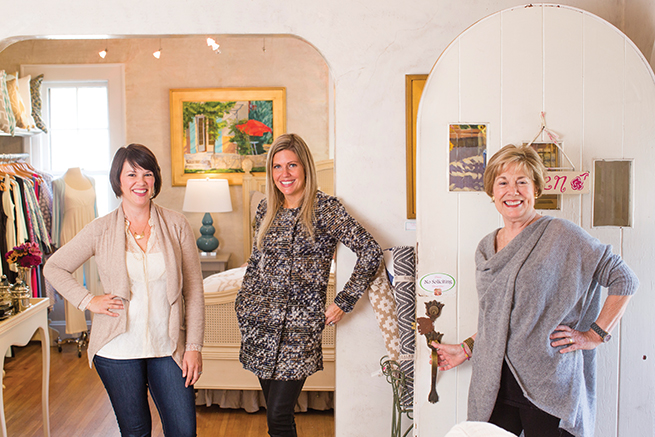 In 2003, a mother and daughter from Charlotte traveled to Pinehurst and fell in love with a downtown boutique. They dreamed of bringing the shop's concept back here, found a designer to help them create a charming, historic retail space in Dilworth, and they opened Cottage Chic on East Boulevard. Last month, Julie Page Smith and her mother, Mary Council, along with designer Aynsley Mahoney, celebrated the shop's 10th year in business.
Entering Cottage Chic through a 1932-original front door, shoppers are greeted by fresh scents, a blend of natural and lamp lighting, and plenty of personal attention. "Our store was built to convey the warmth of the city of Charlotte," Council says.
Smith, Council, and Mahoney feel strongly about selling only products they would buy for themselves or their families. The product selection ranges from clothing, fine linens, and accessories to handcrafted jewelry, luxury bath products, and specialty children's toys.
The retail space sets it apart—the home it occupies was built as part of Charlotte's first suburban neighborhood. "Cottage Chic has become so Dilworth," Smith says.
A commitment to the community helped the shop prevail through the banking collapse of 2008. Cottage Chic refined its product selection to meet the needs of customers hit hard by the recession. "If we didn't sincerely care about our customer, it just wouldn't work," Council says.
"We want to continue to create a happy place in Charlotte," Smith says.