Cottage Chic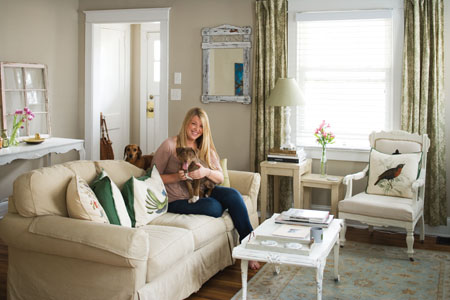 Charlotte magazine associate editor Sarah Crosland bought her first home, an updated, 1,363-square-foot three-bedroom bungalow in Plaza Midwood, in 2009. Since then, she's been overhauling the interior, room by room, to outfit it with a cozy, cottage-inspired style. We asked her for some tips on how she achieved this textured, detail-rich look in her home without the help of a designer and on a writer's budget.
Q: How did you decide on a cottage style when you started decorating your home?
I've always liked it when houses match the people who live in them. For me, I love greens and blues, and my closet has a lot of flowery dresses and cozy sweaters. Plus, I tend to layer jewelry and mix random textures and colors. So I wanted a house that matched that same bright-meets-cozy aesthetic—it's great when people see my house and say that it's totally me. In addition to that, though, cottage style made sense for my budget. With this kind of decorating, shopping at flea markets seems like the chic choice, not just the cheap one.
Q: Where do you like to shop for your home? How often do you have to go out shopping and looking to find the right piece at the right price?
I spend so much time at Sleepy Poet that I think they're getting suspicious I'm opening my own design store. I also try to go to Metrolina Expo during the first weekend every month and I love Plaza Midwood's smaller antique shops like 1510 Antiques. Most of the time when I'm home shopping I'm not looking for a particular item. I'm just browsing until I find something beautiful. The best thing about all of the places I mentioned is that you can almost always talk them down on price. Also, some of my favorite art in my house is from burgeoning artists on Etsy. This site offers artists who haven't made it into galleries yet a place to sell their work—and it offers those of us with smaller wallets a place to purchase fantastic original artwork at a fraction of the price.

Q: What room/area was the most challenging for you?

I love to read and have tons of books. Incorporating my books into my home was important to me, but I wanted to do it in a way that they accented the rooms rather than dominated them. There's not a single room in my house without books in it—whether they're on shelves, stacked under lamps, or spread across a coffee table. And while they may not always match perfectly, they're great conversation starters with guests and they give the rooms a more lived-in feeling.
Q: Fabric played a pretty big role in the transformation of many areas in your home. Where do you like to shop for fabric, and did you tackle any of those fabric projects on your own?
When I win the lottery, I'm going to re-cover the furniture in my house every season—and not just because my dogs seem intent on destroying the current upholstery. I love colorful fabrics with interesting textures. I purchased a lot of fabric at Mary Jo's in Gastonia, a huge fabric store where you can find relatively inexpensive fabrics. I also bought fabric at Metrolina and even some on Etsy. While I did have some things professionally upholstered, I took on other projects, like my dining room chairs, myself. A project like this intimidates people, but all it takes is scissors and a staple gun. Plus, now, when the chairs inevitably get a stain on them, I've got extra fabric ready for easy replacement.
Q: What areas/items were you willing to spend more on and which ones didn't feel worth it?
I love to entertain, so having a dining room that was inviting as well as functional was really important to me. The room opens to my kitchen, so it's typically where friends end up at parties, which meant that I was OK spending a little more on it. Also, I'd never had a true dining room before this house, so this was a fun room for me to build piece by piece.
Q: You painted a lot of walls and furniture yourself—how did you choose your paint colors, and do you have any advice for people who want to tackle similar projects?
Paint is another thing that's worth the splurge in most cases—I spent a lot of time and money in Blackhawk Hardware's Benjamin Moore section. My best advice for painting actually comes from one of the guys who helped me there. He told me that if I thought I'd found a color I liked, I should go one shade lighter to ensure that it's not too bold. I've used that advice, and for me, with my style, it works every time.