"Cottie & Cake" Fundraiser for Levine Children's Hospital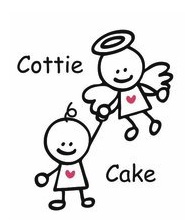 If you've got a little girl, you should highly consider checking out Addie & Ella, a locally designed children's clothing line by PDT Couture (Mai-Lis Bahr and Meghan Hampton). Their designs are simple, playful, practical, and pretty and were, of course, inspired by their own children.

As was their newest venture, "Cottie & Cake," a non-profit side business that makes colorful blankets to be donated to the Neonatal Intensive Care Unit at the Levine Children's Hospital. The idea was inspired by Meghan, who had a difficult and high-risk pregnancy carrying two twin girls (Katelynn and Scottlynn). The twins were delivered early and Katelynn did not survive. Scottlynn ("Scottie") had to be kept in critical care, weighing only 2 pounds when she was delivered. The team at the NICU was invaluable to Meghan and her family and she wanted to find a way to give back. Ella, Scottie's big sister, never did get to know little Kate, but that didn't stop her from learning both their names… though "Scottie and Kate" came out sounding more like "Cottie and Cake," hence the name of the venture.
Join them at their "Nic of Time" fundraiser for Cottie & Cake at the Duke Mansion on Thursday June 2, or buy some Addie & Ella clothing and a portion of the proceeds will be donated to the Cottie & Cake efforts.