Countdown to Baby
You may have only a few months until your baby-to-be's arrival, but these days Charlotte shops are making preparation easy. With plenty of adorable local boutiques and popular national chains, finding all you need to stock your infant inventory, look stylish with a baby bump, and dress your tiny trendsetter may be the easiest part of motherhood.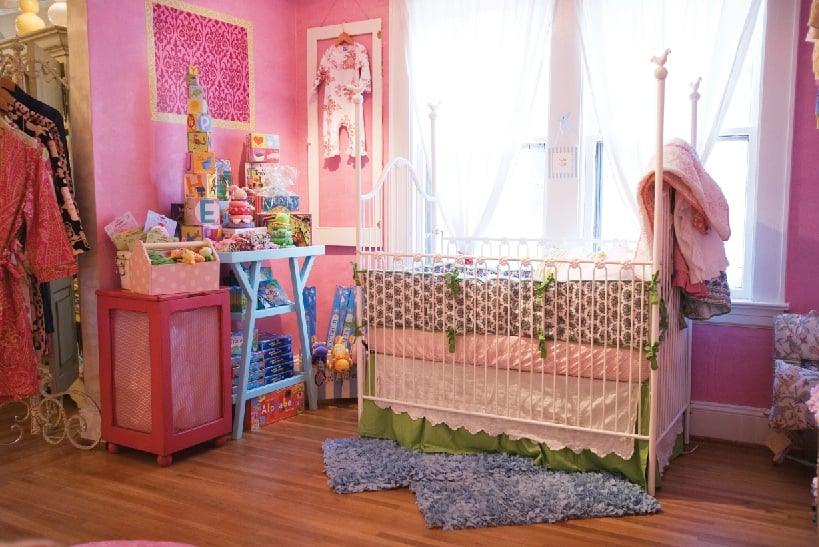 Bellini, Baby, and Kids Furniture
This baby furniture manufacturer is also a nursery design service, working with its customers to find the perfect pastel wall colors and furnishings, and even custom ordering canvas art and murals from local artists. While the company manufactures most of the furniture it sells, it also carries designer accessories, like strollers from Peg Perego and mamaroos from Four Moms. 901 S. Kings Dr., Ste. 130, 704-377-6888, bellini.com
Belly Elan
This Ballantyne baby boutique is making pregnancy glamorous and carries trendy, high-end maternity clothes from designers like Maternal America, Japanese Weekend, Annee Matthew, and even the English line Fun Mum. Also look for elegant jewelry from Luxe Lotus and fun, printed diaper bags from Bundle. 9816-D Rea Rd., 704-544-3226, bellyelan.com
Chocolate Soup
Finding fashionable—and seriously cute—clothing for your tot has never been easier than at SouthPark's children's boutique, Chocolate Soup. The shop, which has been a Charlotte favorite for more than twenty years, offers items like tiny soft cotton onesies and endearing smock dresses by popular children's lines like Petit Ami, Peaches and Cream, and Le Top. 4732 Sharon Rd., 704-556-0889
Destination Maternity
This SouthPark retailer is a mini–department store for expectant mothers. The national chain features three different collections. A Pea in the Pod carries trendy, designer lines for hip moms in the making. You'll find Lucky maternity jeans, as well as special-occasion dresses and tops. For a more casual and budget-friendly line that still keeps you in comfortable, cool threads, head to the back of the store for the Motherhood collections. Wherever you shop, though, don't leave without stopping in for a treatment at Edamame Spa, where certified prenatal massage therapists can unwind those pregnancy-induced neck and back aches. 4716 Sharon Rd., 704-552-8190, destinationmaternity.com
Fancy Pants
With this Myers Park store's cozy selection of sleepwear from Kissy Kissy and Bella Bliss, you won't need to worry about that nightly bedtime struggle anymore. In addition to footies and pajamas, it carries an extensive selection of pima cotton blankets, stuffed animals, and lovies. It also shares its space with Tootsies Too, a children's shoe retailer with brand names like Jumping Jack, A-Line, and Nike. 1025 Providence Rd., 704-344-0333, fancypantschildren.com
Nesting
These children's interior design gurus have recently expanded their store's offerings to include an extensive gift line of keepsake albums, layette clothing, toys, and books. You'll still be able to work with them to find the perfect furniture, fabrics, and lighting from premier lines like Oeuf, Maddie Boo, and Newport Cottages, but you can also find trendy diaper bags and ultrasoft receiving blankets. 6401 Morrison Blvd., 704-366-3787, imnesting.com
Pickles & Ice Cream
True to its name, this SouthPark boutique has an indulgent collection of trendy maternity wear along with pajamas, robes, and lingerie for the expectant mom. You'll find silky nursing gowns by Japanese Weekend and Moody Mamas, as well as a selection of helpful baby prep books, like guides for new dads, baby name anthologies, and a child's medical organizer called Be Well. 6401 Morrison Blvd., 704-364-1898, picklesandicecream.com
The Milky Way
Fussy babies across Charlotte have met their match with this Dilworth boutique's selection of soothing baby toys and accessories. You'll find a couple racks of Kissy Kissy layette clothing, but it'll be hard to turn down the chenille blankets from Little Giraffe, the shelves of cardboard story books, and even baby-friendly CDs by Rockabye Baby. 1419 East Blvd., 704-374-9200, amilkyway.com
Cottage Chic
With its shelves of colorful swaddling blankets and piles of soft stuffed animals, it's hard to pick just one item from the children's section of this inviting Dilworth boutique. Here you'll find a well-edited selection of cozy nursery décor, seasonal newborn attire, and gorgeous frames for showing off your favorite moments. 1232 East Blvd., 704-375-1888, cottagechicstore.com
Cutie Pies
This Ballantyne children's clothing boutique carries formal smocked outfits from lines like Amanda Remembered and Claire & Charlie, as well as fun, everyday items from BeeHave and Anita G. While the store carries clothes up to a children's size 10, this is a great place to find layette dresses and onesies for the first few weeks. 5335 Ballantyne Commons Pkwy., 704-847-4617, cutiepiesboutique.com
Lucy & Co.
Whether you just need a little help making your new nursery a happy home for your new addition or you're hoping to transform an entire space with hand-painted walls, adorable custom-designed furniture, and colorful art, this Dilworth design studio should be your next stop. Make an appointment with owner-designer Beth Keim and stop in the showroom to be inspired by her cleverly designed baby and children's rooms. 1009 East Blvd., 704-342-6655
Stork Service
Moms-to-be and new moms alike know that every little bit of help counts. Here you'll find five Charlotte services that are ready to make your—and baby's—life easier. —S. C.
Ivy's Diaper Service of Charlotte
Forget the days of washing cloth diapers. With this service—which delivers within thirty miles of Charlotte—clean, soft diapers arrive at your door each week. You use a pail liner to hold the dirty ones all week long until you leave them at your door on pickup day to have them replaced with another pail liner full of clean diapers. It's $19 a week for full time (for up to 100 diapers) and $14 a week for the part-time kid in potty training. 704-807-3016, ivysdiaperservice.com
Lucy & Co. Design Services
You want to be surprised by the gender of your baby—but you want a nursery that fits. Let these designers find out what you're having, but work with them to pick out ideas for both genders. Then, call on your way to the hospital. While you're having your little one, they're installing everything you've chosen for the perfect nursery—even putting away new baby gifts. The service starts at $150. 1009 East Blvd., 704-342-6655, lucyandcompany.com

My Gym Children's Fitness Center
The youngest members at this gym are six weeks old. A weekly forty-five-minute "Little Bundles" class ($65 per month) features baby exercises, songs, and various other types of fun for babies up to six months. Classes go all the way up to thirteen-year-olds and even include more specialized courses like karate and gymnastics. 5110 Park Rd., 704-522-6966; 9852 Rea Rd., 704-543-0682; my-gym.com
Little Miracles Baby Planning
Not sure what to put on your baby registry? Overwhelmed by the idea of stocking a nursery? Unsure of how to dress your bump? This baby-planning service takes care of all the details for moms and dads to be. With customized packages starting at $50, Abby Stonewall Kapp, the founder of Little Miracles, is focused on taking away all of the stress that comes with preparing for a baby. 704-312-0289, littlemiraclesbabyplanning.com
A Mother's Love Diaper Cakery
As any Babies "R" Us makes clear, there's a lot to buy for babies. But there are some things you absolutely need—like diapers. Here you can buy "cakes" made of diapers, as well as other gifts like bottles and bibs. The cakes range from $17.50 for a "cupcake" to $100 for a ninety-diaper cake with everything from rattles to onesies. 704-806-0593, amotherslovediapercakery.com