Couple Behind Haberdish, Crêpe Cellar Has Plans for Plaza Midwood
Jamie Brown and Jeff Tonidandel helped transform NoDa's dining scene. Now, meet Supperland.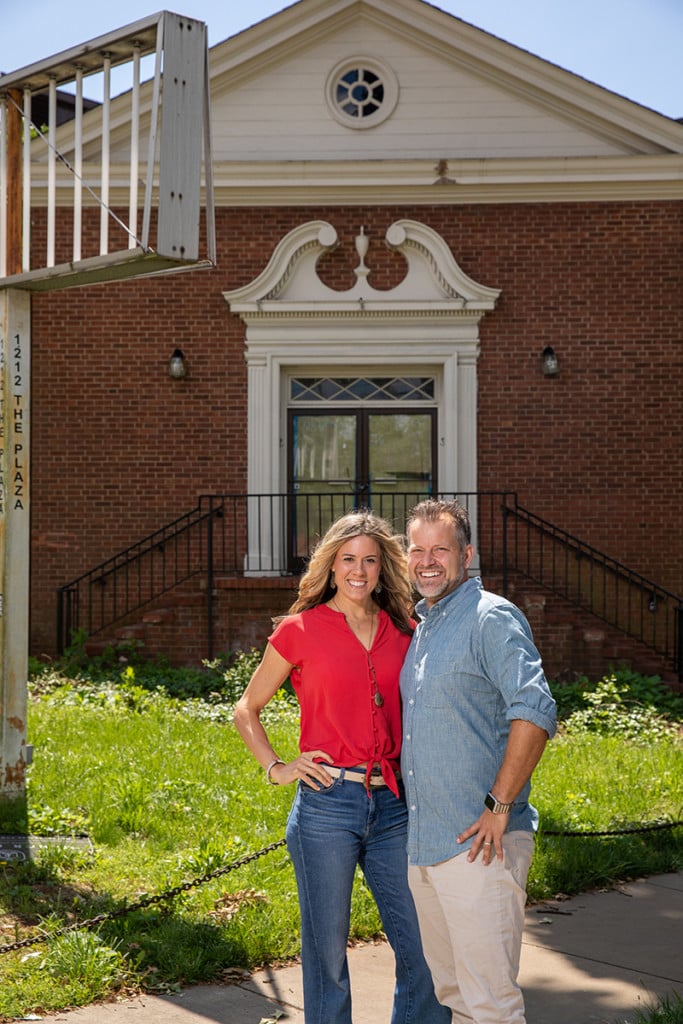 SPOUSES AND RESTAURATEURS Jamie Brown and Jeff Tonidandel would rather reuse historic buildings than take up space in new ones. A decade ago, in the middle of an economic crisis, they opened Crêpe Cellar in an 80-year-old former furniture store in NoDa and turned it into a neighborhood mainstay. Making use of such structures takes time and money, but they do it because they want to preserve a part of the city's history. "What we're doing isn't easy," Tonidandel says. "There's a reason there's not more old buildings in Charlotte."
Three years ago, after adding a bar, a doughnut shop, and a Southern mill town kitchen to their NoDa portfolio, they turned their eyes toward their most ambitious project yet, and in a different neighborhood.
In March, they finalized the lease on the historic church in Plaza Midwood they plan to transform into a restaurant and cocktail bar. Their concept, Supperland, is a nod to the traditional church potluck picnic and to meat-and-three diners. They hope to open in early 2020.
The church, built in 1952, will function as the main dining room, and a craft cocktail bar will occupy a smaller building out back. "Our main thing is preserving something as beautiful as this and giving it a new life," Brown says. To retain the church's character, they'll keep the walls raw and refinish the two-toned floors. The center aisle will remain, but instead of pews, they'll have a mix of booths and wooden dining tables Tonidandel is building himself.
For two Charlotte transplants (she's from Pittsburgh; he's from Cleve­land), they have a deep commitment to the city's dining culture—and they've cemented their place in it.
They opened Crêpe Cellar Kitchen & Pub in April 2009, at the bottom of the recession. Banks were laying off employees by the thousands, and businesses were closing all over the city. The couple had recently returned to the United States after having backpacked around the world for eight months. They'd left their corporate jobs in 2007 to travel through Europe, and spent long stints in northern Italy and southern Spain. (They made it to Seoul, Kyoto, and Osaka, too.)
When they returned, they struggled to find jobs, and Brown discovered she was pregnant with their first child.
"My husband wanted to pursue a crazy idea we had when we were traveling," Brown recalls. "He wanted to open a restaurant."
With nothing to lose but their life savings, they took a chance.
"NoDa was two-thirds vacant, but cheaper than anywhere else," Tonidandel says. "I liked the vibe—it never wanted to be too uppity. NoDa was always a very accepting, progressive part of town, and more supportive than some uptown spaces."
Their vision for Crêpe Cellar was a European gastropub, "but at the time, nobody knew what that was," Tonidandel says. "We wanted a spot where people could go out to be together and not spend tons of money. Now that everyone was poor, crêpes were a great vehicle for a $10 meal, and something no one else in Charlotte was doing."
They bought an electric crêpe griddle, used buckwheat flour like they'd seen in France, and opened with just 11 tables.
Year one was a success, and in year two, they bought the space next door and opened Growlers Pourhouse, a craft beer bar and restaurant. Today they own four establishments on the same block with the additions of Reigning Doughnuts and Haberdish. But Crêpe Cellar's anniversary matters most.
The two met at Davidson College in 1996. They were both athletes—he was recruited to play tennis, she for basketball.
They started dating after graduation and got corporate jobs. Tonidandel worked for NASCAR, and Brown worked for Lance Inc., "but we're both creatives at heart," Brown says. "We both have our MBAs, so we should probably be smarter and go make more money, but … " She smiles.
Today, they live in Dilworth with their three children, ages four, seven, and nine, and they manage 96 employees. Business is good—but they're not finished.
Once complete, Supperland will seat about 100 diners, and the cocktail bar will hold another 40. They've hired Chris Rogenski, a sous chef at Haberdish, to head the kitchen. Expect chicken, steaks, and chops cooked on a fire grill, and a rotation of Southern sides served family-style.
Brown and Tonidandel quietly eye new spaces all the time, but their existing restaurants remain the priority. Growlers will unveil a new food menu this summer, and Tonidandel says they change the cocktails three to four times a year, "because we're in a hyper-foodie culture right now, so we stay on top of that."
They say staffing is hard, "because it's the type of business where people use it as an island to get somewhere else," Tonidandel says, "but we like supporting (our employees) when we can." Executive Chef Steve Kuney has been at Crêpe Cellar since day one. Carman Spadaro, Haberdish's 27-year-old head chef, began as a sous chef at Crêpe Cellar. And bar manager Colleen Hughes, who runs the cocktail programs at all of Brown and Tonidandel's restaurants, will create the drink menu for Supperland.
After 10 years as restaurant owners, they know it takes more than just good food and drinks to make it. For Brown, it means looking at the dining experience as multisensory, as a story to be told. "(The restaurant) becomes a living, breathing piece of art that you walk into and become a part of," she says. "It's pulling together all these different elements to tell a cohesive story. Being a great chef is just one part of it."
---
FROM STORES TO POURS
According to Matt Lemere, a board member of the NoDa Neighborhood and Business Association (NBA), the buildings that house Brown and Tonidandel's restaurants along North Davidson Street were built around 1936. A few of their previous tenants:
Haberdish was L.P. McCall Grocery around 1940. In the late '50s and '60s, it was Charlotte Billiard Supply, and was later used as a storage warehouse for old coin-operated machinery.
Crêpe Cellar was a lunch counter in 1938. By 1963, it was a used furniture store, then a flower shop for a few years in the early '70s. In 2005, it became Addie's Jamaican Cuisine.
Growlers Pourhouse was Harwell's Food Store in 1939. In the '50s, it was a clothing store called Layton's Sales Company, and in the early '80s, it was Villa Heights Furniture. By 1993, Aardvark Gallery had moved in.