Couple Moves to Countryside for Peace, Ends Up with Herd of Alpacas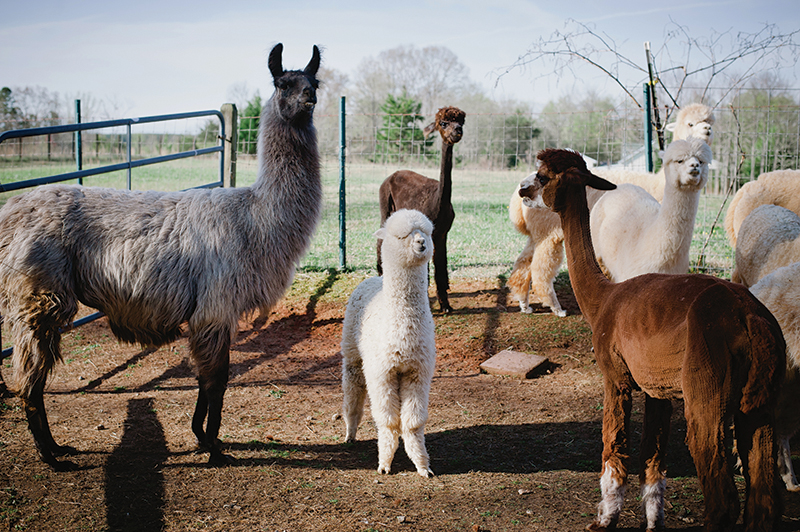 "WE DIDN'T REALLY HAVE A PLAN—we were just going to move out to the country," says Shelly Walsh, co-owner of Good Karma Ranch in Iron Station, North Carolina. "When we moved here, we didn't own any animals at all."
In 2004, Shelly's husband, Mike, wanted out of the suburban Huntersville lifestyle they were living. "He hated it," she says. "We were in a golf community, he was working fulltime in financial services, and it was all just a little too much."
Shelly was hesitant, but she knew they needed a change. They made the move, trading manicured lawns and strip malls for rolling cow pastures and old churches.
Slowly, like most farm owners, the couple began collecting animals—starting with two rescue llamas and, later, some horses. After living on the farm for a few years and appreciating the slower pace of life, Mike posed a question to Shelly: "Wouldn't it be great if this place could be my job?" Shelly liked the idea, but had no idea what it would look like. That's when Mike suggested alpacas, animals belonging to the camelid family that are bred for their fiber. Shelly's response: "What the hell is an alpaca?"
"He took me to see some alpacas, and I was immediately in," says Shelly, who adores the furry, big-eyed animals and their gentle demeanor. In 2009, they took in 10 alpacas, which they purchased from an older couple retiring from the business.
Today, a typical day in the life of the Walshes starts at 6 a.m. with barn chores. They feed the 30 or so alpacas and big white guard dog, scoop poop, and open pastures. By 7:30 a.m., they take their 11-year-old son, Ryan, to school and then both go to work. Mike, though he left banking, went back to work fulltime in addition to running the farm. Shelly is in sales. About two years ago, the couple opened Good Karma Ranch to the public, focusing on agritourism with farm tours ($8 per person) and special events such as "adult camp," a BYOB gathering that includes socializing with the alpacas. They'll start hosting yoga and wine and paint nights on the farm in October.
Their on-site farm store sells socks, beanies, and blankets made from super-soft alpaca fiber, dubbed "the fiber of the gods" by the Incans. A sign hanging in the shop touts the fiber's benefits: it's hypoallergenic, warmer than wool, doesn't hold odor, and is biodegradable. Each spring, the farm's herd is sheared, to harvest the fiber and to keep the animals cool during summer.
"We give most of the fiber away for free to a fiber co-op in Maine," says Shelly. "They pull it together with other farms across the country to make stuff, and we get it back at less than wholesale and then sell it at retail. The money isn't necessarily in the fiber itself; it's more in the retail product that we sell."
It's been 14 years since the Walshes traded the suburbs for life on the farm. "I was more hesitant to move out here, but I love it," Shelly says. "We're all in."
---
IF YOU GO
Take a free farm tour of Good Karma Ranch on National Alpaca Farm Day—September 30. Visit goodkarmaranch.com for more information.