Couple Transforms Dated Bungalow in Oaklawn Park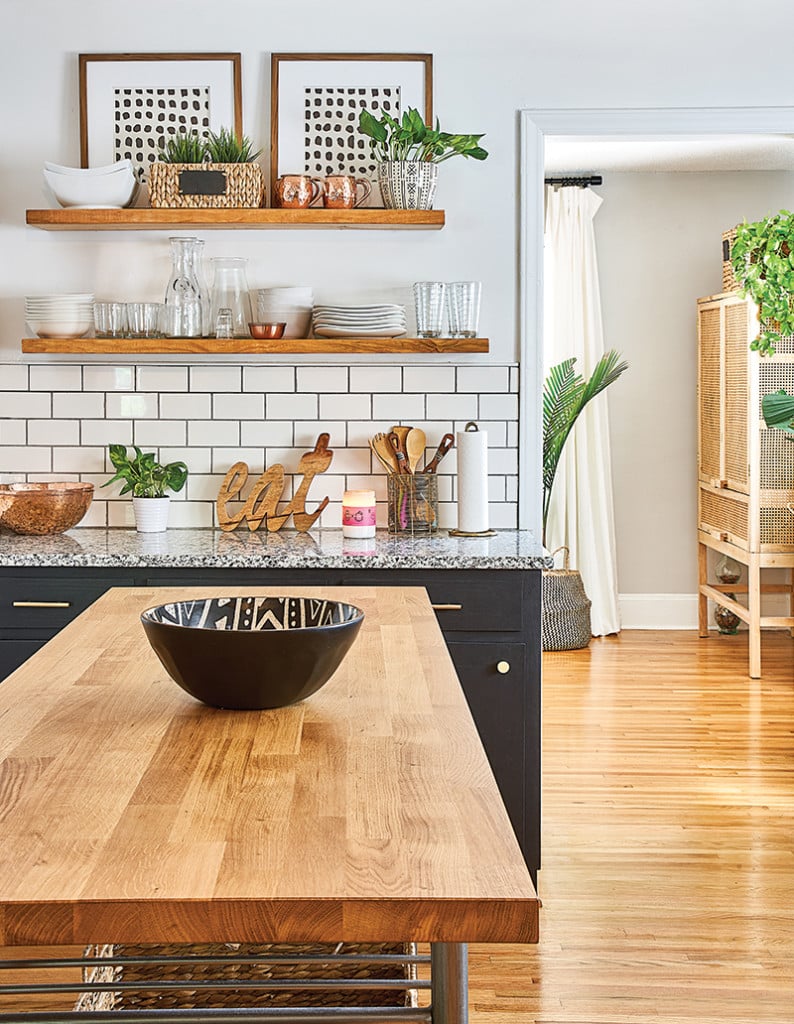 TALAYA BROWN has always been attracted to small house living, so when she and her husband Kerrick Faulkner inherited a brick bungalow from his grandparents two years ago, they had the chance to fulfill this dream.
"Before renovations, the home was very dark and closed off," Brown says. With dated wallpaper in some areas, wood paneling in others, and original oak cabinets in the kitchen, the house was in need of cosmetic updates.
Located in the Oaklawn Park neighborhood just one mile west of uptown, the home was built in 1956 by Faulkner's grandparents. At almost 1,500 square feet, it has three bedrooms and two bathrooms, as well as a family room and a formal living room.
Renovations began in September 2016, and for Brown, who had lived in apartments her entire adult life, this was the first one she'd ever tackled. "We just took it step by step, project by project," she says. "We still had a lot of projects to complete even after we moved in, but all of the major things we had to do—the biggest being getting the original hardwood floors refinished—were completed prior to us moving in."
By May of 2017, the couple finally settled into their renovated bungalow, but transformations to the interior continued. "I love living intentionally, and that includes the design choices and purchases we make for our home," Brown says. "When you live in a small space, everything needs to have its place. And I've always had a love for design, so I could see the potential in it. It was just a matter of us doing the work and making it our own."
Another priority was creating function and flow within a small space. "It's still a challenge, because living in a smaller home is an ever-changing process of 'How do we make it function better for our needs?' which are also always changing," Brown says. And because this move was also the couple's introduction to cohabitation, they had the added challenge of finding space they could share in closets that were already tiny.
Other major projects included removing upper cabinets for open-concept shelving to expand the kitchen, converting to a tank-less water heater to save space in the laundry room, and removing a wall to allow more natural light in the home.
When it came to design, Brown says Faulkner let her take the lead, and she describes her aesthetic as a mixture of modern, eclectic, and bohemian. She worked in her love of natural wood and greenery with bright indoor plants scattered throughout the house and added pops of color with tribal area rugs, pillows, and art. "Lately, I've been leaning toward a more minimal style with neutral blacks and whites, but I will always love color and try to incorporate it in our home," she says. Brown also has a habit of moving furniture, swapping rugs, and rotating wall decor on an ongoing basis, so she says it's not unusual for Faulkner to arrive home to a completely different space.
For furniture and décor, Brown shopped from a number of local sellers, including Holistic Habitat, which sells its goods in Slate Interiors and Cotswold Market, and TUFT in Plaza Midwood. She also loves the Etsy shop of Mackenzie Bryant, who often hosts pop-ups around the city. "As a small business owner myself (Brown owns a nail salon), I'm very intentional about supporting small, local, black-owned, and women-owned businesses."
While the home is still a work in progress, Brown says it's about 80 percent complete. "We still have to gut both of our bathrooms to update them from that '70s tiled look," she says. They also plan to replace some windows and make a few exterior updates, such as adding a privacy fence, replacing shutters, landscaping, and eventually updating the iron railing on the porch.
But for now, it's a place they both love coming home to every day. "It has elements that complement both of our personalities," Brown says. "And it was important to me to show people that small house living can both look good and meet all your needs with some creativity and intentionality."