Courage and Race
How two new Charlotte museum exhibits are breathing new life into an old conversation.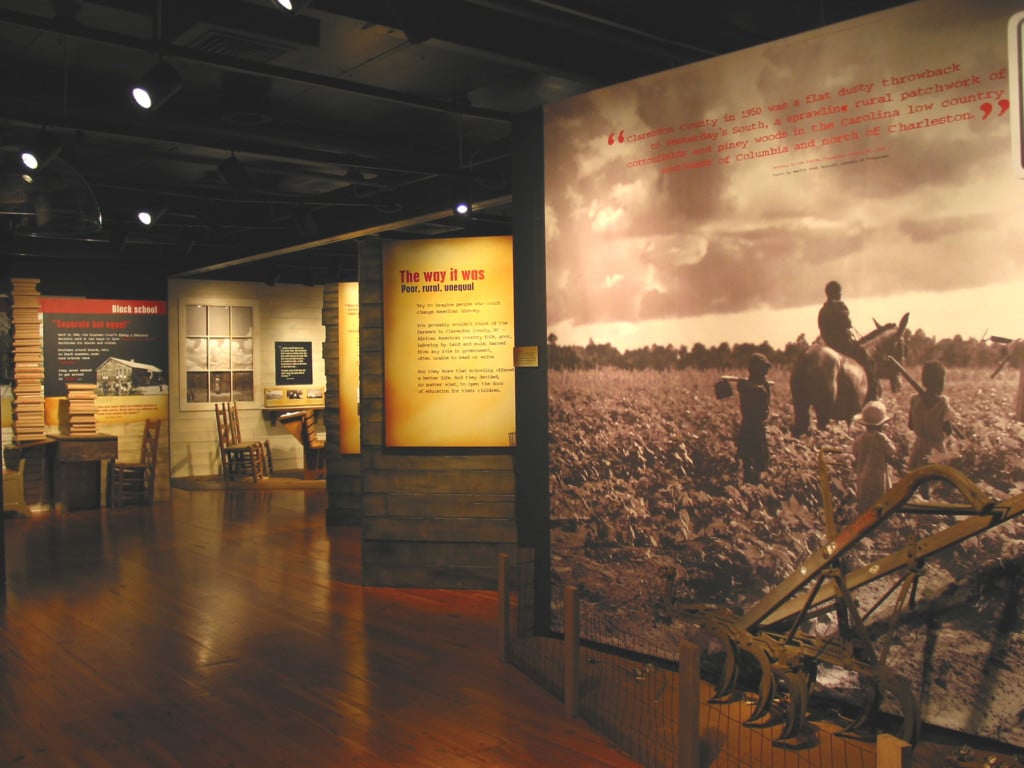 As African American History month began, two Charlotte museums, the Levine Museum of the New South and Discovery Place, announced their new exhibits, both race-related.
We had to wonder: what could Courage, an exhibit about the Clarendon County, SC lawsuit that led to Brown vs. Board of Education, and Race, a historical and scientific look at invention of the "race" idea, have to say that we, museum visitors of 2011, haven't already heard?
It's easy, after all, even for socially conscious individuals, to shrug when we hear about "race relations." We took U.S. History, we know the stories, we're not personally racists, so why must the discussion be had, yet again?
But, as these exhibits prove, and as you'll find when you visit them yourself, not all of the stories have been told. And the discussion is hardly over. Here's what these new exhibits have to say:
Courage
Courage,
the award-winning exhibit that first launched at the Levine Museum in 2004 before traveling internationally, follows the story of Rev. J.A. DeLaine, who bolstered his community to do something about the deplorable schools provided for African Americans, and thus initiated the first of five lawsuits that would eventually become Brown vs. Board of Education.
Visitors enter the exhibit to hear chirping birds and rustling grass as an accompaniment to photographs of Clarendon County cotton fields and rickety schoolhouses. You'll see a desk from a "black" classroom (stationed next to one from a "white" classroom), and see a replica of the SC Constitution that declared "mixed schools unlawful."
This is also where visitors are introduced to the three DeLaine children. The Levine has placed TV monitors with 2-3 minute testimonials from the DeLaine siblings at various parts of the exhibit. Audio-video portions of exhibits (too often leftover from 1992) are rarely the first go-to for museum visitors, but in the case of Courage, hearing stories from the DeLaines is an essential thread for the storyboards and artifacts in the exhibit. In an equally essential (if eerie) way, they also remind visitors that the "way things were" impacted people living in our very community, today.
From there, the exhibit is seamless in its chronology. Accompanied by the voices of the DeLaines, visitors can see the original 1949 petition drafted by Rev. DeLaine,. and see images of the DeLaine home, burnt to the ground by members of the white Citizens Council before Rev. DeLaine fled SC for Charlotte in the backseat of a car. Once he got to Charlotte, he flew north and never returned.
By the time you round the corner to read about the actual Brown vs. Board of Education trial, that Civil Rights landmark whose textbook impact you've had memorized since high school has become a much richer story.
The exhibit's (somewhat predictable) ending—"How Has Brown vs. Board of Education Changed America?"—might trigger your shrug reflex. There's cut-outs of teenagers posing provocative questions about race at school.
You also might shrug when you read the very black and white data on the diversity of Charlotte's schools in 2011. Again, it's easy to do so when faced with an old discussion. Arguably, though, the most valuable part of Courage is its ability to remind us why we started the conversation in the first place.
Race: Are We So Different?
As its name suggests,
Race
is a comprehensive look at how we've formed and cultivated idea of race. It pulls off the ambitious goal of examining and exploring the places out of which we pull our conceptions of race in an eclectic, compelling way.
And we do mean "eclectic." In just a few short steps, visitors will walk from a board dedicated to Obama's election, featuring quotes from politicians and activists from all ends of the political spectrum, to a long table with a video of minority high school students talking about their experience, to a series of photo portraits of multiracial individuals.
Like Courage, some pieces of Race can look contrived at first glance—"The Invention of Whiteness," for instance, or "How would the U.S. Census Count You?"
But again, visitors will find that when they take the time to sit down and read each of these supposedly tired topics, they're bound to find unknown, obscure information about racial preconceptions.
Here's just one: the term "Caucasian" comes from a German scientist named Johan Blumenbach who once divided the human race into five varieties based on skull structure. The skull of a woman that was found in the Caucasus Mountains, between the Black and Caspian Seas, was deemed the white, or European type of person.
Who knew?
That said, with such expansive coverage of a very abstract topic, Race requires more focus from its visitors than the many patrons of Discovery Place (i.e., children) might be able to muster. If you're bringing kids, maybe work some energy out at Cool Stuff before taking on this decidedly less interactive show.
But, as you gather Race's fascinating trivia, you'll notice how much about the subject you didn't know. And how, here in a child-oriented museum, you're opening new doors into a topic many have dismissed as exhausted.