Courting James Beard
Will the Celebrity Chef dinner at Bonterra help give Charlotte's food scene the push it needs?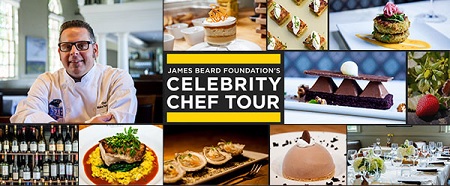 When the semi-finalists for the 2015 James Beard Awards were released earlier this year, Charlotte restaurants were left off the list. If you've done a lot of dining around town, you were probably surprised. I was home with the flu as I sat wrapped in a blanket waiting to write about our nominated restaurants with a cup of tea, hitting refresh on my email waiting for the press release to come through. When it did, we weren't there.
In the time since, I've asked a lot of chefs and others in food industry what we're missing and why our city's food scene isn't getting the credit it deserves. We've got always-reliable classic elegance, like The Fig Tree. There's Clark Barlowe's all-or-nothing local farm-to-table concept at Heirloom, which sources even its beverage menu solely from North Carolina. I've never heard a bad thing about one of Bruce Moffett's restaurants: Barrington's, Good Food on Montford, or Stagioni. Moffett has put both Barrington's and Good Food in the first round of nominations, in 2009 and 2010, respectively—but none of our restaurants have appeared there since, and we haven't had a restaurant make it past that first list.
So, what's the problem? Visibility.
People often say Charlotte is a great town to live in, but not to visit. We're not quite a tourist destination, unless you're a NASCAR fan. Most people that visit are on business—and those businessmen aren't the ones nominating restaurants for the James Beard Foundation.
This week, Bonterra will host Charlotte's first James Beard Celebrity Chef Tour dinner since Blue hosted the event in 2010. Chef Blake Hartwick cooked at one two years ago in Virginia, and he's been working to get the Celebrity Chef Tour to host a stop here. Hartwick hopes this will be a start to getting the right people here to see what our chefs can do.
"We've got such a strong core, a brotherhood, of chefs in town, and we have a really good bond," Hartwick says of the six chefs he'll be cooking with at the event. Chefs Luca Annunziata, of Passion8; Jon Fortes, of The Flipside Cafe; Jay Pierce, of RockSalt; Paul Verica, of Heritage; Bryan Skelding, of The Greenbrier in West Virginia; and Jason Lemon, Bonterra's pastry chef, will all take part in the seven-course tasting menu.
Several chefs were invited at the farmers' market, where Hartwick often runs into them; others, such as Verica and Annunziata, Hartwick has known for a long time. Chefs Alyssa Gorelick (Chef Alyssa's Kitchen) and Marc Jacksina (Earl's Grocery) will also be on hand to help out in the kitchen.
By pairing with the James Beard Foundation, Hartwick hopes to introduce some out-of-town guests to Charlotte's culinary scene. The Foundation sells tickets on its web site, letting food-lovers everywhere know about the event. As we get more and more people coming here to eat, we can hope to get more national attention.
"We've got a great culinary guild here. We have all the pieces. We have all the parts laid out. We just need to turn that page," Hartwick says. "And I think it really does start with a wine and food week." Charlotte currently has a Wine and Food Weekend, with charity events like the recent Big Bottles and Blues event. "That's the catalyst to getting the next door open to getting the right people in town, the right people coming to the restaurants."
Hartwick says he and other chefs in town are talking about how to show off what our restaurants can do during that wine and food week. In the meantime, he's been planning donations from winemakers and farmers and working to promote tomorrow night's event. As host, he's planning the logistics for the event, as well as running the kitchen as Bonterra's chef. And, it seems, helping to guide Charlotte's future in the food world.