Cowbell: Burgers That Rock
Cowbell serves up fancy burgers with a rock-and-roll attitude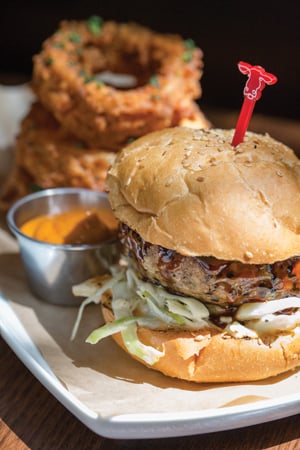 If MTV were a restaurant, it would look like Cowbell Burger & Bar. The new restaurant/bar opened in mid-March in the former Nix Burger & Brew spot on North Tryon Street. But Cowbell looks nothing like its predecessor.
From the group behind Mortimer's and Leroy Fox, Cowbell has an energetic vibe, and it's riddled with pop-culture references. Portraits of rock icons including Robert Plant and Jimmy Page, all by local artists, decorate the walls, along with a rotating collection of vinyl, neon lights, song lyrics, and two flat-screen TVs that play an ever-changing selection of music videos. But the dining area doesn't feel cheesy or theatrical—instead, it's swanky and sleek, with dark leather seating and reclaimed wood tables. A large wraparound bar with a striking double herringbone pattern offers additional seating at the back of the restaurant, but the best seat in the house is the large booth right in front, nicknamed the "mob booth," offering great views of the dining room and the street.
The menu from Chef Ethan Moyer is, not surprisingly, a meat-lover's dream, although there are a few satisfying vegetarian selections. On the appetizers list, hot pretzels ($8)—soft pretzel bites fried and served with a creamy Guinness cheese dipping sauce—are a standout, along with thick onion rings ($8), served with chipotle aioli.
But the burgers are the stars of the show here. The signature burger, "GFY" (it stands for "Good For You" and costs $20), covers the restaurant's standard beef patty—a blend of chuck and brisket—with decadent toppings that work unexpectedly well: foie gras, arugula, prosciutto, house-made apricot marmalade, and creole mustard. The special touch? It's served on a black plate with a silver skull, special black silverware, and a black cloth napkin.
Although the lineup of 17 burgers is beef-heavy, there are several alternatives, including turkey, pork, and veggie, along with chicken sandwiches and four hot dogs. The Dumpling ($11), an intriguing and slightly spicy Asian-inspired pork burger, comes on a sesame bun with a hoisin glaze, slaw, and Sriracha aioli. Many of the restaurant's enormous quarter-pound beef hot dogs come with fresh toppings. The Mexicali dog ($8) is topped with avocado and house-made pico de gallo. The Sweet Potato Corndog ($6) is dipped in sweet potato batter, fried, sprinkled with maple sugar and served with a spicy honey mustard—a mixture of sweet and spicy that almost works but doesn't quite satisfy.
A large selection of whiskeys and specialty cocktails round out the Cowbell lineup. But it's the restaurant's interesting and creative twist on its namesake dish that makes it stand out in burger-obsessed Charlotte.