Cracked Crowns: 2011's Top Stupid/Crazy Moments
When someone buys a block of wood thinking it's an iPad and someone else shoots himself in the leg on a date, you know it's been a good year for stupid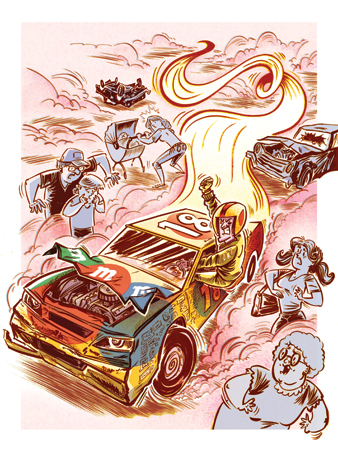 Health Care, Crime, Jail Overcrowding, and an Overflowing Court System: Man, This Guy Is a Walking Political Campaign
This past June, fifty-nine-year-old James Verone walked into a Gastonia bank and handed a teller a note that read, "This is a bank robbery. Please only give me one dollar." Then he said he would sit down and wait to be arrested. Verone told WCNC that he couldn't afford medical treatment and figured the jail would take care of him. He got what he wanted. As of late November, Verone was still in jail.

Yet Another Reason Why Guys Should Never Go to the Bathroom Together
In November, three Charlotte Boy Scouts were on a hike in the Pisgah National Forest with their troop when they decided to relieve themselves. The quick stop separated them from their group. Dozens of crews searched for them overnight, and a helicopter finally spotted them the next day.
Are We Sure This Wasn't Just Another Crazy Ploy for Free Health Care?
A Kannapolis man called 911 and told the dispatcher, "I just tried to rob the store and I got shot!" Police say the clerk at an area grocery store shot John Davidson III twice when he attempted a robbery. Davidson crept outside and hid in the bushes while calling for help. As of early December, Davidson was still in the hospital.
The Speed Limit Wasn't 65, But the Guy Who Beat Him Up Was
In May, NASCAR driver Kyle Busch was stopped by police for driving his Lexus LFA supercar 128 miles per hour on a two-lane, 45-mph road through a residential neighborhood in Iredell County. He told the officer that the $350,000 car was "just a toy." But not to be toyed with, just a couple weeks later, was NASCAR team owner Richard Childress. Fightin' mad because he believed Busch had carelessly wrecked one of his drivers during a truck series race, the sixty-five-year-old Childress reportedly approached the twenty-six-year-old Busch in the garage after the race, punched him, put him in a headlock, and fed him a few more licks before the one-sided fight could be broken up.
Now This Is a Family You Do Not Want to Cross at the PTA Meeting
There's a strong rivalry between the girls basketball teams at Butler and East Mecklenburg high schools. Last January, tension spilled over during a game, and the father of a Butler player, who'd transferred from East Meck before the season, attacked a school resource officer. The man's wife and daughter joined in on the brawl as other police officers backed up their colleague as a packed house looked on in astonishment. WCNC captured the fight on camera and the video quickly went viral nationwide. The family trio was arrested.
No Headline Can Do This One Justice, So Here Goes: A Woman Bought a Block of Wood with an Apple Logo Thinking It Was an iPad. In a McDonald's Parking Lot. Also, the Wooden iPad Was Inside a FedEx Box. Which the Woman Did Not Open Until She Got Home. Then She Called the Cops.
The criminal masterminds wanted $300, but when Spartanburg's Ashley McDowell told them she only had $180, they cut her a deal. Happened in August.
We Know You've Been Drinking, But Dude, It's the NASCAR Championship, Not the Fall of Tripoli*
In November, Brian Young of Clover, South Carolina, was so excited that Tony Stewart won some sort of NASCAR thing (really, we could just stop right here. Tony Stewart has fans?), that he fired his 9mm handgun into the air. The cops came and told him not to do it again. Five minutes later, he did (remember, he was really excited). When the cops
came back, Young answered the door with a beer in his hand. He said, oops, I did it again (his fiance, ever-supportive, backed him up on this), and he was arrested.
At Least It Wasn't an Ed Hardy T-Shirt
Two men invaded a house off Eastway Drive in March while a man and woman were inside. They stole a wallet and jewelry, and as they attempted to make their getaway, the man of the house ran after them and a struggle ensued. The thieves got away, but a T-shirt fell out of the suspects' car. The T-shirt bore his mug shot from a previous arrest along with the words "Making money is my thang." Two days later, the fashion-backward guy turned himself in to police.
We Could Write a Dozen Clever Headlines, but Instead We'll Just Say This: The Man's Name Is Waka Flocka Flame
A group of men allegedly tried to rob Atlanta rapper Waka Flocka Flame in February while he was getting the stereo system on his tour bus upgraded at Car Stereo Warehouse on Independence Boulevard. Several shots were fired between the assailants and the rapper's security team. One person was shot but not seriously injured, and six suspects were apprehended soon after. Three months later, however, saying that none of the people involved nor witnesses would corroborate what happened, District Attorney Andrew Murray dropped the charges, which had included attempted armed robbery, conspiracy, and discharging a weapon into occupied property.
Also, This: Hey, Raleigh, Want a Banana?
On its annual list of "Best Places for Business," Forbes ranked Raleigh first in the country, while Charlotte came in way down at twenty-second, a drop from seventeenth the previous year. About Raleigh, the magazine wrote: "Low business costs and a smart labor force make North Carolina's capital an attractive spot for employers like First Citizens Bank and Progress Energy." Except! Charlotte-based Duke Energy acquired Progress Energy soon thereafter (assuming the Feds allow the merger to go through).
"Hey, Remember Our First Date When I Shot Myself? Good Times."
A man was on a first date with a woman in SouthPark at Ruth's Chris. When they returned to his car, a gun he kept there somehow discharged, shooting him in the leg.
Reason Number 37 Why the NBA Lockout Was Bad for America
It had to be tough to be an NBA player this fall, sitting around with all those millions and no half-empty arenas to play in. Former Charlotte Bobcat Stephen Jackson (he was traded to the Milwaukee Bucks in June) decided to kill time by releasing a profanity-laced rap ditty and music video. One line from the song: "Let's talk money, homey. What you saying, bro?/My pockets keep bucks like the same team I'm playing fo'."
* We totally stole this headline from Jeremy Markovich's Twitter stream (@deftlyinane). It's OK. He's one of ours.