Cracked Crowns 2014
Our annual list of the most awkward, frustrating, and bless-your-heart moments of the year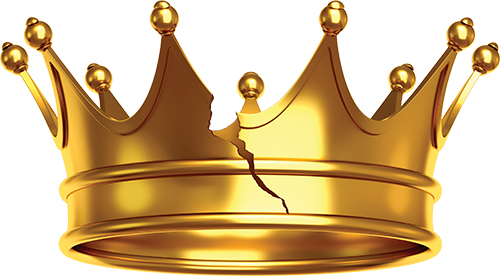 Sunnier Shores
Ah, Brazil. Land of gorgeous beaches, gorgeous-er soccer players, and ruthless corporate buyouts. Chiquita flirted with Irish company Fyffes while playing hard to get with Brazilian giants Cutrale and Safra but finally agreed to a buyout from the Brazilians at $14.50 a share in October. We know what's up, Chiquita. This isn't about corporate tax rates, debt assumption, or termination fees. It's about whether you want your corporate headquarters in Dublin or Rio, and it doesn't take a degree in economics to figure that out.
---
Patrick Cannon's Feminine Side
While fellow politician Leland Yee was cutting deals with gunrunners in San Francisco, Patrick Cannon opted for a less violent type of crime. In return for political favors, he asked only that his "business partners" invest in his line of feminine hygiene products, HERS. Rest easy, Summer's Eve: Cannon won't be stealing your customers just yet. At least not while 44 months in prison for public corruption are HIS.
---
Air Traffic
Charlotte Douglas International Airport has spent $120 million on its new hourly parking deck. But why? With the never-ending construction and lane closures, you can just leave your car in the traffic to the departures terminal, fly to Europe for a weeklong vacation, and return to find that traffic hasn't moved an inch. Take that $5 per day you saved on long-term parking and use it to pay for a seat with extra legroom.
---
Reese and Desist
We're not saying he was walking around Home Run Porch smacking hot dogs out of children's hands, but Jerry Reese was a major-league bummer leading up to BB&T Ballpark's April opening. Armed with seven lawsuits, he was like the guy who brought an acoustic guitar to the party, Dave Matthews Band covers and all. His main argument? Charlotte should be wooing Major League Baseball. Tell that to the 687,715 fans who made the new home of the Charlotte Knights the most-attended minor-league ballpark in the country last year.
---
Where Everybody Knows Your Mug Shot
Rough year for Ed's Tavern. There was Kenan Gay's murder trial, in which prosecutors claimed that the then-23-year-old law school student intentionally pushed Robert Kingston into the path of a car outside the Dilworth bar. The divisive trial ended in a not-guilty verdict. Months later, another patron decided to make a different kind of mark on the property. According to police, after the bartender cut him off and he couldn't buy another drink, he rammed his truck into the front of the tavern.
---
A Conversation about Toll Roads
Hey, should that stretch of Interstate 77 between Huntersville and Davidson get more lanes?
Yeah, absolutely!
Cool, cool. Wanna make those lanes a mix of toll and high-occupancy?
Huh? No, that sounds—
We don't know how much the tolls will be, but some are guessing a $20 round trip between Mooresville and Charlotte. Sound good?
Please don't—
Oh, and hey, we keyed your car before this conversation.
---
Record Breakers
Then-state House Speaker Thom Tillis and Senate President Phil Berger became a dynamic duo of denial when they teamed up against same-sex marriage in October. The pair made a last-ditch effort to defend Amendment One, which defined marriage as between a man and a woman, after a North Carolina judge declared it unconstitutional. But many in Tillis's home county didn't share his views. Same-sex couples helped set a record for the most marriage licenses issued in Mecklenburg County in a single day.
---
Ashes to Ashes
Duke Energy has played god in North Carolina, damming the Catawba River to create lakes and bringing electricity to thousands of homes. Now, like a vengeful Old Testament deity, Duke has the power to unleash a plague on the state through unlined, uncapped ponds of toxic coal ash located near major drinking-water sources such as Mountain Island Lake. The worst part? Following the massive Dan River coal ash spill last February, the state legislature passed a bill requiring Duke to remove the ash or cap the ponds. But lo, Duke Energy has spoken from on high and said it wants customers to foot the multibillion-dollar cleanup bill. Maybe we could ask for a flood of locusts instead.
---
The Incredible (Heath) Hulk
Charlotte-Mecklenburg Schools have taken a paddling recently: teachers moving out of state, a sales tax referendum that tanked, and now an ex-superintendent whose personality resembles The Incredible Hulk's. Heath Morrison's mild-mannered alter-ego is a sweet guy who fought to close the achievement gap and increase teacher pay. But question his budgeting for schools or book him a hotel with subpar exercise equipment? HEATH SMASH!