Cracked Crowns 2016
Our annual showcase of things that happened in Charlotte, or around Charlotte, or to Charlotte people, that made us use that straight-faced emoji thing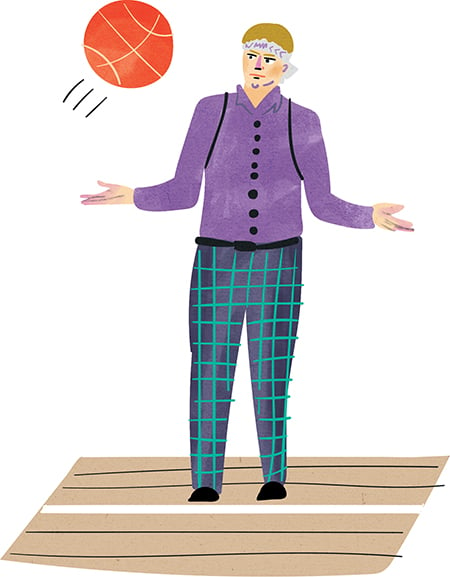 EVER YEAR has highs and lows, but 2016 seemed to go higher and lower than most. We added some real and metaphorical hardware to the trophy case, but those achievements (a Panthers NFC Championship!) always seemed to be followed in short order by less than great results that tarnished the shine (post-Super Bowl press conference!). Fun new additions to the city (beaches! Public art!) were not without their flaws (gross water! Oddly forbidding!). Despite the ups and downs, we made it through, and if nothing else, we'll always have the potato puns and those three weeks when everyone was into Pokemon GO.
---
Purple Shirt Guy Pokes Bear, Immediately Regrets It
The 2015-2016 Charlotte Hornets finally won a playoff game (three, in fact!), their first since 2002, but fell short of advancing beyond the first round of the playoffs after falling to the Miami Heat in a seven-game series. Their fate was arguably due to a tall, slim, passionate Hornets fan named Michael Deason, who sat courtside during Game 6 of the series in Charlotte. Sporting a headband, purple shirt, and for some reason a backpack, he antagonized visiting Heat players from the sidelines so much that he was dubbed "Purple Shirt Guy" by the television and social media audience who picked up on his antics. Deason's jeers seemed to tip the karmic scales—and tick off Dwyane Wade to the point where it seemed like he couldn't miss—in a way that was too much for the Hornets to overcome.
New Beach Opens with Hardly Any Poop
Lake Norman's first beach with public access, Ramsey Creek Beach, opened to fanfare over Memorial Day weekend. The opening was problem-free, assuming you're willing to overlook hordes of visiting beachgoers descending on overwhelmed neighborhood streets. Later in the summer, Mecklenburg County abruptly closed the beach to the public after water testing revealed the presence of a bacteria often found in animal intestines. Officially, the beach was closed due to "elevated levels of fecal coliform," which is the nicest possible way to say, "It might have been 'poop water.'" The beach reopened soon afterward, to the delight of people who must really, really love being in the water.
Teen Flips Bottle, Nation Flips Out
Mike Senatore has a skill. Specifically, flipping a bottle of water onto a table. I know, I know, it sounds too amazing to be true, but hear me out. Senatore brought down the house at the Ardrey Kell High School senior talent show in May with his simple trick: flipping a one-third full bottle of water onto a table, landing it upright, and walking away. Hundreds of thousands of online video views and a performance on The Late Show with Stephen Colbert later, Senatore cemented his legendary status in the pantheon of elite bottle flippers.
Father of Panthers, Eater of Hardee's
To honor owner Jerry Richardson's 80th birthday, the Panthers erected a statue outside Bank of America Stadium that depicts Richardson gesturing toward the city of Charlotte while flanked by two aggressively perturbed panther bodyguards. This statue is a great contribution to the city's public art scene, which until now had been severely lacking in portrayals of men wearing suits surrounded by furious monsters.
Apparently Donna from Receivables Loves the Panthers Now
The success of the 2015-16 Panthers was horribly tainted as office denizens around Charlotte found it necessary to don ill-fitting, newly-purchased Luke Kuechly jerseys and pose for group pictures with office-mates while sloppily executing "the Dab," which was as cool as gym socks and sandals by the time the Super Bowl rolled around. Pro Tip: If Bill Gates and weathermen and City Council members are doing the "latest dance craze," it is no longer the "latest dance craze."
Eastland Mall Keeps Being the Best Eastland Mall It Can Be
While the Eastland Mall site idly awaits a game-changing moonshot of a concept to restore its former glory, Charlotte City Council sold off 11.4 acres of the site to Charlotte-Mecklenburg Schools for a K-8 campus. Slick renderings from developers with big ideas have shown this site as a movie studio and sports complex. Sometime soon it might be worth proposing a museum of presentations for all the failed ideas for the site.
We Are Never, Ever Getting Back Together, Queen City
City Manager Ron Carlee stepped down July 1, which means Charlotte has had five mayors and five city managers over the course of four years. Much like famously jilted music sensation Taylor Swift, at what point does the city look at the string of failed relationships and think, "Maybe it's us?"
Drivers Duck Spud Muck
Fifty thousand pounds of potatoes spilled from a semi-truck onto I-77 near uptown in May, snarling traffic for hours. The driver of the tater truck fell asleep and then mashed the brakes to slow down, but still hit a barrier wall, spilling spuds onto the pavement. (He was shaken up but escaped any serious injuries.)
While the ensuing gridlock creamed the morning commute, it gave Charlotte drivers plenty of time to consider the potato-themed puns they could use to hash out the events of the morning with their coworkers.
Pokemon Go Confuses Your Parents
Charlotte was far from immune to the Pokemon GO craze of July 2016. More than 1,000 game players showed up to catch 'em all at Romare Bearden Park in uptown for a meetup to play the game, prompting less tech-savvy Charlotteans around the city to simultaneously remark, "I don't understand it, but hey, at least they're spending time outside."
You Don't Have to Go Potty, But You Can't Stay Here
The count of breweries in the Charlotte region topped 40 this year. The debate about whether children and dogs are appropriate brewery customers also swelled, as brewery-going citizens were forced to choose between free-market capitalism and not wanting to feel guilty about being over-served in front of an infant.
Charlotte's Armchair Psychologists Proudly Reveal Themselves
Cam Newton's post-Super Bowl press conference consisted of giving a few one-word answers to reporters before the league MVP left the podium after two-and-a-half minutes. The reaction to the quarterback's "temper tantrum" revealed that, in addition to armchair quarterbacking, a certain segment of Panthers fans is also extremely adept at explaining the mindset of a 26-year-old minutes after he suffered a monumental career disappointment in front of millions of viewers.
John Short is a freelance writer (among other professions) who loves digging up Charlotte's past and pondering its future. The Meck Dec is real even if it's not. Think about it. Email him at jwesleyshort@gmail.com with your favorite Charlotte history trivia or just say hey when you see him on the streetcar.