Craft beer garden opens at Time Warner Cable Arena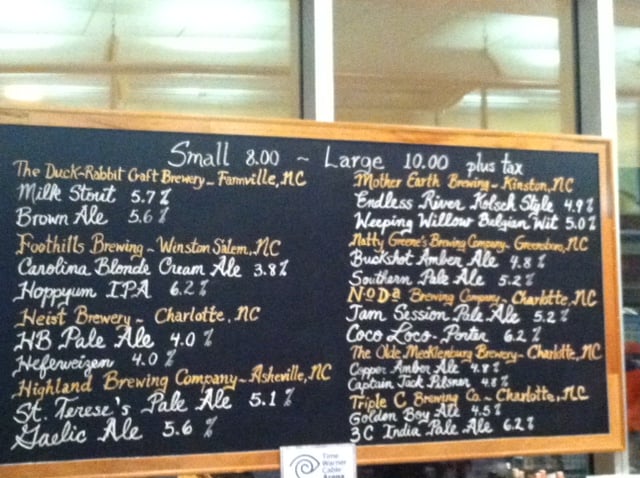 In a continuing effort to bring in more fans, the Charlotte Bobcats have been making numerous changes over the past year, highlighted by the decision to return to the original Hornets name beginning next season.
But this year, the Bobcats are introducing something else that will provide a little buzz: the NBA's first craft beer garden. Located near section 201 in Time Warner Cable Arena, the craft beer garden features nine North Carolina breweries, including four from Charlotte.
"We're always trying to find ways to enhance our fan experience, and the craft beer business has really become a hotbed in North Carolina," Bobcats president and chief operating officer Fred Whitfield said. "So as we looked at potential partners in the community, we found some local breweries that are really starting to grow their business and would be appreciated in our arena.
"So we decided to create a destination where people can go buy their favorite craft beer and share the North Carolina heritage. It's really exciting to me."
Last Friday, Whitfield and representatives from the nine N.C. breweries featured in the craft beer garden were on hand for the official "vine-cutting." The Bobcats kept the garden's construction local as well, as it was built by the Huntersville-based company Crafty Beer Guys.
NoDa Brewing, Olde Mecklenburg Brewery, Triple C Brewing and Heist Brewery are the Charlotte craft representatives in the garden, with Highland, Foothills, Natty Greene's, Duck-Rabbit and Mother Earth rounding out the breweries. There are 18 taps at the craft beer garden, so each brewery has the opportunity to offer two beers of their choice.
The garden replaces the old Flight Deck in the upper level of Time Warner Cable Arena, as the Bobcats were looking to improve that bar area. And after doing their homework, bringing a craft beer presence into the arena was a no-brainer.
"We do our research out in the community to see what areas of business continue to grow and we noticed that North Carolina is in the top 10 of the country in craft brew business," Whitfield says. "So we thought this was something that North Carolina folks could appreciate, and we could have a destination here where everyone could know they could come to one part of the arena and get their favorite craft beers."
Along with the giant bar, the craft beer garden also has an element of brewery design, including vine-wrapped columns that also contain plaques that tell the story of each brewery. There are even a few brewery tanks, including one that has been passed down from South End Brewery to The Olde Mecklenburg Brewery to NoDa Brewing before being retired.
The Olde Mecklenburg Brewery's plaque at the new craft beer garden in Time Warner Cable Arena.
"We're very excited about this opportunity," NoDa co-owner Todd Ford says. "When the Bobcats approached us and explained the concept they had and wanted to fulfill, it really excited us because not only did it involve us, but other North Carolina breweries. And this is set apart from other NBA arenas because it really now focuses on local craft beer, and local food for that matter as well."
This is Triple C's first exposure in offering beer to a large venue, and head brewer Scott Kimball said he likes the fact that there are numerous events at the arena where craft beer will be offered. (Although the official unveiling was last week, the craft beer garden's actual debut was the Pearl Jam concert Oct. 30, which, among other things, allowed N.C. House Speaker Thom Tillis to enjoy a Duck-Rabbit Milk Stout.)
"We had some other offers (previously) and we felt this was the best one, partly because of the basketball team but also the other ways they use the arena," Kimball says. "So it's not just the basketball games, but also the concerts. It's a big push beer-wise because they go through so much volume. So to commit to something like this we want to make sure we can hold up to that bargain, and that's why we were selective (in the past)."
It should be noted fans don't have to travel upstairs each time to get a craft beer, as the nine breweries' taps will be available in the lower areas of the arena as well. Small beers (16 oz.) are $8, while 20 oz. beers are $10.
This is a multi-year partnership between the breweries and the arena, and early indicators (the bar was packed for the Pearl Jam concert and has received steady traffic for Bobcats games) show the craft beer garden is likely to be a mainstay, giving fans an opportunity for better beer.
"I love the way they presented it in that it's the craft beer community, because that's how it is," Kimball says. "We're all friends and work together. In the past, you might see one big national or international brand that could have run this bar and now you've got nine different small, independent North Carolina-owned companies that are working together and selling our brands and products. So it's a win for all of us."
Triple C co-owner Chris Harker, Bobcats president Fred Whitfield and Triple C head brewer Scott Kimball, along with two Bobcats cheerleaders, were on hand last Friday for the official unveiling of the craft beer garden at Time Warner Cable Arena.