Craft Queen
DIY Wedding Tips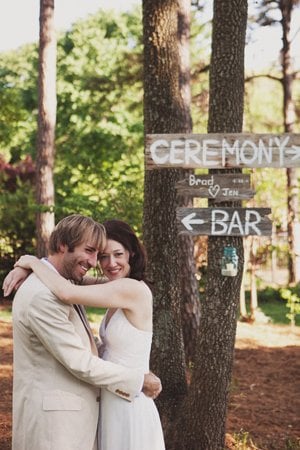 Even the most ambitious brides to-be need a bit of assistance when it comes to putting together a DIY soirée. Whether you're jumping the trend-du-jour bandwagon or simply looking to save funds, self-constructed wedding crafts and decor present a plethora of outside considerations. We'll cover all the bases below but also a few basics to keep in mind: When it comes to DIY weddings, it's all about the balance. Save the most talented craft queen, an entirely DIY wedding will look kitschy and cheap. And always scope out all the options before deciding on the DIY route. You'd be surprised sometimes which option ends up being less expensive.
Band Together. Never rely on just yourself when it comes to crafting duties. Enlist bridesmaids, family and other close friends and delegate the work. Just keep in mind though that, when you're asking those who are close to you to help, it becomes difficult to criticize their work, should it not be to your liking. If the quality of work is your top priority, here are the options: take on the tasks solo, choose help accordingly or hire a professional. Just don't offend friends and family who are only trying to help.
The Little Things. I cannot stress enough the importance of setting a budget for DIY projects (and sticking to it). Those little materials and extras will add up, and can cause you to shell out more funds than you would, had you simply purchased the items from a professional. The easiest solution: set an overhead cost for each project. Then research the approximate total price for all the necessary materials.
Ahead of The Game. For all DIY ventures, working ahead is crucial. But be sure you have all the basics covered first. Don't move on to creating DIY items until all vendors and venues have been secured and confirmed. Leaving these projects to the last minute will only give you unnecessary stress too close to 'I do.'
Anti-Perfectionist. Should you choose to go the DIY route for any given aspect of your wedding, it's important to be realistic. You are not an expert–nor are your friends or family. Things won't look perfect. Embrace it and view the project for what it is. There is much beauty in the imperfections in life.
Think Outside The Box. Not keen on dishing out wedding funds for flowers but loathe the look of paper blooms? Embrace the season and opt for a fall bouquet full of leaves. The whole point of DIY wedding projects is to put on your creative thinking cap and create something inspired.