Craigslist Crunch Time for DNC Opportunists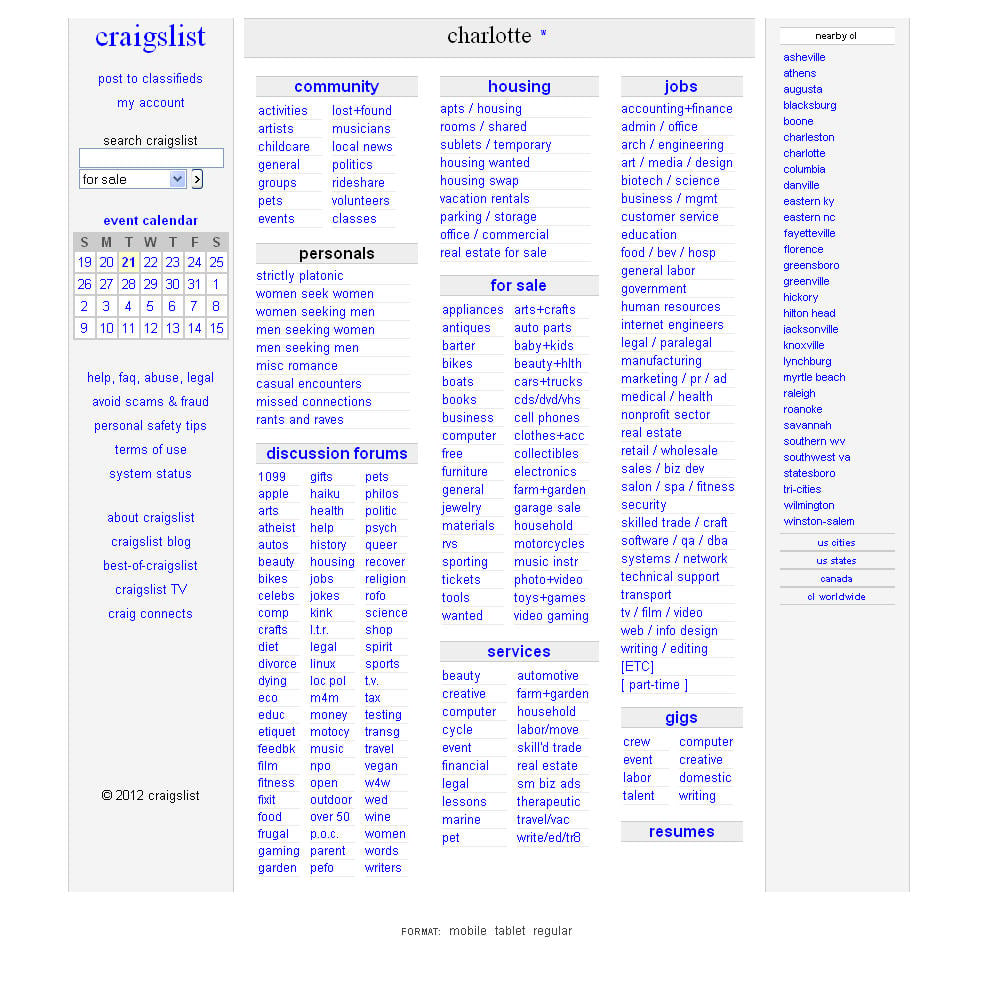 If you're trying to get some last-minute work involving the Democratic National Convention, or make money off of it in some fashion, Craigslist is where the action is. Plenty of folks are trying to cash in with the start of the DNC just less than two weeks away.
Now the thing about Craigslist, as I'm sure you're familiar with the popular classifieds website (where you've probably bought/sold used furniture, bought/sold concert tickets, found jobs/hired people), is that anybody can post just about anything. But in relation to the DNC, aside from the hundreds of people still seeking to rent their Charlotte homes and condos for that week, there's plenty of activity in the gigs and jobs categories when you search for DNC. Here are some interesting recent listings.
FYI, Craigslist links may expire at anytime; listings below are excerpted for length but otherwise are unedited.
Gigs
Need models for DNC
We are seeking male and female model types to attend upscale events with our clients during the DNC. This gig could lead to clients booking you for other events, including–business socials, art openings, day trips, or travel getaways. You must be well spoken and sophisticated, as clients are of an upscale caliber. All of your expenses (meals, travel costs, entertainment, shopping, etc.) will be completely covered for all events.
Looking for Joe Biden lookalike – Great opportunity/lot of exposure
We are looking for a Joe Biden lookalike/impersonator for a short parody film. This person needs to be free on Saturday, August 25th and needs to be comfortable speaking a few words as the vice president. For much of the shoot this person will be in his bathing suit amongst beautiful women at a pool party. Please respond with a photo of your face and a full body shot.
Seeking Drivers for Event
Looking for drivers who know the Charlotte, NC area to assist a Media company with driving around guests in a branded SUV during the DNC from Sept 4th-7th.
Jobs
Bartenders Needed for DNC
Premier Charlotte Caterer has Bartending shifts available during the DNC week of Sept 1-7th. Must be able to work early afternoon through early morning. Looking for experience in high volume catered events. Shifts will be filled immediately- please forward resume and contact info for consideration.
Protective and Security Officers-DNC
Local special police/security company seeking qualified candidates for DNC job assignment opportunities. Experience preferred, PPS armed/unarmed current certification will help to fill remaining open security positions for the DNC. Experience in law enforcement, security or BLET certification, with security/law enforcement work history.
Perform Yoga/Facials/Massage at the DNC
Want to provide delegates at the DNC with yoga, facials, massage or meditation? Volunteer with Huffington Post and Off the Mat, Into the World at the Oasis at the Democratic National Convention 9/3-9/6. The Oasis is a unique space providing yoga, meditation, spa services and a conscious marketplace to give the delegates a place to reconnect to their bodies, minds and intentions in a powerful way during the supercharged political conventions. This is a great opportunity for you to bring yoga, wellbeing and mindfulness in politics.
Charlotte DNC Convention Items Sales Reps Needed
Sales Representatives needed to sell Democratic Convention and President Obama 2012 Merchandise to Charlotte and other city Retailers, Vendors, Distributors etc. We are the manufactures and ship orders from our warehouse. Positions available immediately.
Of course, you should be on the lookout for scams or potentially dangerous situations when dealing with Craigslist (or any other online classifieds). And don't send anyone $1,000 so that you can receive your $10 million inheritance.
A few DNC-week job listings can also be found on Youferral.com if you search for DNC.
Follow me on Twitter @HollidayInk.