Crazy Good Sandwiches
Want an extraordinary sandwich for lunch? We have you covered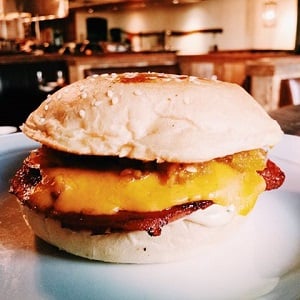 When lunch time creeps around, you may find yourself looking at your packed PB&J with disdain. Lucky for you, we rounded up a few of our top picks for a delicious sandwich adventure that won't leave you feeling hungry.
Rooster's Wood-Fired Kitchen: Although they can change by day, a bologna sandwich with beef salami, dijonaise, apple bread and butter relish, and cheddar cheese is on the menu for lunch today at Rooster's in uptown.
Pinky's: Starving? Head to Pinky's Westside Grill which will be featured on an upcoming episode of Diners, Drive-ins, and Dives. The green chile pork sandwich brings together marinated pork grilled with pineapple slices, melted Swiss cheese, arugula, and Jamaican mayonnaise.
Kindred Restaurant: If you're working north of the city, make sure you stop into Kindred for an out-of-this-world burger. Your lunch dreams will be fulfilled with this combo of quick pickles, onions, cheddar, and aioli all served on Kindred's famous milk bread – a taste like a croissant and a yeast roll.
Earl's Grocery: Daily sandwich specials are ALWAYS amazing, but if you want to stick with what you know, try one of the menu staples – the Banh Mi. Lemongrass pulled pork, daikon and carrot pickles, radish, cilantro, mint, toasted baguette, and Saigon aioli make for a taste of Vietnam.
Terrace Cafe: To distract yourself from work, grab the crab cake BLT and pretend you're at the beach. A cake full of tender, sweet blue crab sits between two slices of bread with lettuce, tomato, bacon, avocado, and roasted red pepper aioli.
Cafe Monte: In Paris, the Croque Monsieur is available at just about every eatery. Luckily, you don't have to trek to France for Cafe Monte's classic rendition featuring a thick slice of bread, gruyere cheese, and sweet ham. Make it a Croque Madam by adding an egg on top!