Creating a Beer Garden
Take your beer from vine to glass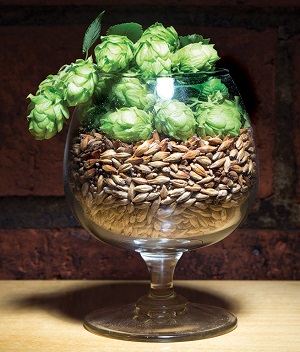 Home brewing, a hybrid of art and science, has inspired some local beer lovers to venture into their backyards—to grow hops. The plant's cone-like flowers are harvested and used during the brewing process as a flavoring and stabilizing ingredient in beer, imparting a bitter, tangy flavor. These beer aficionados grow their own hops largely for the same reason they got into brewing in the first place—the love of the process (it's "craft" beer for a reason). "It's a fun way to personalize your beer," says John Mays, a veteran home brewer in Charlotte who recently harvested his second hops crop.
Considering growing your own? If so, here's what you should know before jumping in.
How your (beer) garden grows
Growing and harvesting hops is not as difficult as you might think. "If you can grow grass, you can grow hops," Mays says.
"They're such tenacious plants that one vine can grow a few inches a day," says home brewer turned pro Scott Kimball. "It's so much fun to watch them grow."
It's important to choose hops that grow well in your particular climate. Mays grows Cascade hops for his IPAs. The most popular hop in America, Cascade also happens to be the best-producing hop in Charlotte.
The beer necessities
An active home brewer doesn't have to add much to his or her arsenal to get growing. In addition to the basic gardening tools, you'll need the following:
Hop rhizomes. Growers use these stick-shaped underground plant stems to cultivate new hops plants. They can be purchased in Charlotte at Alternative Beverage, where 13 hops varietals are available starting in early March and continuing through May. "The easiest hop [for beginners] is going to be a regional hop that is suitable for your climate," says Blake Rea, director of marketing for Alternative Beverage. "Cascades, Willamette, and Zeus seem to do really well here every year for our customers."
A plan. Hops need sunshine and southern exposure, so consider this when deciding where to break ground for your mounds—the rounded piles of dirt in which rhizomes are planted. Rea recommends planting two rhizomes per mound. Each mound should cover a hole roughly one foot deep and be spaced about three feet apart for hops varieties of the same type and five feet apart for mixed varieties. Short on space? Not to worry—as a vine, hops can thrive as easily in planters on fire escapes as they can in yards.
A support system. As a vine, hops need to climb. Most brewers create their own trellis systems about eight to 12 feet high. Mays built his on the side of his house, drilling eyelets into the walls and supporting the vines with string. In the sweltering Charlotte summer, Mays gets the cool bonus of the hops sheltering his house from the heat. Kimball brews for Triple C Brewing in South End, where he started growing hops on-site a couple of months ago for the brewery's limited-edition Urban Hop Project IPA. Though used for commercial purposes, Triple C's growing operation features a trellis system you could replicate in your own backyard.
Supplemental nutrition. The North Carolina Department of Horticulture recommends a 5-10-5 mixture of nitrogen, phosphorus and potassium, making a growing agent such as fertilizer or Miracle-Gro integral to the hops-growing equation. "I will typically mix a half-gallon of Miracle-Gro solution per hop plant and use in a biweekly watering regimen," says Mays. "And I do this throughout the growing season. I start when I see the first signs of life in the spring and stop when I've cut down my hops for the winter."
Hops drying box. You can use hops right off the vine for fresh hop ale, but drying and storing hops increases their life and usability. The easiest way to dry hops is in a food dehydrator, but if you want to take your craftiness even further, you can build your own oast (growers' speak for a drying box). Keep it simple, as Kimball suggests, and let them dry on a window screen. Rea says the key is combining the temperature and humidity to get a nice, slow dry. "Most farmers will weigh their wet crop and reweigh the dry crop until desired moisture is met."
Vacuum sealer kit. A system such as FoodSaver will keep your harvested hops properly stored for a year or more. "Most home brewers will not use hops that have been frozen more than two years," Rea says, but he adds, "Some people use older hops in witbiers and sour beers due to the subtle nature of flavor and aroma older hops contribute."
Hops hiccups
As with all crops, hops have natural nemeses, from pests to powdery mildew. Mays notes aphids as one of the greatest growing challenges. "They will wreak havoc if you're not vigilant," he admonishes. The solution? An organic soap mixture sprayed once a week, but no more than that, as wet hops invite mold issues. Carolina Brewmasters recommends mixing 1 teaspoon of non-detergent soap with 1 quart of water. Beneficial bugs also prove trusted allies in the war on pests. Plant cilantro, yarrow, or another plant that attracts aphid-loving ladybugs close by to protect your crop.
Reaping what you sow
In Charlotte, Mays suggests planting in May or June and harvesting in August or September. Hops are ripe for the picking when the cones dry out. "Squeeze, and if they bounce back, you know they are getting good," he says.
While hops grow easily, prepare for first harvest disappointment. In their inaugural year, the vines are still establishing an extensive root system, which can result in a lower-than-expected yield.
"That first year, you're going to get good quality hops, but not the quantity," says Kimball, adding that it takes three years for hops to fully mature. Mays created his Hoppy Harvest India Pale Ale following his second harvest using six ounces of Cascade hops plus one ounce of Magnum hops for a five-gallon batch of beer.
"Our customers always say the second or third year is the best yield," Rea says, with some growers harvesting several pounds or more from each plant.
Growing hops won't break the bank, but it is an investment in time. With IPAs, you're looking at 10 to 14 days from grain to glass following the six-month growing season. But when you're that passionate about the process, what's a little more time?