Creating the Ideal Wine and Cheese Pairing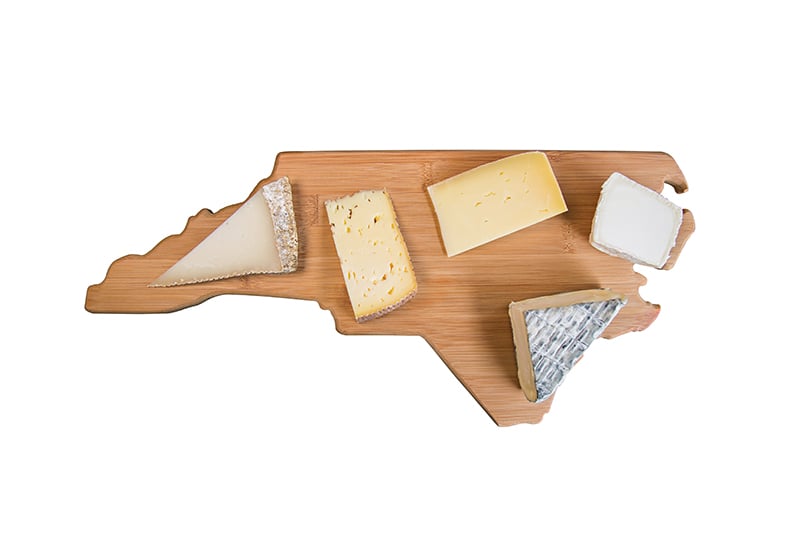 MICHAEL AND CHARLIE KALISH, known as the Cheese Twins, visited Charlotte earlier this year from California for the annual Taste of Charlotte festival. We weren't sure what their reaction would be when we asked them to pair Meiomi wines—a pinot noir and chardonnay—with North Carolina cheeses. They weren't sure what to expect, either, but found themselves impressed. "It seems like you guys are going through a cheese renaissance," Michael said. Here are five cheeses they recommend from Orrman's Cheese Shop, all produced in this state, and six things we learned from the Cheese Twins on how to create the ideal pairing.
PAIRING
Think about the flavors in the wine or cheese, and about what you'd want to eat with them. A cheddar you'd stack on slices of apples? Pick a crisp, white wine with apple notes. Have a big, fruity red wine that reminds you of a jam you'd spread on toast? Pick a crumbly, nutty cheese.
SERVING
Cheese-mongers take great pride in creating soft cheeses with a rind that's the right flavor and texture—one that can be very different from the center of the cheese. To make sure everyone gets a proper taste, cut the cheese into slices, so each piece has a bit of rind. If you're having a party, it's best to precut the wedges so guests don't pick around the rind.
AGING
Inside the rind on soft cheeses, you'll see the cheese is a bit softer. This area, where the mold on the rind is breaking down the cheese, is called the creamline. The creamline will eventually take over the chalky center as the cheese ages. This is no problem—as long as you love your cheese gooey.
SLICING
If dry cheeses want to crumble, just let them, and serve samples as natural chunks. You can also use a cheese wire or knife with holes, which keep the cheese from sticking to the knife and breaking off. For soft cheeses, a flat, dull knife will work best.
RIPENESS
If you prefer your cheese ripe—often translated to stinky—pressing on its rind should feel like the skin between your pointer finger and thumb. Let a cheese ripen a few days in the fridge if you want, but be sure to let it warm to room temperature before serving.
A BAD MATCH
To best sense a pairing, press the cheese against the top of your mouth to coat it in cheese. Then, take a sip of the wine. Two flavors indicate you have a bad pairing: animal and spice. If you taste a sense of gaminess or burn, the pairing doesn't quite work.
WINES WE TRIED:
Meiomi chardonnay and pinot noir