CreativeMornings, Days, and Nights
A nonprofit is now the driving force behind the beloved monthly meetings in Charlotte—and much more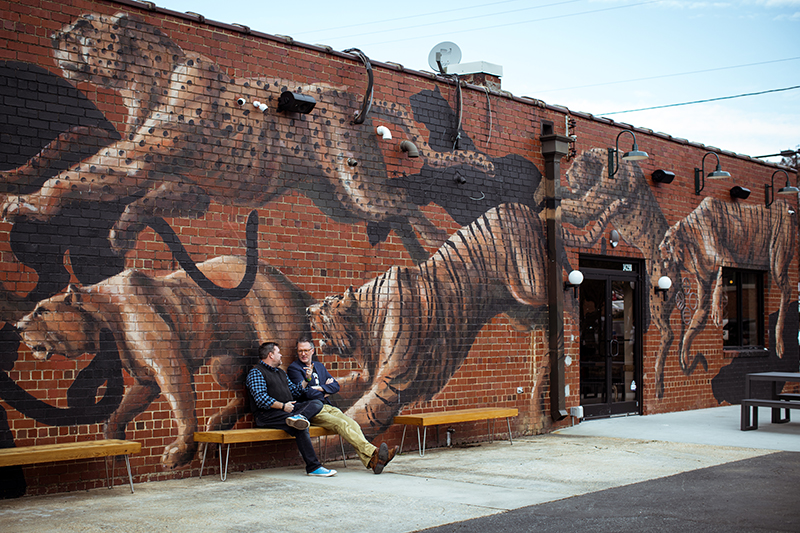 ON A FRIDAY MORNING in January, Divine Barrel Brewing buzzes with a clumsy parody of "Free Fallin'." At the front of the room, CreativeMornings' Matt Olin and Tim Miner bumble through the reimagined tune, shoehorning the names of event sponsors into the Tom Petty classic, barely in unison or on pitch. Despite the odds, it's getting plenty of laughs, and certainly not because phrases like "OrthoCarolina" and "Crescent Communities" fit neatly into the template.
I'm here to write about the event, but my objective facade collapses when a second, more defiant verse emerges after a "Free Mornin'" chorus, and I join in on the laughter. Then the critic gear kicks in and raises some questions: What's making this work? Is it the commitment? The self-awareness?
It's partly those reasons, and also that they've earned the right to be goofy with their audience. The monthly meet-up series has been in Charlotte for the past three years and built rapport with hundreds of attendees on events that garner both laughter and tears. Each CreativeMornings session has games and giveaways, a 30-second platform for nonprofit and start-up leaders to ask for support, a performance from a local artist, and a speaker on themes like "Community," "Commitment," and "Courage." In Charlotte, venues range from breweries like Divine Barrel and Resident Culture, gallery-residency LaCa Projects, Camp North End, or other big venues with enough parking. Speakers have included former Mayor Harvey Gantt, James Beard Award-winning baker Peter Reinhart, and, on this morning, local tattoo artist and Ink Master contestant Stacy Smith.
But while CreativeMornings has been the most public offering from Olin, Miner, and company, something much bigger has brewed behind it. And it's what they've been doing outside this room that makes it more than a feel-good event with free breakfast.
***
AS OF EARLY 2019, 190 cities worldwide have a CreativeMornings chapter. Each goes through an application process, and "local host organizers" range from advertising agencies to grassroots artists. The motivations, one would surmise, also vary. The Charlotte chapter began in 2015 with Olin, a freelance copywriter, and Miner, "marketing dude" at Brixx Wood Fired Pizza. (Yes, that was his official title.) The two and their army of volunteers have never been paid to organize the events.
Behind the scenes, though, they began to build what would become the nonprofit Charlotte Is Creative, officially christened last year as a 501(c)(3). CreativeMornings (and a new after-work counterpart) is just one program now run by Charlotte Is Creative: The group also oversees the Queen City Quiz Show, the HUG micro-grant program, podcasts, the volunteer network CLT Creative Corps, and The Biscuit, a biweekly online publication that covers creative efforts around the city.
I meet up with Olin and Miner at Rhino Market in September to talk about what they're building around CreativeMornings. The nonprofit was just announced at the previous meeting that month. "We are building the plane as we take it off," Olin says. "And one of us is building the plane, the other one's pouring the runway …"
"And we're also training the flight crew," Miner adds, laughing. "I think we're trying to change the notion of what is creative around the city. Art obviously is creative, but that's not where creativity ends. Everyone has the ability to be creative. People have bought into this idea that Charlotte is this boring, vanilla place for a long time, and when new people move here and they meet a Charlottean, they get indoctrinated into it. We're terrible salespeople for our own city."
When Miner says "everyone," it highlights one aspect to CreativeMornings that's differed from the other meet-ups around town: It's actually diverse. "I think the more we messaged the community that everyone is creative and everyone is welcome despite this incredibly polarized society, the more it opened up," Olin says. "For me, (CreativeMornings) has become one of the most diverse rooms I've found myself in, in terms of discipline and industry, but also in age, sexual orientation, gender identity, you name it."
The grant program is another example of the group's ever-changing nature. The $250 HUG (or Helpful Unfettered Gift) grants were originally semi-regular and designed to push select creative endeavors forward. With the "250 for 250" campaign, Charlotte Is Creative began raising money to award 250 of these micro-grants to mark the city's 250th birthday in December.
Singer-songwriter Arsena Schroeder used the funds for better lighting for her music videos; Kara Vasseur's grant goes toward incorporating her MiSFIT Dance Fitness program. It's not the thousands or even millions that some groups provide. But projects can end quickly if you can't afford studio supplies or administrative paperwork fees. The pair has another name for the program: "250 nudges."
***
LOGOS ARE SACRED. Five-pound tomes outline the proper usages of corporate emblems and colors. The Wray Ward-crafted logo for this nonprofit, with a simple square frame above "Charlotte is Creative" in plain text, is designed for manipulation and remixing. Instead of a book that outlines best legal practices, Charlotte Is Creative has a single sheet of paper with one phrase in the center, typed in Helvetica font: "Use this shit." They want you to take the box above "Charlotte Is Creative," or even the text itself, and insert whatever you like.
Miner, Olin, and the rest of the crew have all manipulated the logo. Volunteer video editors use it as a framing device; others scrawl it on signs. The design is more complex than it seems. The "frame" above the text is actually comprised of two Cs facing each other, "Charlotte" and "Creative." The empty space is the "Is," they say.
"It's all about the 'Is,'" Olin says. "What this logo is really meant to capture is whatever this all means for you, and what do you want to put in that frame to show the world that Charlotte really is an incredibly creative city? Your perspective on how Charlotte is creative is different than ours. And this gets back to the very origins. When we first launched CreativeMornings back in November of 2015 and we came up with the phrase #CharlotteIsCreative as a hashtag, it was both a declaration of what we believe to be true in the marrow of our bones, but an aspirational statement as well."
The first few years of CreativeMornings shifted the conversation from, "Is Charlotte creative?" to, "How is Charlotte creative?" "But we still have a long way to go," Miner says. "(We) not only have to recognize what is here, but continue to be that statement ourselves."