Crews Control
A NASCAR driver is only as good as his pit crew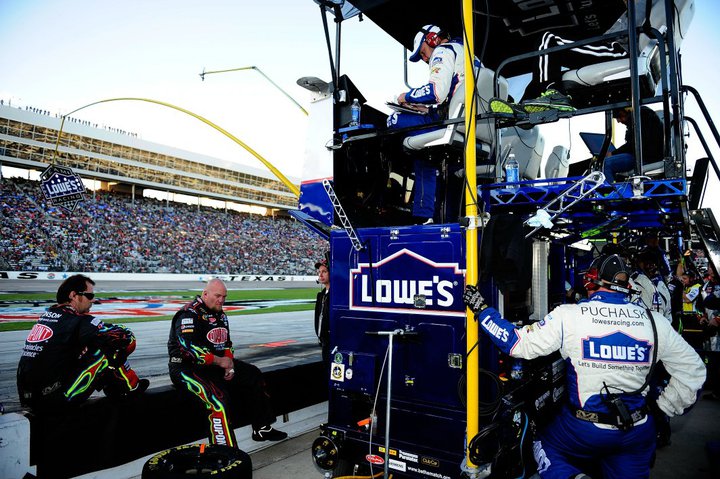 Fans might know the name of five-time NASCAR Sprint Cup Series champion Jimmie Johnson's crew chief, Chad Knaus (who stars in TV commercials with Johnson). But the other members of his race team are relatively unknown, even though they can make the difference between finishing first or being first loser.
Hendrick Motorsports, who Johnson races for, helped to revolutionize the way pit crews perform, primarily by changing the way they train. When Hendrick's methods brought dozens of wins to Jeff Gordon and then crew chief Ray Evernham in the 1990s, other teams followed suit. And it has continued to evolve. Today, pit-crew members train like athletes three to four days a week, lifting weights, running, and performing drills.
In a sign of how serious the performance is taken, midway through last season's third-to-last race, Knaus switched his pit crew with fellow Hendrick driver Jeff Gordon's. Since Johnson was the points leader and in contention to win his fifth championship, and Gordon had wrecked during the race at Texas Motor Speedway, owner Rick Hendrick approved the decision. The pit crews would remain switched for the season's final two races, and the move helped Johnson bring home the NASCAR Sprint Cup Championship trophy.
Pit crews' skills are gaining notice outside the racetrack: the U.S. Marines recently invited pit-crew members to train combat helicopter crews on speeding up their refueling and rearming procedures ("NASCAR Pit Crews Train Marines").
The seven members of a standard pit crew, referred to as "over-the-wall" guys, are the front-tire changer, front-tire carrier, gas man, second gas can man, rear-tire changer, rear-tire carrier, and jack man. During a race, when the driver pulls into pit road for four tires and fuel, the crew is aiming to complete that task in about thirteen seconds. A pit stop longer than that could cause the driver to fall back a spot on the leaderboard. So the speed in which they sprint to and around the car, carry tires and the gas can, and bend and kneel is vital. But they must also be skilled and precise in using their tools on the car.
The pit-crew guys look forward to their day in the sun in an annual tradition that began in 2005, the NASCAR Sprint Pit Crew Challenge. The event takes place at 7 p.m. on May 19 at Time Warner Cable Arena. The pit crews from some of the top race teams will go head-to-head in a competition of speed and skill. Individual skills stations are set up like actual pit boxes with a full-size NASCAR Sprint Cup Series car. The pit crews are not only battling for bragging rights—they're also competing for the $10,000 prize that goes to each member on the winning team. Denny Hamlin's team won last year. For more details, visit pitcrewchallenge.com.
To see a comprehensive list of NASCAR events being held in the Charlotte area in May—from Speed Street to Charlotte Motor Speedway—as well as interviews, profiles, and photos, go to www.charlottemagazine.com/nascar2011.
Click on a photo below to begin slideshow.