Crime Costs
When thieves steal, you pick up the tab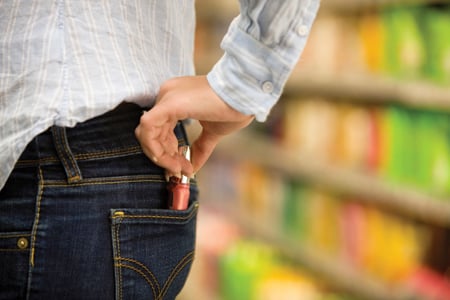 The pretty turquoise boxes. The shiny diamond rings. The welcoming service. It's all part of the experience at Tiffany & Co. Another part: security guards, which some non-luxury Charlotte stores — such as the Walgreens on Woodlawn Road — are now adding. That's because more thieves are stealing not from the pricey retailers, but from places like the local pharmacy; and, sadly, you're paying for it.
In 2008 retailers lost more than $36 billion to shoplifting and workplace theft, according to the National Retail Federation. The NRF equates that to costing every household in the U.S. almost $400, because retailers need to inflate the prices of products to cover their shoplifting debts. "It's like a hidden crime tax," says Joe LaRocca with the NRF. "Nobody tells you you're paying to cover that when you shop at these stores, but you are. That tax is built in." Jessica Carlson, a spokeswoman for Target, disputes that. "We try really hard not to pass the cost on to our guests and to keep our prices low," she says. Carlson adds that most Target stores now have uniformed guards and surveillance cameras to prevent excessive shoplifting.
Unfortunately, shoplifting is only getting worse each year (there were 290 reported cases in November 2009) — and the economy isn't helping. In December, police reported that various shoplifters tried to steal bags of crab legs from Sam's Club, jeans from Belk at Northlake Mall, and Polo apparel from SouthPark's Belk, while a would-be shoplifter at Victoria's Secret at Northlake got violent when a worker tried to stop her from taking off with bras. A police source says many more cases go unreported and are dealt with using store security.
Case in point: last August two men were caught on surveillance video at an area Lowe's loading up carts with thousands of dollars worth of power tools before bypassing the checkout line and out the front door. Police say the home improvement chain waited to bring it to authorities, first opting to deal with it internally to avoid bad press before turning to the cops.
No matter whether retailers call the police or deal with shoplifting themselves, LaRocca says there's no question we're all paying the price. "The impact is a big, big financial loss," he says. "There's lost revenue on a state and local level, and there's no denying those costs are passed on to the consumer at the register."