Criminals Caught on Camera
Police are using more household security cameras to catch criminals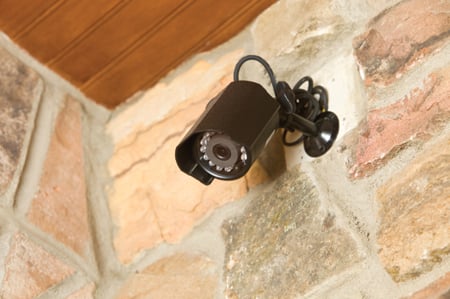 Last October, when police were looking for a Bonnie-and-Clyde duo that was stealing packages from Ballantyne porches, investigators turned to the neighbors for help. People living in two different subdivisions along Ardrey Kell Road had surveillance cameras mounted on their homes that captured the couple and their car. "The pictures gave us a good idea of where and how they were operating, and we got a good look at the car they were driving," says Charlotte Mecklenburg Police Officer Peter Grant.
Police used the video to arrest the couple, and Grant says the assist from Big Brother is becoming more common. "The equipment and technology is so much cheaper now. We're seeing lots of people putting in three or four cameras around the outside of their homes, on the edge of their driveways, and on porches."
Carly Lance (name changed for her protection), who has two young boys, splits time between the upscale Highgate subdivision on Providence Road and a lake house. Her husband often travels on business, so the family installed cameras at the Charlotte home. "It's nice to know who's ringing the doorbell, because when I'm alone in the house with the kids, it's not always a great idea to answer the door." Lance says several of her neighbors have security systems they can monitor even when away from home.
Officer Grant, the community coordinator for the South Division, cautions that the cameras can sometimes provide a false sense of security. Cheaper cameras, for example, don't offer great pictures. "If we can't make out facial features, then the picture is useless."
Grant says a decent system costs several hundred dollars, and the police department plans to buy some for use in neighborhood investigations. Detectives hope to use so-called deer cameras (hunters often use them to track deer) in communities where repeat offenders strike. The cameras can be strapped to a tree, are motion activated, and have a built-in recording system. "If people are targeting the same neighborhood … and they often do, we're going to have a new way of catching them," he says.
Big Brother will be watching. Probably from right down the street.