Crisis Averted
What are a bride and groom to do when catastrophe strikes on their wedding day? We asked local planners to share the worst snafus they've run into and how they averted a crisis on their client's big day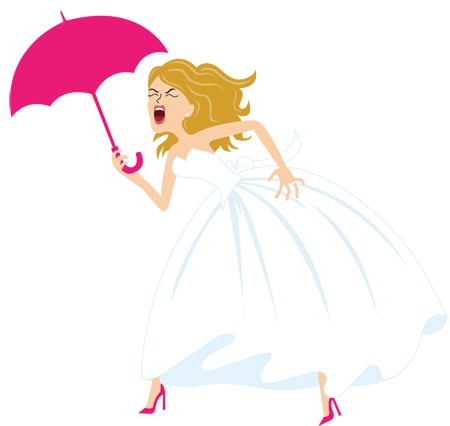 Disaster: Uninvited guests attempt to get into an ultra-private wedding à la Wedding Crashers.
It's all about planning for the unforeseeable, says wedding and event planner Ivy Robinson of Ivy Robinson Weddings & Events. She recalls a wedding in which the bride's mother wanted to take extra steps to keep unwanted guests out of her daughter's exclusive 500-person wedding. Amazingly, in spite of the dozen undercover officers dressed like guests covering 13 acres of property, a wedding crasher got in. Instead of causing a scene—and pressing charges for trespass —Robinson ordered her staff to quickly escort the woman off the property, which is what she suggests so that no attention is taken off the bride and groom.
Disaster: It's pouring rain, and the bride, who was a peach during wedding planning, has morphed into a bridezilla.
"This bride had been a complete sweetheart during the entire planning process, but she woke up to rain on her wedding day and just lost it," says wedding planner Anne Markey of Favor Me Weddings & Events. Her client proceeded to smash her bouquet, get drunk, and topple down the stairs during her getaway at the end of her reception. "You're prepared with a rain plan. You're prepared that if her dress rips, you have a sewing kit. I don't care how good of a planner you are, nothing prepares you for something like that." In this situation, Markey calmed the bride down by offering options: "I said, 'You can't do your exit outside because it's pouring rain, but instead of ditching it, what about doing it at this staircase?'" Markey suggests that this tactic—offering a predetermined solution—is the best way to calm down an irrational bride (or bridesmaid or groomsman).
Disaster: The groom (and groomsmen) decide it's a good idea to play flip cup and take shots pre-ceremony, and now they're drunk.
"So many problems stem from alcohol at weddings," says wedding planner Katrina Hutchins of Come + Together Events. In this case, Hutchins was lucky enough to get a heads-up about the groom's and groomsmen's inebriation thanks to a call from the wedding photographer. She then ordered the bridal party to the ceremony venue a full two hours early and stuffed them with food and bottles of water to sober them up. But what happens if you're not warned in advance? Hutchins suggests having food and drink on hand if you suspect they're the drinking type.
Disaster: Unruly guests attempt to take over the band by singing their own rendition of "Build Me Up Buttercup."
What happens when a guest insists that he needs to get onstage with the band, grab the microphone, and sing some karaoke-like hits ("Living on a Prayer," anyone?)? You stay tough. During one wedding, Robinson came head-to-head with a tipsy guest, who demanded stage time even though the band said it would be a liability. In spite of the guest's complaints, Robinson advises that in this situation, let the guest blow off some steam, but don't throw him or her out. "It only causes a bigger scene, and eventually they just forget about it," she says.
Disaster: The bride and her 'maids want to jam out to Journey on the dance floor, but the DJ doesn't have their song.
For this bride and her bridal party, a particular song was super important, says wedding planner Dina Blazek of Dina Berg Blazek Events. To not play it would have been, well, a disaster. Blazek then called other area venues hosting events that same evening to ask if they had a copy of the song. As luck would have it, a server at one of the venues did, and Blazek raced to meet him to get the CD. "The band had it playing in a matter of minutes, and the girls didn't know!" she says. "My advice? Find out if your band works from a playlist or a CD player, and be sure to have your important songs and dances available to them."
Disaster: The best man had too much to drink and now his toast has skewed raunchy.
"This is where getting to know the bridal party beforehand is so helpful," says Hutchins. To keep the best man from going overboard with grossly inappropriate stories about the groom, Hutchins enlisted a groomsman she found reliable to jump in and save the day. "He walked up there as if it were part of the plan, took the mic, and finished the speech with some endearing and very sweet words," she says. To avoid a disaster such as this, Hutchins advises identifying a reliable bridal party member who can help keep things calm or take over when needed.