Critic's Corner: Visual Art Shows at New Gallery, Sozo Gallery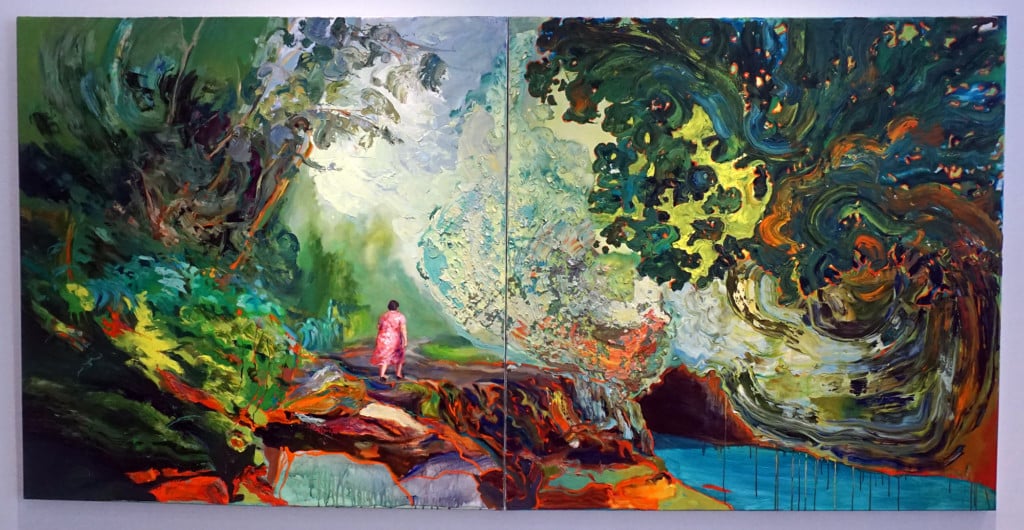 IN THIS WEEK'S EDITION of Critic's Corner, we head to uptown for reviews of shows at two galleries. Before we dive into each offering, both spots should be commended for participation in the monthly Uptown Crawl events. These once-a-month outings have several arts venues in uptown opening their doors for free to the community. Though it's less of a financial commitment for galleries than ticketed, enormous museums, their involvement is no less integral to making uptown the central, cultural epicenter it should be in Charlotte.
Now, on to the art.
***
Review: Maja Godlewska's The Ultimate Landscape and Andreas Bechtler's Visions of a Fractal Landscape at New Gallery of Modern Art
Fresh off a Pop show with names such as Warhol, Basquiat, and Koons in tow, the New Gallery of Modern Art's latest pair of shows takes a local turn. Painter Maja Godlewska is a native of Wrocław, Charlotte's Polish sister city, who moved here in the 1990s and teaches at UNC Charlotte. Work by Andreas Bechtler occupies the other half of the gallery. Bechtler is the artist whose inherited collection of modern art that occupies the Tryon Street museum bearing his family's name.
Godlewska's latest work is a stunning evolution of her previous meditations on order and chaos. The larger paintings in this set are the stars of The Ultimate Landscape. Mixing acrylic and oil paints, the artist pits single figures against tropical backdrops in a trio of paintings. "Moka: The Path" embodies the artist's strength in absorbing at any distance from the work. From afar, the swirling vibrancy of nature differs from its power when viewed inches from the painting, where Godlewska's erratic strokes and textures can be studied. Like her painted tourists, contrasting with their backgrounds, it's easy to find the chaos alluring.
In contrast to Godlewska's, Bechtler's work doesn't fair as well up close, in terms of texture. Yet, the artist is also toying with landscapes. Bechtler's strong exploration of Isle of Palms, South Carolina, is a decidedly minimalistic, with the evolution happening in rectangular windows at the center of each archival print. Pairing this work with The Ultimate Landscape is solid curation, tethered somewhat in topic, while wholly different in approach.
In a broader sense, this pair of shows punctuates the continued importance of a venue like New Gallery in uptown. The gallery continues to extract some of the best regional talent, with recent outings from Barbara Scriber and Isaac Payne, while tapping its network to also exhibit (and sell!) contemporary icons. It's not a massive or presumably cheap spot to occupy in uptown, but New Gallery continues to do enormous things with it.
***
Review: Micah Cash & Leonor Demori Neisler at Sozo Gallery
Half a mile north of New Gallery, a duo show at Sozo Gallery mixes the abstract work of Micah Cash and Leonor Demori Neisler.
In both his photography and painting, Cash has a knack for highlighting the social challenges and unrest that surround him without the use of human characters. This new set of work, in particular, shows how spatial change and social change must be parallel in order to be successful. He's also commenting on the form itself, with a clash of geometry and rough strokes.
Unlike the works at New Gallery, pieces by Cash and Neisler are somewhat integrated. This means that the social and political conversation Cash is having with viewers is different than that of Neisler. The latter's blending of hues and shadows are engrossing, but do risk muddying the dialogue.
Sozo has an impressive, diverse stable of artists. In this show, either artist could have benefited from a different peer to share the gorgeous space's walls or a solo feature for Cash, in particular.
(A side-note, though admittedly a bit nitpicky: For a space like Sozo's, title cards and artist statement printouts for this show seemed more hurried than usual. It may seem like a superficial issue, but these touches matter in polished arts spaces.)