Culinary Art: Inside Peppervine in SouthPark
Bill and Anita Greene promise a different experience every time you come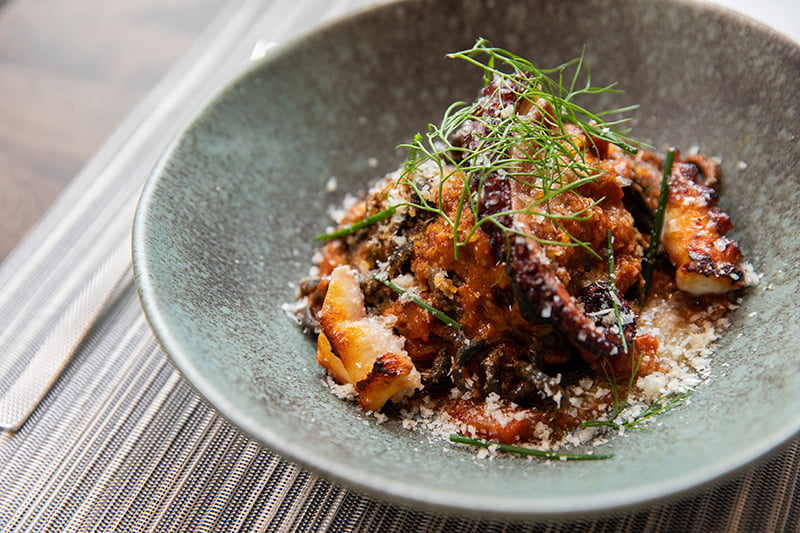 THIS YEAR, Food + Wine named Peppervine one of the 16 most anticipated restaurant openings in the country. The restaurant opened its doors in March in the space formerly occupied by AZN Azian Cuizine in Piedmont Town Center. It's been a big draw for SouthPark, which has no shortage of office parks and shopping centers but few independent restaurants.
Bill and Anita Greene are the couple behind the progressive eatery, which serves a rotation of small and large plates that emphasize seasonal ingredients. It's Mediterranean-meets-Asian-meets-Southern, with house-made breads, charcuterie, and ice cream.
The Greenes also own Artisanal, a farm-to-table restaurant in the mountain town of Banner Elk, otherwise known as the Christmas tree capital of the world. For 13 years, they've operated Artisanal from May to October, where Bill is executive chef and Anita is general manager. The converted barn has become such a foodie destination that guests have flown in by helicopter to have dinner there.
The Greenes met their Pepper­vine business partners, Bob and Robb Lackey, three years ago when the father and son were guests at Artisanal. The Lackeys manage Imagine One Hospitality, which owns a number of businesses, including Café Rule & Wine Bar in Hickory. According to Bob, that dining experience at Artisanal was near-perfect. "The adventure was in the exciting and delicious approach to some of the normal staples—yeast rolls and doughnuts were out of this world," he recalls. "All the sauces and presentations were beautiful, approachable, and the flavors were beyond any restaurants we had visited in the country."
Bill has a talent for combining seemingly unrelated ingredients and cuisines—lamb belly with kimchi porridge, smoked butternut squash with miso, ricotta dumplings with beef cheek—so his guests can sample culinary experiences from around the globe. That talent has won him a number of awards, including StarChefs' Rising Star Chef, OpenTable Top 100, and Andrew Harper's Restau­rant of the Year.
Bill considers North Carolina home, but he's spent a life mixing flavors and cultures. He was born in Korea and adopted at age three from an orphanage in Seoul. His American parents raised him in Banner Elk, where, at age 12, he began working as a dishwasher at Grandfather Golf and Country Club. He graduated from the Culinary Institute of America and, in 1996, landed a job at Le Cirque 2000, the famed circus-themed French restaurant in midtown Manhattan. A year later, he was promoted to sous chef. In 1998, he went to work at the Waldorf-Astoria Hotel under renowned chef Laurent Gras. Then, in early 2001, he came home to care for his sick mother, who died later that year.
Bill worked in the kitchens of several country clubs in Avery County, and in the off-season he landed a job at Upstream in Charlotte, where he met his wife, Anita. Bill says he and Anita spent more than four years searching for the right location to open a restaurant in Charlotte.
Many of his first-time guests ask: What's a peppervine? "We collectively wanted a representation of something hearty, something a bit wild, and something that will endure," Bill explains. "Together, we came across peppervine, also known as kudzu, which is a vine that grows wild in North America and just takes over."
The menu changes constantly—they print a new one every day—and typically includes 18 shareable plates and six larger entreés. Most guests start with an order of pimento cheese scones, baked to order and served with sorghum butter and pepper jelly. And anyone who loves the yeast rolls at Artisanal will be thrilled to know the warm Japanese milk bread—aka "elevated King's Hawaiian rolls"—will be a fixture on the menu at Peppervine, too.
Other small plates include baked sunchoke with crème fraîche, shallot butter, and malt vinegar; Georges Bank sea scallops; big eye tuna tartare; and squid ink bucatini with Spanish octopus, bone marrow, and kale. For dessert, there's sticky toffee pudding, strawberry crostata, and lactée chocolate mousse.
The restaurant's design "came from our desire to lighten up what was originally a very dark space," Bill says. "We wanted to incorporate many tones of soft neutrals, balancing it with tons of texture." The 7,800-square-foot interior has lofty ceilings, a mezzanine lounge, a 10-seat bar area, and, in the center of the room, a glass-enclosed wine display. There's also a private dining room for 25 in the back, behind another glass wine display.
If you sit in the main dining area, look up. Paper light fixtures by Jocelyn Chateauvert and a mammoth wood installation by Alex Pate hang from the ceiling. "Art was a huge inspiration for us, whether that's the culinary art on the plate or our partnership with Shain Gallery," Bill says. They'll have new art on a quarterly rotation throughout the restaurant; each piece is for sale, with information on the artists available on Peppervine's website.
There's a long, horizontal window into the kitchen, where diners can see the cooks preparing and plating their meals, and planters above it with succulents and greenery. Outside is more seating and a fire pit. Bill and Anita's 10-year-old son, Alex, will make cameos, too—you might see him at the host stand greeting customers (if it's not a school night).
If you want to come on a weekend, though, make a reservation. Just like Artisanal, tables at Peppervine book up fast.
Then plan to come back again, be­cause it'll be totally different if you do.