Cursed Corner
The corner of Caswell and Seventh streets has always been cursed ... until now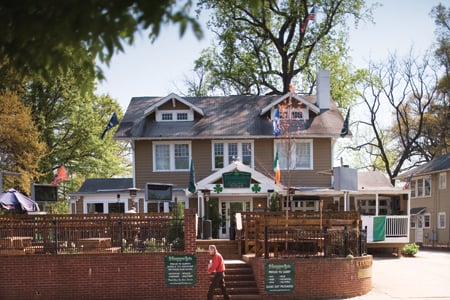 The corner of Caswell and Seventh streets has been home to five unsuccessful restaurants in the past decade. But the voodoo on the building, better known as the Caswell Curse, has apparently been lifted, or so says Bob Dowdy, who has brokered each of the concepts that opened in this space. No concept has worked, he says, until now: Irish bar and grill Kennedy's is apparently a neighborhood hit. A look back at some past restaurants and why, Dowdy says, they all failed.
Ethan's of Elizabeth
How long it lasted: From 1997 to early 2006
Concept: For a while, chef Mark Martin had a popular, upscale casual eatery with his eclectic American cuisine. Well respected in the community for his dedication to locally grown produce and the quality of his ingredients, Martin brought in return customers and lasted way longer than any future owners.
Why it failed: After nine years, Martin ended his successful run to dedicate his time to teaching. Dowdy says "[Ethan's] looked like somebody's nondescript living room."
Pearl
How long it lasted: A few short months in 2006
Concept: Pearl owner Penny Craver calls it a series of calamities that ended in just a few short months. She says the food (mainly seafood) was good but everything else was awful—from a building constantly in need of repair and an AC unit that never worked right to too-high rent.
Why it failed: "It never really got off the ground and the owner [instead continued with] her popular Plaza Midwood spot, Dish," Dowdy says.
Solera
How long it lasted: About 8 months in 2008
Concept: The Ecuadorian owners spiffed up the place and tried their hand at Spanish cuisine.
Why it failed: "Their tenure was short and sweet," says Dowdy. "Dinner was OK but the price point was too high for the neighborhood."
Nolia
How long it lasted: About a year
Concept: Southern bistro cuisine was coupled with a cozy environment that some thought was reminiscent of what you'd find in Charleston.
Why it failed: An abbreviated menu didn't offer many choices, and the food never got great reviews. The Observer's review didn't list a single thing in the "Hits" column, but said the "Misses" included slow service, awkward décor, and drab food.
Ed's Tavern
How long it lasted: About 9 months
Concept: If you love the Dilworth version of this bar (run by the same guy), then you'd likely have been disappointed with this second location. The Elizabeth version had faux brick walls and a less rustic vibe.
Why it failed: Dowdy says running both bars was too much for the owner. Plus, the owner tangled with City Council and the neighborhood over noise complaints.