Custom Prints from Custom Alexander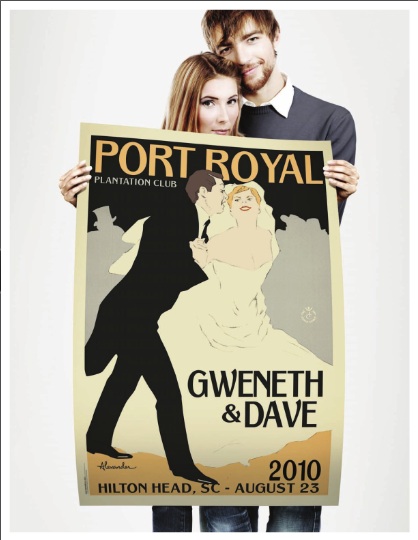 Fancy yourself a fan of the arts? Instead of the traditional framing of the invitation to remember your wedding day, a custom piece of art by Custom Alexander is something you might like to see.
They call it the Mr. & Mrs. Alexander. I call it equal parts cool, classy and, well, custom. Choose a style based on the type of wedding celebration you have and showcase the iconic landmarks of your wedding city or destination. Hunting for a unique save the date? Order small or large magnets or postcards priced from $200 for 100. Thank friends and family for their attendance or gifts with thank you cards ($200+) that are blank inside for your own personalized message. And the piece de resistance … fancy enough for a frame and contemporary but vintage art in prints sized 18" x 24" ($200) or 24" x 36" ($300).
Here's how it works: choose your print, choose your colors (even down to the hair colors on the models!), personalize it with your names, date, ceremony location, and order!