Cut the Cake (or Pie): Creative Dessert Choices
It's not just about a classic vanilla cake anymore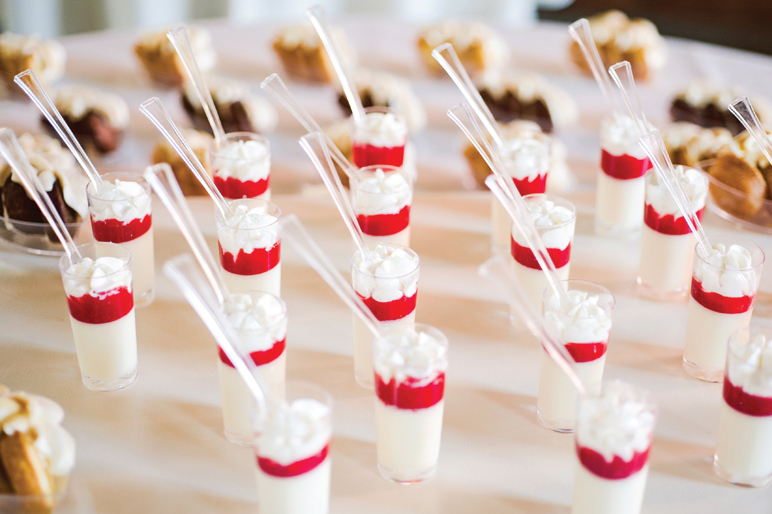 GONE ARE THE DAYS of the standard three-tiered buttercream cake with wax Mr. and Mrs. on top. These days, brides are faced with an array of offbeat desserts, such as custom-monogrammed cupcakes, lavender-flavored doughnuts, and neon-hued macarons.
Charlotte's busiest bakers see it all these days, and they are ready to share their advice on how brides can find their sweet spots.
ALL ABOUT PRESENTATION
Like weddings, desserts have their own personalities, and the right dessert table can be the ideal complement to your wedding's palette and vibe. Lisa Toohey, owner of Cake Expressions By Lisa, recently created a spread of sweets for a wedding at Morning Glory Farm in Monroe that was set on a wooden table placed on top of two large wine barrels, with vintage platters displaying the goods. The couple added chalkboard paint to refurbished door frames for a rustic, but elegant, pastry menu that included banana pudding, brownies, and jars of homemade marshmallows.
MIND THE MESS
One crucial thing to remember, says Gail Ciriello Buff of Cheesecake Etc., is that different desserts come with different mess potential. Cobblers stain and ooze. Doughnut towers topple. Guests will carry their desserts around the reception as they mingle, so consider their manageability. "I like to recommend things that are visually attractive and easy to cut and serve," she says. Buff has created buffets of small desserts, such as mini-tarts, cookies, and cannoli.
GET WHAT YOU REALLY WANT
Ella Hailey of Ella's Celestial Cakes says that far too often, couples opt for basic, predictable cake flavors because they want to please everyone — hence, vanilla buttercream at most weddings. "Couples can make an impact by sticking with their favorite flavors and letting the desserts reflect their personality," she says. Don't be afraid to live out that ice-cream-bar fantasy or serve the s'mores that remind you of your best camping trips together.
SCALE DOWN
Every single one of your guests doesn't need each type of dessert you're serving — and trying to include full-size dessert options can get expensive. Ines Aranguren, of Sky's the Limit Bridal Sweets, says the middle ground often includes a small cake with enough servings for about half the party, surrounded by mini-desserts, such as cupcakes. The cake still makes for a great centerpiece and photo op while giving guests the option of other flavors and treats. But, Aranguren says, a large, traditional wedding cake gives couples a major advantage — leftovers!