Cutting the (Gluten-Free) Cake
When guests have special dietary requirements, here's how to deal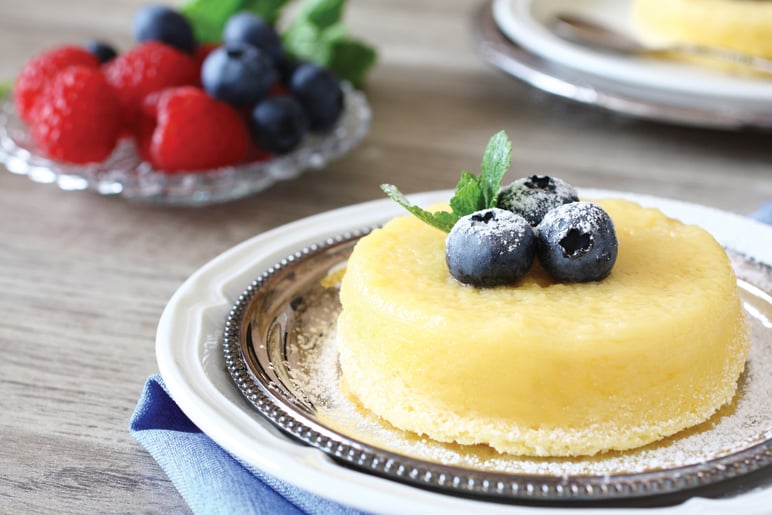 Nothing symbolizes a wedding more than the cake, cut in a sweet and symbolic act of unity. But lately that cake may very well be vegan, allergen-free, or gluten-free. It can be a challenge to accommodate guests when there's a wide range of dietary restrictions. Event planners, caterers, and bakers have taken notice and are responding to this growing trend.
Get the details
It's important to find out exactly what those restrictions may be. "Some people like to give their guests the options in advance," says event designer and coordinator Ivy Robinson of Ivy Robinson Events, who recently arranged a five-course, sit-down dinner that was completely gluten-free.
It's not unusual for reception reply cards to offer a check box for guests to indicate their preferred entree with a vegetarian option in addition to a choice of meat dishes. Now, they are likely to include a separate line asking, "Do you or anyone in your party have any special dietary needs?"
A clever solution for those who are not truly allergic but instead have strong preferences is to serve a trio of entrees on a single plate for each diner at the reception. In that fashion, guests can sample only those they wish or partake from each, "so all palates are entertained," says Robinson.
Guests appreciate couples who "go that extra step" for the celebration, says Carla Eustache of Style Perfect Events. "Brides are doing 'stations' to accommodate them," she explains. This allows each diner to select only what he or she likes, and it eliminates some of the pre-planning that comes with organizing a plated meal.
Of course, many couples are already familiar with their guests' needs. Charlotte bride-to-be Cat Babbie is in the midst of planning her upcoming wedding to Shawn Lynch. "We have enough friends who are vegetarians that it made it important for us to be sure they could enjoy the food just as much as the omnivores at the wedding. It wasn't a hard decision or challenge for us to provide more options. We'll be serving a tortellini in a homemade tomato sauce, a crowd pleaser no matter what you eat," she says. What's more, many of the accompanying dishes on her menu are naturally gluten-free and satisfying enough to stand on their own as an entree. "I'm not worried about anyone going hungry," she adds.
Be mindful of preferences vs. allergies
There are differences between food sensitivities and true allergies. If an event will include guests with severe allergies to ingredients such as nuts or gluten, wedding hosts should be explicit when working with caterers and venues to specify that it's not enough for the dishes themselves to be free of allergens; the facilities that prepare and serve the food must be allergen-free as well. Make sure to mention these specific needs in advance, not midway through the planning phase, and never as an afterthought. Since most food-allergy sufferers are already fully aware of their limitations, clear communication between hosts and special-needs guests during the initial planning stages is key.
A beautiful compromise
But back to that cake that will not only have to taste delicious but must look lovely for the photographs: Guests with dietary sensitivities who may have been excluded from this delicious ritual in the past can now participate, thanks to the expertise of bakers who design and craft confections free of troublesome ingredients.
One of these artisans is Amy Craparo, who brings 15 years of experience to her company, Wow Factor Cakes. Another artisan is Ella Hailey, a graduate of Johnson & Wales University and the proprietress of Ella's Celestial Cakes. Her partner Curtis Bonwell explains that an unembellished, allergen-free cake can be flavored and adorned with decorations so skillfully it will be hard to tell the finished creation from one made with standard ingredients. "If you can eat it, we can make it," he proclaims. Cloud 9 Confections specializes in vegan, gluten-free, and eggless cakes; and bakers at specialty grocer Whole Foods Market can make vanilla, chocolate, and even carrot wedding cakes in traditional tiers, all completely vegan.
A wedding takes many months to plan, and the memories made on this milestone day will last for years. After the final toast is made and the couple embarks on their new life together, those who shared in the ceremony and celebration will remember not just the occasion itself, but the thoughtfulness of the hosts who met their guests' needs so tastefully. It's arrangement guaranteed to please. As bride-to-be Babbie says: "We know we're doing our best to feed our favorite people."
Amy Rogers is an award-winning writer, editor and independent press publisher. Books she has written include Hungry for Home: Stories of Food from Across the Carolinas and Red Pepper Fudge and Blue Ribbon Biscuits.