"Damn you, Bruce. And Damn This Stupid Government."
What Springsteen's canceled concert means for North Carolina. It's more than just a lost weekend.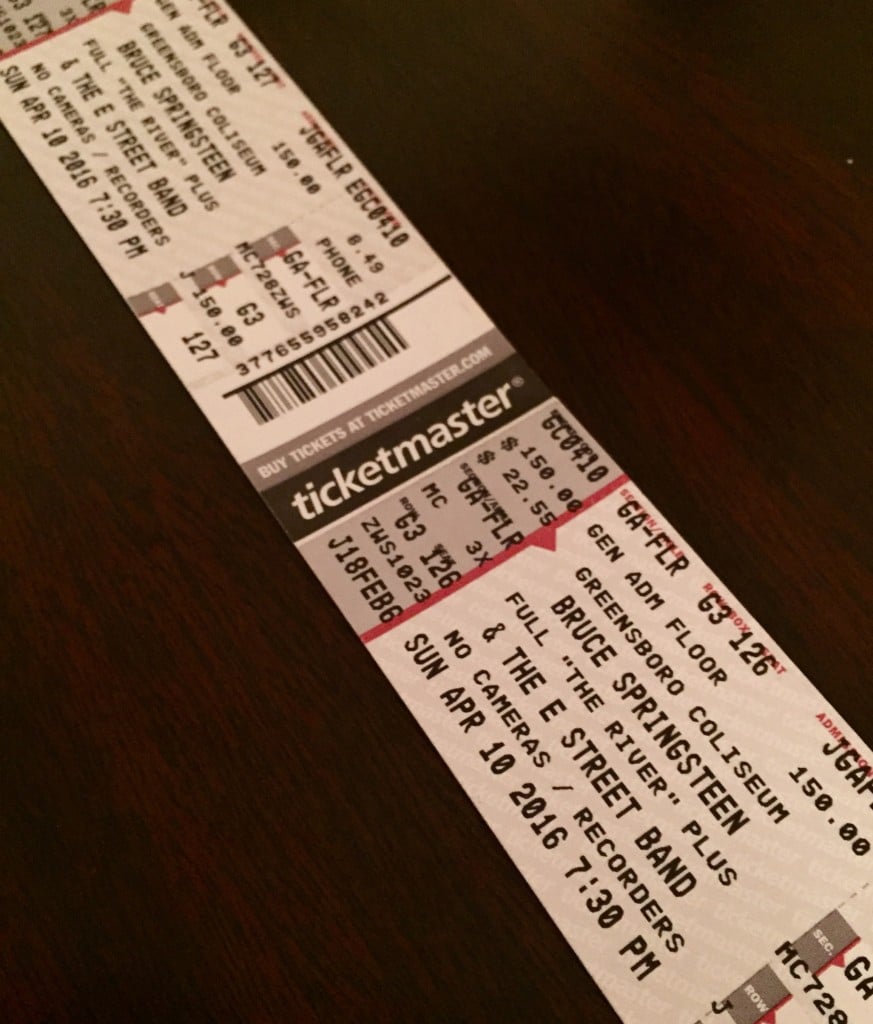 MY MOTHER HAULED a little Sony boom box from room to room while she cleaned on Saturdays, carrying with her the sound of the Dirty Dancing soundtrack or The Police or Rod Stewart. The woman loves Rod Stewart. I can still hear it all when I clean my house today, the noise from Richard Marx or, heaven forbid, The Bangles, haunting me every time I swipe a dust rag across my coffee table—a hand-me-down table that still has my brother's name written on the bottom of it in crayon, courtesy of yours truly.
The most obscene of all my mother's music, to me, was Bruce Springsteen. As an eight-year-old I couldn't understand a word the man said. In an era when voices like Whitney Houston's and Michael Jackson's dominated radio and Casey Kasem's countdown, Springsteen's growl was out of place. My father was a fisherman on the Chesapeake, and we had outboard engines that sounded better. "I can't go back in there," I remember telling Dad one afternoon while he melted lead for sinkers in his garage. "It's like he's not even trying to sing."
Naturally, I grew up and became a Springsteen fanatic. I've studied his songs the way a good accountant studies new tax laws, over and over, and wished for the day when I could write an opening line as clear as, "The screen door slams; Mary's dress waves." I now own nearly every album, many of them in three forms—iTunes, CD, and vinyl—and I've been to nine Springsteen concerts.
Sunday night should've been 10. Sunday we had tickets for the floor. Mom reserved a hotel room in Greensboro for two nights for her and Dad. The room had plenty of handicapped features for him, a stroke victim who gets around in a wheelchair and, on better days, a walker. She takes care of him pretty much fulltime now at their new home in Shallotte, a small town just south of Wilmington. Nights like these are her great escapes. Two Aprils ago at a show in Charlotte, Bruce crowd-surfed during "Hungry Heart," and I helped her rush to the middle of the floor to get a fingertip on his jeans. She was 62 then, smiling like a teenager.
Around 4 p.m. on Friday, I texted to tell her that she should cancel her hotel room. "Why?" she asked.
"Bruce canceled because of HB2."
She called immediately, her voice equal parts furious and broken-hearted. "Damn you, Bruce," she said. "And damn this stupid government."
Of all the fallout from the state legislature's latest anti-anti-discrimination law, a lost concert is hardly the most important. We've lost hundreds of jobs and will likely lose more. We've lost conventions and conferences. And even before all this, something that seems to be lost on the audience that equates transgender people with perverts, in Charlotte we lost two transgender teenagers in 2015 to suicide of the most brutal sort—they walked out into traffic. Bathrooms aside, HB2 does the opposite of embrace differences, and that should be enough evidence to say it's a mistake.
A friend asked me this weekend if I thought Springsteen was grandstanding. Seems reasonable. It also stands to reason that the only people he actually hurt are his fans; at least one Republican, U.S. Rep. Mark Walker of North Carolina's 6th Congressional District, laughed off the cancelation, telling the Hollywood Reporter, "It's like when a kid gets upset and says he's going to take his ball and go home." And, of course, other states have political stances that differ from Springsteen's. Texas executes more people than any other state, but Springsteen, a death penalty opponent, rocked away in Dallas last week.
You can find hypocrisy all around HB2, but the most likely reason Springsteen chose to make this state and this concert his example: It's where such a move would be noticed. That's what's scary. That's what's most telling about our reputation in other places these days. As someone who's lived in five of this state's largest cities and visited all 100 counties and devoted my career to telling its story, I'm embarrassed to know that people in other parts of the country see the words "North Carolina" and think we're all bigots.
I arrived in North Carolina from Maryland in 1997 as a 17-year-old college freshman and immediately fell in love with the place. Early the next year I joined a fraternity that was, for better or worse, stricken with a large number of kids from New Jersey. They blasted Bruce Springsteen songs daily. I remember wondering where the hell I was and what the hell these guys were doing. This was North Carolina, I thought, and this was music my mom listened to, I'd tell them. The more they played it, though, it grew on me. That summer, I delivered pizzas for Domino's. I snuck into my mom's CD collection and stole Springsteen's Greatest Hits album. I listened to it all summer, hauling pizzas in my Chevrolet Corsica. I played two songs more than others—"My Hometown" and "The River." In both, the main character suffers through living in a place where jobs are going away.
In the nearly 20 years since, North Carolina has exploded, bringing brains to Research Triangle and arts to downtown Asheville and soldiers to Fayetteville and business to Charlotte.
Forward, we've gone. Until HB2. When PayPal gave up on us. When Red Ventures threatened to not expand here. When the Southern Sociological Society yanked its 2019 meeting out of Charlotte, costing the Westin $180,000, according to a story in The Charlotte Observer Sunday morning. That same story said that 13 groups have canceled plans to host events in Charlotte, and others are considering going elsewhere.
It's like we're living in a Springsteen song.
Michael Graff is the executive editor of Charlotte magazine. He can be reached at michael.graff@charlottemagazine.com.