Dancing the Night Away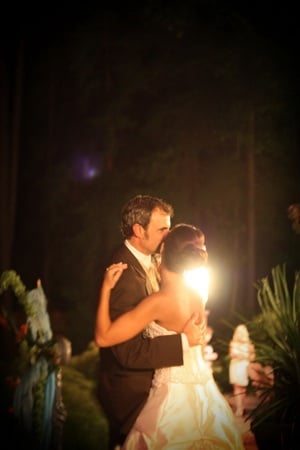 Dancing at weddings is what makes great memories, and when I go to a wedding where no music is played I get a tad bored. A great selection of music played at your reception will help your guests enjoy the party and relax a bit. Deciding what songs to play can get tricky, as we want to be original while keeping with traditions. Here is a list of First Dance song ideas form GigMasters.com's top wedding songs for 2012 to get you started:
"At Last" – Etta James
"Can't Help Falling In Love" – Elvis Presley
"Marry Me" – Train
"You & Me" – Dave Matthews Band
"Lucky" – Jason Mraz and Colbie Caillat
"The Way You Look Tonight" – Frank Sinatra
"Then" – Brad Paisley
Want to avoid a cliche-filled wedding? Steer clear of the Chicken Dance, Electric Slide, Macarena, YMCA, and "Cotton Eyed Joe" by Rednex. What other songs do you think couples should avoid playing at their wedding?