Date Night Dining: Where to Make Valentine's Day Reservations in Charlotte
Woo your boo with a date night at one of these Charlotte restaurants offering Valentine's Day specials and menus.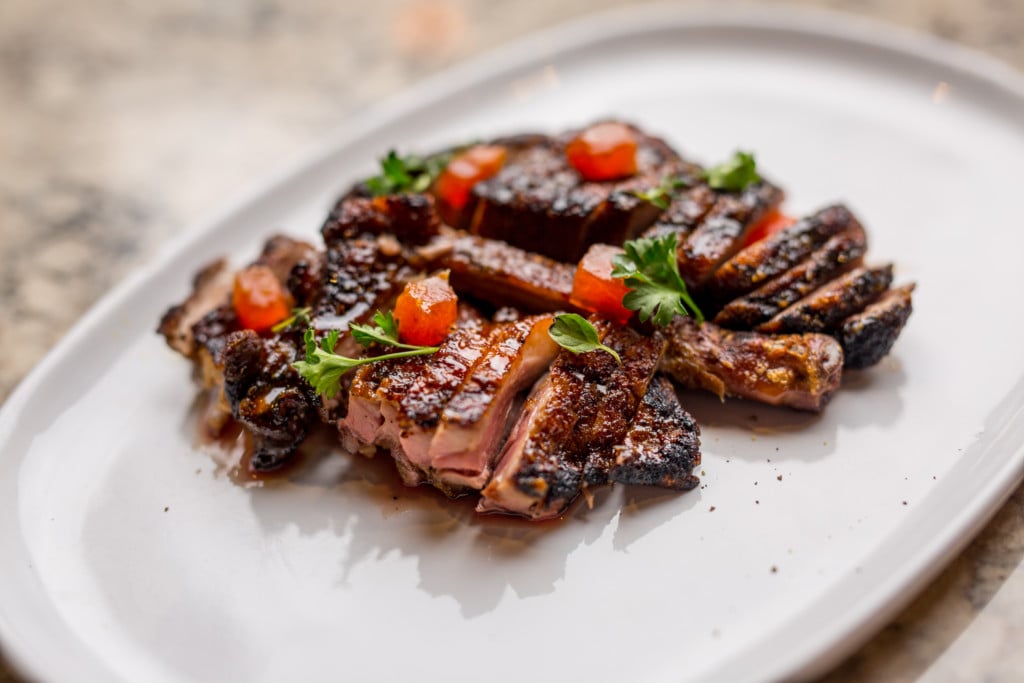 The way to the heart is through the stomach, which is great news for those celebrating Valentine's Day locally this year. Since the holiday falls on a Wednesday, we're willing to bet a lot of Charlotte residents will be hoping to wine and dine their partners on this lovey-dovey weeknight.
But what kind of dining experience sends the right message?
Luckily, there are quite a few delicious options to choose from this year. Whether you're hoping to play up the extravagance or just want to do something sweet, the below Charlotte restaurants will be offering Valentine's Day menus and specials, so you can choose what's best to fit your relationship. Just remember to make reservations, because seats are going fast.
Valentine's Day 2018 in Charlotte — Date Night Dining Options
Address: 235 West Tremont Avenue, Suite 100
For Reservations: Call (980) 209-0008 between 10 a.m. and 5 p.m.
The Meal: Expect to pay $125 per couple for a four-course dinner starting with oyster shooters. For your second course, you will be able to choose between the Carolina Collard & Apple Salad, Butternut Squash Bisque, or the Pomegranate & King Crab Salpicon. Your fourth course is a choice of Free Aged Lamb Ribs, Chicken Fried American Wagyu Beef, or Dry Aged Crispy Duck, and a side. The night ends as you indulge in one of two dessert options—either chocolate cake or a Krispy Kreme & Brioche Bread Pudding.
Address: 1100 Metropolitan Ave
For Reservations: Call (704) 370-7755 or book online here.
The Meal: Chef John Caputo has created a four-course tasting menu for Valentine's Day, and it will be available on February, 9, 10, and 14 for $65 per person. At Vivace, the dishes are Italian-inspired, so expect some of those familiar flavors with an upscale twist. The tasting menu begins with Antipasti and a Grilled Trumpet Mushroom and Shaved Asparagus Salad, followed by Gnocchi and sweet lump crab dishes. Roast duck breast follows. Then, the night closes out with a sweet hazelnut semifreddo with chocolate sauce.
You can also opt to share a dish with your love if you prefer that instead. For that option, it's $55 for a roasted whole fish for two, wrapped with 'nduja lemon-braised artichokes with Sardinian couscous.
Address: 1928 South Boulevard, Suite 200
For Reservations: Book online here.
The Meal: The Valentine's Day menu will be the only menu offered on Valentine's Day, but it will also be offered between February 9 to 11 and February 16 to 18 in addition to the restaurant's full dinner menu on those days. For $79 per guest, the three-course prix-fixe Valentine's Day menu will feature elevated takes of classic steakhouse dishes, including Long-Bone Berkshire Pork Chop with Chipotle Peach Salsa, Crab & Basil Stuffed Shrimp, and Bananas Foster Bread Pudding.
Address: 2410 Park Road
For Reservations: Book online here.
The Meal: The only option on this list that's not prix-fixe, Fran's is rolling out a Valentine's Day menu full of tasty items at mid-range prices. The appetizers include highlights such as Baked Brie for 2 with cranberry chutney, almond brittle, and toast points and Waffled Cornbread with pepper jelly and pimento cheese, at $14 and $8, respectively. The entree choices include pan-seared scallops, goat cheese ravioli, Fran's meatballs, and other tantalizing proteins. For dessert, you can choose among the Coconut Cake, Roasted Apple Tart, Red Velvet Cake, or Classic Bread Pudding (all $8.50).
Address: 1820 South Boulevard
For Reservations: Book online here or call (980) 225-9175
The Meal: Many may not think a fried chicken dinner is suitable, but those people probably don't live in the South. At Tupelo Honey for Valentine's Day, you have two options: a three-course meal for two for $45, or the same three-course meal for two plus a bottle of Virgola Prosecco for $65. Wondering what the three-course meal is? Enjoy a shared appetizer, two fried chicken supper plates, and two mini mason jar desserts for the base price of $45. The Valentine's tasting menu will be served from 4 to 9 p.m.
Address: 110 North College Street (at the Ritz Carlton)
For Reservations: Book online here or call 704-972-4380.
The Meal: Indulge in a flavorful blackboard menu of three courses for $75 a person. To start, you and your date can choose between a wedge salad or Butternut Squash and Goat Cheese Ravioli. The main courses present a decision between Herb-Grilled Tuna and Coffee-Rubbed NY Strip, accompanied by either Orzo Pasta or Roasted Cauliflower. For dessert, Banana Creme Pie and Triple Chocolate Entremets taunt you.