David Marsh Delivers in Olympic Trials
Charlotte SwimMAC swimmers are punching their tickets to Rio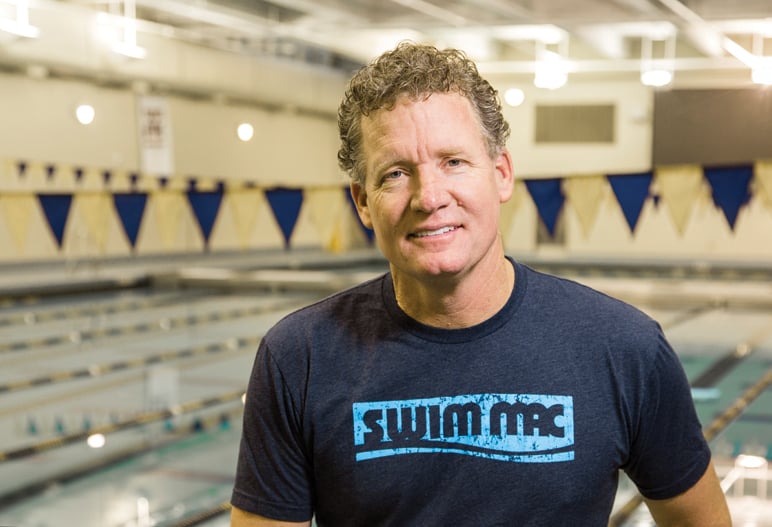 NOT LONG AFTER KATIE MEILI moved to Charlotte in 2013 to swim for SwimMAC Carolina's Team Elite, her coach tied a nylon cord with a small parachute attached to the other end around her head and told her to dive into the pool. Three years later, David Marsh's unconventional approach has Meili one step closer to earning an Olympic medal.
If there's anyone who illustrates Marsh's supremacy as a swim coach, it's Meili.
The 25-year-old breaststroker secured a spot on the U.S. Olympic team last night, finishing her event with the fourth fastest time in the world so far this year. Meili came to Charlotte after graduating from Columbia University in 2013, where she was good—she cracked the top five in the 100-meter breaststroke at the NCAA championships twice—but hadn't seen a breakout performance. In 2012, she broke her hand less than three weeks before the Olympic Trials and missed a slot on the U.S. team.
Last night, after she touched the wall, Meili spun her head around to double-check her time. It was great. She's going to Rio. "I was very hysterically crying," she said in an interview with the inside-swimming website Swim Swam right after the race. "Tears of joy but I've never felt a rush of emotions like that in my whole life."
Marsh, whom I profiled for this magazine in 2015, is arguably the best coach in the history of competitive swimming. His Charlotte-based team is one of the top club swimming programs in the world, and already three swimmers have secured spots in the Olympics: Meili, 19-year-old Kathleen Baker, and Ryan Lochte, the 11-time medalist. At least three more Team Elite swimmers have strong chances, not to mention a few dark horses, and then there are the dozen or so foreign swimmers who train in Charlotte who will represent their respective nations in Rio.
"The chatter among the [swimming] community is if you're an elite and you want to be on the Olympic team and you want your best shot at it, you better be at SwimMAC," said Mel Stewart, who runs SwimSwam, in my story about Marsh. Marsh emphasizes a mix of training methods instead of long, repetitive hours in the pool. It's a different approach from many other top coaches. But it works. It's why people move here from as far away as Zimbabwe to train with him. (Baker, who made a brief cameo in my story last year, moved with her family from Winston-Salem when she was in high school for a chance to swim for Marsh.)
The parachute, a small puff of synthetic material that dragged behind Meili's head, was designed to change her body position in the water. Marsh overhauled her stroke, making her swim harder, faster and more efficient.
After her race, a reporter asked Meili if she thought she could make it on the Olympic team after her disappointing finish four years ago. "Hell no. No. I don't think I even thought I would be in a place like this tonight," she said, choking back tears.
It's hard to fathom Meili swimming the time she did, with the power she put behind her stroke, without Marsh. "All of us are different," she told me in one interview. "He knows how to reach each of us in the way that we need to be reached."