Davidson College's Farm May Be Its Most Coveted Classroom
Why the next tools of higher education might include a shovel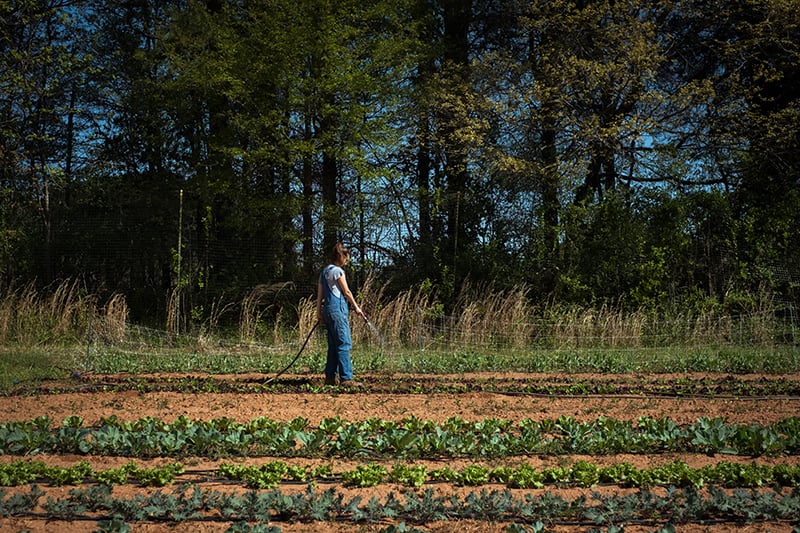 STUDENTS WOULD BE SCHOLARS and laborers. Thinkers and doers. Skilled in matters of the mind and endeavors of the earth.
This was Davidson College's approach when it opened in 1837. In addition to classwork, the administration required students to perform three hours of labor each day, usually on a farm.
Students hated it. What began as an experiment in comprehensive education became a class in civil disobedience. Students rebelled against the labor requirement with low productivity and curiously high rates of accidents. Wagons were disassembled and found in the tops of oak trees.
Students even enlisted a pig as an unwitting soldier in the war against manual labor. Each day, a ringing bell called students back to campus from field duties. Students tied the bell to the tail of a pig, fed the pig enough corn to keep it occupied until they made it to the fields, when the pig sauntered off and called students back with each step of a hoof.
Administration gave up.
Davidson's labor requirement lasted just four years, after which students could pursue academic studies in classrooms like proper scholars, forever free from toiling on a farm.
Or so they thought.
***
IT'S A BLUSTERY WEDNESDAY MORNING in March, and Ellie Irving's cheeks are pink and her boots are muddied. She's planting potatoes on the Farm at Davidson, just a mile and a half from the main campus. This is her job, and it's a coveted one at Davidson College. Her internship last year was in an office, and it involved a lot of screen time and spreadsheets. This year, the junior psychology major traded a résumé-padding internship in a comfortable office to work on a farm.
"This is the opposite of that," she says. "At school, you work and work and work, and you're never really done. But if you work on something out here for an hour, you can see—I planted a row of beans! It's real."
"Real" is a word that students and faculty repeat in conversations about the farm. In an academic environment where problems are represented on pages and screens, in which the world can seem more theoretical than actual, real is an experience to be craved. Planting a potato. Nurturing it. Eating it. Real.
Irving's interest in farming isn't unusual. People under 35 are becoming farmers at an increasing rate, and 69 percent of American farmers have college degrees, twice the percentage of the general population of working adults. Most of these young farmers didn't grow up in farming families, but turned to farming for a new kind of life. Some majored in environmental studies and went straight to the farm, while others traded office jobs for farm life, preferring soil to screens.
Irving doesn't intend to be a farmer, and she admits it's not an option she ponders in a classroom, though she kicks the idea around sometimes while she's out here. She can trace her path to the farm: She grew up loving to eat good food, then enjoying cooking it, then shopping at farmers' markets, then becoming curious about its origins.
She's planting potatoes with Spencer Patten, an intern. Irving and Patten say that this is a nice break from classes, that it's fun to spend time working on something unrelated to grades and classes and higher education.
As Irving and Patten plant potatoes, they chat with farm manager Theresa Allen about the business of farming. The three recap the sales of last week's on-campus farmers' market. They brainstorm new crops to plant (hops? edamame?) that would be marketable to the community and profitable for the farm. They ponder how to maximize the farm's Instagram strategy to increase sales.
This farm, after all, is a business. It must be self-sustaining. This produce helps supply the campus dining hall, but Allen and the student employees search for new markets and methods to increase sales beyond that. After the students tout the noneducational aspects of the farm, I hesitate to mention to them: This seems deeply educational.
"Almost every day someone here has a new idea," Patten, an economics major, says. "Like the other day, we were talking about doing a pre-made box, like Blue Apron. Maybe we could create a pasta box that has all the ingredients for a pasta dinner and sell that."
Several of these ideas have become realities. One is a weekly farmers' market in the student union, where students, faculty, and staff can shop for produce from the farm. Another idea-turned-reality is a CSA (community-supported agriculture), selling subscriptions to a weekly curated bag of seasonal organic produce, with bouquets of fresh herbs and flowers in each. Due to growing demand by faculty and staff, the farm increased CSA production and prices this year.
Despite the science of growing and the math of profit margins, the students still feel that the farm is more of a break from school than a part of it. The farm provides an escape from the pressures of perfectionism. Organic farming, after all, comes with a lack of certainty and control over outcome. Nature isn't an ideal group partner.
"Stuff goes wrong, but you can't just cry over your tomatoes, because there's so much more you need to do," Irving says. "You have to move on to do something else."
I ask Irving if this acceptance of risk and tolerance of failure extends to her classwork. She laughs so quickly and nervously that it's clear: They do not.
***
THEY MAJOR IN PSYCHOLOGY. World religions. Economics. Biology. Environmental studies. Some aren't sure yet. They're here on a Wednesday afternoon to take a class on farming. This class isn't required. It doesn't fulfill a general education requirement. Yet the class is so popular that the 20 students in it are the lucky ones who got in before the cap.
Time is valuable anywhere, but especially at Davidson College. It's been called a hidden Ivy, a highly selective school where incoming freshmen seem to have accomplished more than most people will by retirement. These students don't have much time for distractions from academic and professional pursuits. Yet here they are, econ majors and psych majors and undecideds, in a class they don't need to take, learning about farming.
As part of class requirements, students will spend at least eight hours working on the farm this semester. Only interns and these students can work on the farm, and professor Dr. Amanda Green believes this is the incentive for most students when they register. They want to get out on that farm, and this class is their ticket.
Like Irving, most students' interest in the farm begins with an interest in food. But food becomes a gateway to other issues. Socially inclined students grow curious about the socio-economic, geographic, and racial privilege involved in food systems: who has access to healthy food, and who defines what healthy food even is. Environmentally inclined students gravitate toward sustainability issues, such as the impact of climate change and the loss of topsoil. Economically minded students analyze the costs of producing, selling, and distributing local and organic food to institutions and restaurants. Biology students study the impact of soil and insects on plant growth.
"(Students) think they get to work at the farm, but in turn what they end up learning is all of these other broader sustainability issues," Green says. "Our farm is not going to solve world problems, but it is going to teach them to act—to do a small part and think more broadly about all of these issues. It just makes it real. The farm makes everything real."
***
CLASS INSTRUCTION IS a group effort. Green invites professors specializing in soil, entomology, and ecology for guest lectures. The class visits the dining hall to talk with the dining hall manager and chef about the realities of food purchasing and preparation. Local leaders involved with food pantries and community gardens visit to share their insights.
Out on the farm, students' education comes from Allen. But still, the lines between farm and classroom blur.
Allen gets the students thinking about other classes that could benefit from farm time. Patten brainstorms a few: What if students studying the Great Famine in Ireland learned to plant potatoes? What if American history students grew tobacco or cotton? What if the food ethics students learned what it takes to grow organic food? Wouldn't it make these lessons so much more… real?
"I get chemistry kids who are going to be doctors, who have been sitting in a lab all day," Allen says. "Why don't we bring these kids here and show them the farm, so that one day they can think of food as something to prescribe to patients?"
It's Wednesday afternoon at the campus farmers' market, and tables are covered with the produce of spring: carrots, kale, potatoes, lettuce. Recipe cards inspire students to transform this produce into meals in their dorm kitchens.
Michael Hall, one of Allen's former students and a market regular, arrives. He shows up with a $5 bill and a challenge for Allen to find the best way for him to spend it—a challenge she loves. Hall is no newbie to produce, however. Last fall, this economics and Latin American studies major volunteered on a farm in Peru, working with the farm to employ practices to help lift the town out of poverty and improve residents' nutrition. He gushes when he talks about the community-changing and sustaining forces that a farm can have on the people around it.
Another regular arrives, not to shop but to visit Allen. Senior Sierra Ponthier has applied Allen's lessons around the world: After working on the Farm at Davidson during her freshman year, Ponthier volunteered on a small organic farm in Italy. This summer, she's one of 40 students nationally who will travel the world on the Watson Fellowship—studying in Ireland, Morocco, and Brazil—as part of a program to cultivate female leadership in restaurants.
"Do I want to be a farmer?" Ponthier asks herself hypothetically. She then laughs, looks at Allen, and gives her a side hug. "No. But I've learned I love to appreciate farmers!"
Most students on the farm won't become full-time farmers, but a handful have. Some have gone on to work in urban gardens or the Peace Corps. Others take lessons from the farm to careers in business or sustainability. Others simply maintain gardens at home. Somehow, one of the most valued classrooms in a prestigious 2018 education is a field of soil.
"This is the history of agriculture in the U.S.," Green says. "At first it was like, 'Ohhh, the drudgery! Get me off this farm!' And now it's more like, 'Hey, get me out of this office! Out of this library!'"