Davidson Day High Schoolers Go Beneath the Surface in Belize
Every year, teacher Mat Saunders takes a group of students and parents to dig. They always find more than old bricks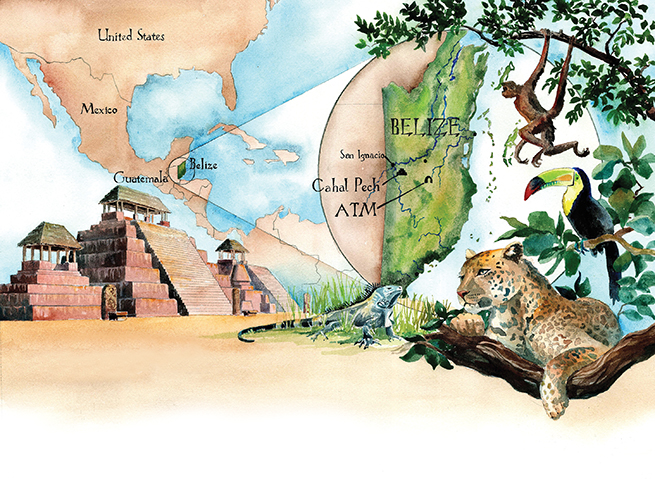 Mat Saunders plunges into the deep, frigid water at the entrance to the cave. The water temperature is a chilly 75 degrees, but he hardly notices. Wearing tennis shoes, shorts, and a T-shirt, he swims maybe 20 feet to the cave ledge and pulls himself out, clothes dripping. We wait for him.
This is one of the few times Saunders is following us. He's our leader. We're here in Belize to visit our teenagers at Cahal Pech, an archaeological dig where a Maya community thrived more than a thousand years ago. Today we've ventured away from the dig to tour Actun Tunichil Muknal, nicknamed ATM. The famous cave is filled with Maya artifacts.
As we wade through a cave stream with water sometimes chest high, Saunders teaches us about ancient pots, ceramic pieces, and rock formations. The path is illuminated only by the lamps on our helmets. We scramble over limestone boulders and squeeze through rock shelves. Saunders stops us at his favorite spot, an altar with obsidian blades used to draw blood for religious rituals. The Maya sacrificed people in this cave. They believed caves were passages to the underworld and the gods.
We're deep into the cave when we come to a ladder. If we climb it and thread through a rocky passage, we'll glimpse the skeleton of some poor girl dubbed The Crystal Maiden. I balk. I'm creeped out and worried about falling.
"But you'll miss the grand finale!" Saunders says with a mix of humor and genuine concern. An archaeologist and teacher of anthropology, mythology, and world religions at Davidson Day School in Davidson, Saunders is a persuasive guy. He's right. Seeing the skeleton is worth the trip. The sight makes the Maya feel more real to me. I can imagine a little more about the girl this once was.
After we descend, Saunders crouches to tell a ghost story and asks us to turn off our headlamps. At 36, he still has a youthful, eager face, and the build of someone who was an all-star wide receiver in high school.
The way out is much easier. Or maybe I just know what to expect. We hike back through the jungle to our van, crossing three rivers on the way.
For him, spending time with skeletons in a hole in the ground is pretty easy. In 2000, he excavated ATM, also known as the Cave of the Stone Sepulchre, as part of one of the first exploration teams to come here. He guesses he's spent about a month of his life inside this cave. ATM may not even be the most frightening cave he's explored. Once, in another cavern nearby, he took off his helmet to fit into a narrow space. When he looked up, he saw a thousand glistening eyes, or so he thought. His light reflected off a ceiling of albino tarantulas.
In 2006, Saunders started AFAR, the American Foreign Academic Research program. Since then he's brought more than 150 high school students from North Carolina, New York, Texas, Florida, Illinois, Iowa, California, Canada, and Egypt to Cahal Pech during the summers. This time, my son Noah was among them. Some years, Belizean students join them.
COURTESY TIFFANI THOMAS
High school students from Davidson joined with students from Arizona, Texas, and California, on an archaeological excursion to Belize this summer to learn about history. They got their hands a little dirty along the way.
The same cultures that made sacrifices in the cave lived at Cahal Pech—"Place of Ticks"—where several dozen students, guided by archaeologists and other supervisors, are now working.
They will spend the next two weeks excavating what looks like a small hillside covered with trees. We know something is in that hillside. The line of buried stones at the top of the hill suggests a wall, and past excavations in the area have yielded a Maya temple, complete with tombs and treasures.
This isn't archaeology camp. It's archaeology. AFAR is only one of two field schools in the U.S. that takes high school students on an international dig. In 2008, the president of the American Institute of Archaeology, the largest association for archaeology in North America, was impressed by Saunders' work and invited him onto the AIA board. Saunders served for years as vice president of education and outreach. In 2009, Apple named Saunders one of its distinguished educators, a group honored for bringing "the freshest, most innovative ideas to students."
I met Saunders in 2011 when I heard about AFAR from a friend. Saunders had been a teacher at Davidson Day for about a year—he moved here in 2010 after being recruited by the former headmaster, who met Saunders while on a tour of Cahal Pech a few years before then. Noah was only 11 when I met Saunders, too young to go on a dig, but I invited Saunders to brunch so we could learn more about the program. Like many other kids, Noah loved dinosaurs as a little boy, but unlike most, he stayed interested as he got older, paging through copies of National Geographic and reading books about natural history.
When I agreed to let him go on this trip, I made a bargain with my son: He could leave on this escapade, but I'd fly to Belize in July for Parents' Week at Cahal Pech.
I also wanted to get to know Saunders better. I've written about archaeology and understand some of the rigors and potential hazards of fieldwork for professionals, let alone teens.
Why would an archaeologist want to take high school students abroad to a setting that many other teachers wouldn't touch? And with so much of Maya archaeology left to investigate, why is he even spending time being a high school teacher?
The last thing Saunders expected when he left for college at the University of Kentucky in 1995 was that he would major in anthropology. He also didn't anticipate meeting a person like Doug Weinberg.
Saunders grew up in the country, in eastern Kentucky. His dad's main job was as a steel worker, but he also built and remodeled homes and worked as a Baptist minister. One of Saunders' uncles gave him archaeology magazines and took him to dig for fossils. He was fascinated by dinosaurs, but it didn't stop there. He liked old furniture, too. He was drawn to elderly people. "I've always been drawn to old stuff, and I'm not sure why," he says. "I wanted to know the story behind things."
COURTESY MAT SAUNDERS
Doug Weinberg (left) and Mat Saunders became best friends almost immediately.
He headed to a university known for its biology program with plans to go pre-med. But during his junior year, he added anthropology as an elective. Secretly, he'd longed to be an archaeologist since kindergarten or first grade. "I thought, 'I want to do this. I don't care if I'm wealthy,'" he says. His parents questioned him, but they had faith in his tenacity.
In his classes, Saunders met another anthropology major, Doug Weinberg. Weinberg was pretty hard to miss. He had a full beard and long, brown hair that ran down to the middle of his back. One day, Saunders noticed Weinberg having a cigarette on the steps of Lafferty Hall—which houses the anthropology department—and decided to introduce himself.
It was an unlikely friendship. Weinberg was a Jewish boy who had made straight-As in high school until his mom died of cancer. Then he fell apart and dropped out, eventually earning a GED and enrolling in the university. Saunders, a Southern Baptist, didn't work very hard in high school classes but was a valuable player on the athletic teams. He was a jock who switched from football to lacrosse in college.
Their interests brought them together. Weinberg played drums in a couple of local bands that Saunders admired. They had the same tastes in music, from Miles Davis to the Grateful Dead. They loved to talk archaeology over microbrews. And they both loved adventure. When Weinberg got accepted to do fieldwork with the Belize Valley Archaeological Reconnaissance Project, he suggested Saunders apply, too.
The summer of 2000, before his senior year of college, Saunders boarded a plane to Belize. It was his first trip outside the U.S. Weinberg chopped off his hair for the field school and looked as clean-cut as Saunders when they arrived.
On their second night in Belize, Saunders found himself camping with Weinberg in the middle of the jungle. He was 23 and terrified, with an overstuffed, 86-pound backpack.
Saunders could hear every bird and insect. He imagined monkeys watching from the trees. The camp might be surrounded by jaguars. He had to pee. On the flight to Belize, he had read about the country's jaguar preserve and felt awful that the magnificent species was being decimated. As he stole into the jungle to pee, though, he had a single thought: "God, I hope they're all dead."
Later that week, Saunders and Weinberg spotted two explorers from the Belize Valley project outside ATM with oxygen tanks strapped to their backs preparing to dive into the cave's deep, dark pools.
"Hey, we're divers," Weinberg said to the explorers, on a whim. "We can help you."
"Really?" one of the men said back. "Have you got your cave
diving certification?"
Saunders and Weinberg both had standard diving credentials, nothing this advanced.
"Sure," Saunders said.
"Have you got it on you?"
"No," Saunders said quickly. "We wouldn't bring it into the jungle."
The Belizeans bought the story. That was the kind of adventure that made Saunders and Weinberg like brothers.
Before she met her future husband in 2003, Priscilla Trainum had heard about Saunders for months from her dad. Her parents and Saunders' parents were friends from church.
Saunders bonded with her dad over college football; the pair spent a lot of game days together.
When Trainum finally met Saunders, the man who would become her husband, she looked him over and said, "So you're my dad's girlfriend."
Saunders sputtered something back, but still, he caught her attention. She was in college, studying to be a teacher. Saunders had just finished his fourth field season in Belize.
Unlike most people who meet Saunders, Trainum wasn't immediately enthralled with the romance of archaeology. "It's cool," she told him. "Now get a real job." She told him the artifacts he found were a dime a dozen. When he described the joy of learning where ancient people once lived, she thought, "Of course someone walked here. Someone walked everywhere."
Soon, Saunders did get a real job, teaching high school students in Flagler County, Florida public schools, and he earned a second undergraduate degree in teaching. He convinced his principal to let him offer an archaeology course, and it became the most popular elective in the school.
In 2005, the pair got engaged. Weinberg, who had moved to California for a job, visited in late February to meet Saunders' future wife and plan the bachelor party. Ten days later, Saunders was in school when he was summoned to the principal's office. He had a phone call. Weinberg's family had desperately been trying to reach him.
Weinberg, not yet 30, had died of a pulmonary embolism.
A few days later, Saunders delivered the eulogy for his best friend. "The whole thing changed my life," he says. "It destroyed my world."
He wanted to do something meaningful. Something for others, in Weinberg's honor. He started a nonprofit to help kids go to Belize.
This was the birth of AFAR.
Dr. Jaime Awe, the director of the Institute of Archaeology in Belize, is a star in the archaeological world. The Huffington Post calls him "a real-life Indiana Jones." A Belizean, Awe has known Saunders since Saunders showed up for his first field school in Belize.
LOGAN CYRUS
Saunders, who's done more digging in foreign lands than most Americans, preps for an archaeology simulation at Davidson Day for elementary students.
"He was the only one of my students who actually wore a matching outfit," Awe jokes. "I think he went to Abercrombie and Fitch."
Saunders kept coming back, summer after summer, to Cahal Pech. A couple of years later, in 2005, he emailed Awe to ask if he could bring some of his high school students.
"I remember thinking, 'You are out of your mind,' " Awe says. "It's hard enough being responsible for students who are of legal age. To be responsible for a bunch of high school students? No. I told him, 'I love you but it ain't going to happen.' But Mat knows how to be convincing. He kept working on me and he wore me down."
Along with convincing Awe, Saunders had to lobby his wife, too. She was pregnant with their first child when Saunders brought the first group of four students to Belize. "He kept leaving and spending our money," she says now, laughing.
But she recognizes that AFAR is valuable to the students. They participate in groundbreaking archaeological research, meet teens from another culture, and discover a world outside the U.S.
Saunders heaves a pickaxe to tear at the soft, brown dirt of Cahal Pech, digging a neat, straight groove. He kneels and grabs a trowel to clean and clear the dirt. "This stuff's unpleasant to breathe," he says of the limey chalk. He's searching for an ancient wall. So far, the main clues are a line of buried rocks on the top of the hill, and a single stone that juts out from the bottom of the hillside. He considers it, puzzled. "This is not the wall. At this level, I just don't understand why this stone is pushed out." He sits and resumes picking, dirt flying up behind him.
"Look at this," he says, wiping his brow. Students drift over to watch him. Some wonder if the stone is the beginning of an "outset," a decorative structure on either side of a stairway.
After 30 minutes of digging, though, they don't find any other stones to suggest an outset. The Maya may even have removed the pretty exterior facing stones to build other stuff. That would be disappointing; it would make it harder to figure out what the building was.
But Saunders tends not to see obstacles. He's a showman, and that keeps the teens interested. "You've worked harder than any group we've ever had," he tells them. "When we hit the walls and stairs, you'll peel it away," he says. "Keep the energy high." It's useful, a lesson on how to sustain hope on the days when all one gets is dirt.
A peccary on the bed dominates the hotel room as Saunders and volunteer Dave Swezey walk in. Its head—similar to a pig's—is the handle of a ceramic pot that could be 1,700 years old. The pot was found in a tomb a few days before I arrived at Cahal Pech. For now the artifact is stored in this room. Swezey hurries over to see it.
"The blank spots are interesting," Swezey says. The pot has hieroglyphs and other drawings in somewhat random spots.
Saunders takes it a step further. He jumps up and imitates a long-ago potter from ancient times, scribbling drawings onto the vessel. "It's like, 'Oh man, was that due today? Here you go. It's for the king's birthday. I didn't have time to put his name on it yet.' "
The peccary pot is just one of the finds made by students and professionals at Cahal Pech. A couple of years ago, they excavated a halved conch shell with three different colorful pigments preserved in it. To date, it's the only inkpot from the Maya world discovered with multiple pigments still intact. The team also dug up three jade danglers, a dazzling type of jewelry worn by royalty on their belts. The third find, rings made of bone with hieroglyphic inscriptions, revealed the name of an ancient king at Cahal Pech. From the inscriptions, Tulane University archaeologist and AFAR faculty member Marc Zender deciphered a previously unknown glyph, the word "ring."
The country of Belize keeps everything the group finds. Saunders doesn't mind. He collects people, not artifacts.
Saunders' enthusiasm is backed by expertise, at least at Cahal Pech. Toward the end of the second week, the students make the discovery they were hoping for. "Dude, we found the building stairs!" one student tells another as word spreads on the site. The moment is as satisfying for Saunders as for the teens.
Saunders' cell phone rings all the time in Cahal Pech. The vegetarian lunches have gone missing. A driver is lost and needs directions. There's a question about a bill.
This time, though, the phone call is from a builder in south Florida. He's interested in Saunders' construction project. They agree on a conference call in half an hour.
A couple of days ago, Saunders closed on 10 acres near Cahal Pech. He has wanted for years to create a facility dedicated to Weinberg: The Douglas Weinberg Center for Archaeological Research. The center, he envisions, will include lodging, an open-air dining room, a kitchen, and an education center. He wants to promote dinner and talks with archaeologists there. He even wants to have a semester abroad program for students. He wants Weinberg's dad to be involved in the planning.
Saunders sips coconut water while Swezey, a retired accountant, talks about construction requirements. The structures must be able to survive hurricanes and earthquakes. There's no municipal sewer system. They'll need to get electricity, water, and a nice road dug out soon.
Saunders drums his fingers on the table. He thinks of another challenge. Tile, sinks, and other finishing items will have to be imported because they aren't available here.
The cell phone rings. The builder's voice crackles through the speakerphone connection.
"Our next field school could begin in June or July of next year," Saunders tells the builder. "We'd like to come as close to being ready for students as possible."
They discuss a few details. The property will be fenced and gated for safety. They'll save the old growth trees, add a wooden bridge across a stream. The first step is to complete conceptual drawings. Saunders promises to get the drawings sent to Florida soon.
After the call, he leans forward, resting his arms on the table. He looks exhausted but grins with excitement. It's not every week a man unearths a dream and brings it to light. Now all he has to do is build it.