Debating the Pregnancy Diet
Is the new fad a great way to lose weight or a dangerous starvation diet?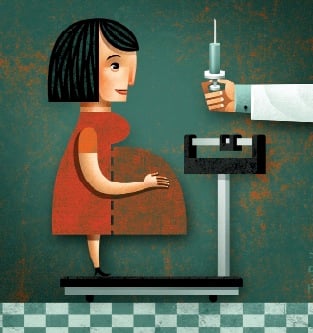 Tammy Settles is half her old self. "I was 355 pounds," the fifty-year-old says. "I was a big girl but when I started the diet I was dropping up to two pounds a day." The diet Settles swears by is the controversial and costly (usually about $1,000) hCG diet, which is quickly gaining popularity.
The idea is simple: hCG, otherwise known as human chorionic gonadotrophin, is a hormone produced naturally in pregnant women. Patients inject themselves with shots of hCG for forty continuous days. Advocates say the shots work by metabolizing the body's stored fat to supplement a meager 500-calorie-per-day intake. After the forty days, if patients haven't lost all the weight they want, they're required to take six weeks off the diet and can start again after that. Once patients reach their target weight, they simply have to incorporate healthful eating habits and exercise to maintain the weight.
Settles admits it sounds crazy, but says, "When you're on the hCG, you're not hungry. I thought, 'Oh my God, I'm gonna starve to death!' But it wasn't difficult."
Settles is a patient at REVITA Anti-Aging Center in Ballantyne, the only place in Charlotte offering the injections. Don Nicholas, the clinic's CEO and wellness director, says REVITA gets patients from across the region. REVITA has seen a 700 percent increase in the number of patients this year over last.
Some experts say the diet is dangerous. The American Society of Bariatric Physicians, which reported a surge in hCG's popularity last year, also took a formal position against it, stating that it was not effective and didn't provide sufficient protein. Dr. Thomas Barringer, the co-medical director at Presbyterian Novant Heart & Wellness, agrees and says there's no reason to believe the diet works other than through drastic calorie reduction, which some say amounts to a starvation diet. "We don't know much about the safety of using this drug in people for weight loss," he says. "There are very few good short-term studies and no long-term outcome studies. There are reports of thrombosis [blood clotting], and side effects like depression, anxiety, headaches."
Settles insists the only side effects she's experienced are good ones. "Through my forties I walked with a cane, sometimes two," she says. "Now I don't need a cane at all."