Democratic National Convention Chair Antonio Villaraigosa Visits Charlotte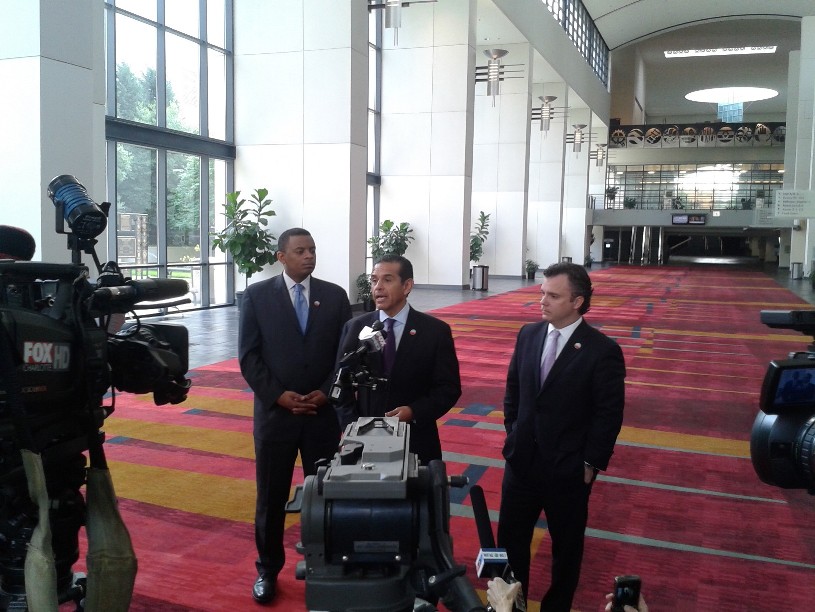 Los Angeles Mayor Antonio Villaraigosa, who in February was nominated as permanent chair of the 2012 Democratic National Convention, is visiting Charlotte for a couple of days. This morning, the Democratic National Convention Committee invited media to meet with him as he toured the Charlotte Convention Center with Mayor Anthony Foxx and DNCC CEO Steve Kerrigan.
I captured this video below of the three convention officials making brief remarks before Villaraigosa took questions from the media. Mayor Foxx said he served as sort of a tour guide to his L.A. counterpart, showing him around the Queen City last night, which included stops at Levine Museum of the New South and Levine Center for the Arts (home to Bechtler Museum, Harvey B. Gantt Center, Knight Theater, and Mint Museum Uptown).
"I was able to explain to him what really makes this city special," Foxx said. Foxx, Villaraigosa, and Kerrigan also had dinner at Harvest Moon Grille, which seems to be a local fave of DNCC staffers.
During the Democratic National Convention in September, the Charlotte Convention Center will be used for caucus and allied group meetings, media workspace, and other special events. Villaraigosa was also scheduled to tour Time Warner Cable Arena, where official convention proceedings will take place September 4 and 5, and Bank of America Stadium, where President Barack Obama will speak and accept his party's nomination on September 6.

As permanent chair, Villaraigosa will preside over the convention proceedings, ensuring order, decorum, and efficiency as the party re-nominates President Obama and Vice President Joe Biden, adopts the national platform, and conducts other Democratic Party business. The permanent chair also acts as a national spokesperson for the convention. During his presser with Charlotte media, Villaraigosa said he'll help the DNCC in these months leading up to the convention in whatever ways they request his assistance, including fundraising.
Prior to the Convention Center tour and press conference, Villaraigosa met specifically with local Hispanic journalists earlier this morning during a small media roundtable event at the DNCC headquarters in uptown (see photos here and here).