Denise Watts, Project LIFT, and Charlotte's Big Test
Denise Watts is leading an ambitious—and risky—public education experiment on the city's west side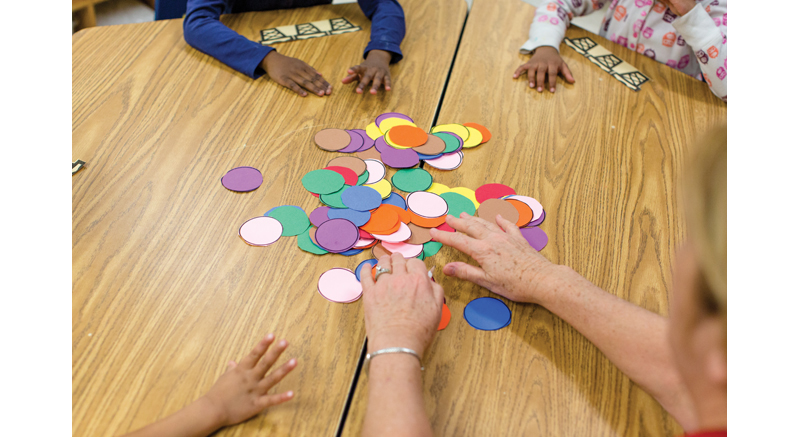 On the eve of her 38th birthday, Denise Watts, with close-cropped dark hair and wearing a charcoal tweed blazer and black slacks, stands at a rickety wooden podium in the multipurpose room of Druid Hills Academy. The public school off Graham Street three miles from uptown serves students in pre-K through eighth grade. It's located behind a gas station and beside a junkyard with rusty cars and a disintegrating old tractor. This room doubles as a gymnasium; simple basketball goals stand on either end of the laminate floor. The wooden backboards have been hand painted.
Nine school board members, Super­­­­intendent Heath Morrison, and the board's attorney sit in metal chairs behind three tables draped in black cloth, listening carefully to Watts. She's making the case for a year-round calendar at four struggling schools on this side of town. "We hope the difference is positive," she says from the lectern. "That's the whole goal."
It would be a dramatic shift for CMS: stretching the school year, shortening breaks, and adding instructional days. Watts had to convince a skeptical state legislature to allow a calendar change before she could even discuss the idea with the school board. Philanthropists will cover the $2.3 million cost of the changes.
The extended calendars at Druid Hills, Thomasboro Academy, Bruns Academy, and Walter G. Byers School are the first major test for Watts and the program she leads, Project LIFT. By adding time to the school year, teachers hope to reduce the amount of knowledge students lose during the long summer break—a documented phenomenon that disproportionately affects poor students.
Watts knows the proposal is controversial. It affects summer camps, day-care plans, and teacher pay. It upsets the status quo. Unlike many people who speak at lecterns like this one, Watts doesn't gloss over the criticism. She walks board members through a list of pros and cons. There are a lot of cons. "I didn't try to sell this as, 'It's going to be all positive and it's gonna be a win-win,'" she says to board members. Her voice sounds like a teacher's, firm but caring.
None of the school board members seem surprised by Watts's candor. They heap praise on her. And then they deliver her first major victory, voting unanimously to shuffle the calendars. In the audience, parents and teachers leap from their chairs and applaud.
Project LIFT—the acronym stands for Leadership and Investment for Transformation—is a $55 million public-private partnership designed to improve academic performance at West Charlotte High School and eight schools that feed into it. The money is all private, raised from local corporations, foundations, and individual supporters. The program grew out of the frustration and embarrassment of West Charlotte's dismal graduation rate; just half of the students earned diplomas in 2010, the lowest percentage in the district. Until the mid-1990s, West Charlotte was one of the best high schools in the state.
Outside, in a white cinderblock corridor, a short woman with graying hair wraps Watts in a hug. It's Dianne Williams, a longtime resident of the Thomasboro neighborhood. Decades after her own kids came through CMS, Williams adopted three more children. Eight-year-old Nydasia and 5-year-old Dashawn will be among the students adjusting to a year-round calendar at Thomasboro next school year. "I told Denise and her staff before this even started, if they didn't do year-round schools, my children are going to be sitting on their doorstep waiting for an education during the summer months," Williams says.
A group of teachers emerges from the school board meeting and breaks out into a chant, something they typically use to praise students. Tonight, they're addressing Watts.
"You know you did a good job! So say you did a good job! You did a good job!"
Someone has to peek out of the meeting room and tell the crowd to hush.
Denise Watts is leading the most ambitious education experiment in Charlotte-Mecklenburg since desegregation. She has staked her professional reputation, tens of millions of philanthropic dollars, and the futures of 7,400 children on Project LIFT. She reports to the district's deputy superintendent and to representatives from some of Charlotte's biggest companies. She battles stereotypes about race, poverty, and the influence of private money in education. If her gamble pays off, LIFT will become a model for the rest of North Carolina and, Watts hopes, the country. If it fails, Watts could be out of a job.
She tucks her iPad under her arm, thanks the teachers for coming to the school board meeting, and barrels toward the parking lot.
Sixteen hours later, Watts is sitting in the media center at south Charlotte's Endhaven Elementary, another of Charlotte's green-roofed elementary schools. She just finished a meeting with Superintendent Heath Morrison and is clearly anxious to dive into the work created by the previous night's vote. She's not basking in her victory.
"I don't stay in the moment of celebration too long because there's work to do," she says while her hands nervously tie knots with the ends of her Carolina blue scarf.
Watts was raised in Jonesville, N.C., by a single mother. The family struggled with everyday necessities. "There were times when we came home and we didn't have lights," she says. "I think I was aware enough, even as a very young child, to know there was a difference between how I lived and how some of my friends lived." At school, Watts was able to block out the turmoil at home, becoming a star student, a teacher's pet. "School was a place where I could be like everyone else."
That experience set the foundation for a career in education. In 2000, after two years in Winston-Salem schools, Watts came to CMS, where she quickly began to outshine her peers. She excelled as a language arts teacher. At 28, she was named principal of Mint Hill Middle School. Watts is upfront about her ambition; she was determined to climb the school system bureaucracy—and do it quickly.
In 2009, a call from then Super­intendent Peter Gorman altered Watts's professional path. Gorman asked her to take what CMS euphemistically called a "strategic staffing opportunity"—a job in a failing school. Watts saw the job, as principal of Bishop Spaugh Community Academy, as a challenge. At the time it was the lowest-performing middle school in the state. "That's where I kinda got my feel for this turnaround work," she says. "I think that is the year I discovered what I believe God put me here for. And it's this turnaround work and working with kids who grew up like I did."
When CMS and community leaders announced Project LIFT at West Charlotte in 2011, they did so with great fanfare. A marching band blared and thumped and stepped its way through the gymnasium. Watts sat in the audience and cried. She was overwhelmed by the generosity of companies like Belk, Wells Fargo, and Duke Energy as well as charitable organizations like Foundation for the Carolinas, the Leon Levine Foundation, the C.D. Spangler Foundation, and the Duke Endowment, which together pledged millions of dollars to help improve the graduation rate at West Charlotte.
In addition to the calendar changes, Project LIFT will issue laptops to 2,000 students in first through fourth grades to help teach math and reading. The program also plans to offer incentive pay to teachers who can prove substantial improvements in test scores. LIFT is modeled after successful educational reform efforts across the country, particularly the highly acclaimed Harlem Children's Zone in New York City. That program, founded by Geoffrey Canada, funnels money and attention to a 96-block area of the city rife with crime, poverty, and truancy.
Watts views Canada as a professional idol. "I YouTube him and watch him for fun," she says, offering an embarrassed laugh. And though she was drawn to Project LIFT's objective, Watts wasn't planning to apply for the top job. "I said 'no,'" she recalls. "I've changed jobs three times in three years. I need to stay put. My family—we can't do another transition." But her husband told her to reconsider. "He said—and I'll never forget this—'Denise, you could be just like Geoffrey Canada.'" Watts's ambition, coupled with her belief that God wants her to help poor children, drove her to apply.
She wasn't alone. Two hundred people sent résumés. Watts was an underdog.
"I would have sworn it was going to be someone from out of state who would come in and run this program," says Richard "Stick" Williams, president of the Duke Energy Foundation, which gave $5 million to LIFT. Williams was cochair of the group of philanthropists that came up with the idea of a public-private partnership and now provides oversight of the program. Williams believed the working group would be drawn to a candidate with a long résumé and an Ivy League degree. But Watts was impressive. "My gracious," Williams says. "Denise was one of the most passionate people we had ever seen." She was a unanimous pick.
On a Wednesday morning, students shuffle into Thomasboro Academy, off Freedom Drive on the city's west side. The bell rang a half hour ago but kids—wearing the school's uniform of navy blue polo shirts and khakis, and hauling brightly colored backpacks—still meander into the main office in a steady stream.
A bulletin board on one wall shows off student artwork. Messages, scrawled in magic marker by the older kids, offer encouraging words.
Dream big.
Never, ever give up.
We don't take no mess.
About 95 percent of the 800 pre-K through eighth-grade students who attend Thomasboro receive free or reduced-price meals in the cafeteria. Some come from violent families, where the children are abused or the parents fight with each other. Others don't have a home at all; they live in shelters or on the streets.
"Our kids are the most resilient kids I've ever seen," says Janette McIver, the school's principal. Her office is decorated with student artwork and memorabilia of her beloved Cleveland Browns.
McIver first met Watts in 2003 when they worked together at Mint Hill middle. The two bonded over their love for teaching. "We would literally go home and put our kids to bed and then go back over to Mint Hill and work until two o'clock in the morning," McIver says.
McIver developed such respect for Watts that she followed her to Bishop Spaugh and, later, into the Project LIFT zone. "I believe in what she does. She is a transformational leader." McIver says Watts has a unique ability to inspire and motivate teachers. "She convinces you that the change is what is needed, it's necessary, and whatever it takes, you jump in and go.
"If she walked in here today in front of my whole staff and said, 'We're all going to go outside and stand on our heads and turn each other around,' everyone would say, 'Let's go do it.'"
At times, it becomes difficult to separate Denise Watts from Project LIFT. Watts has taken on the mission so fully, so publicly, she is nearly synonymous with the effort. She works 70 or 80 hours a week. People wonder how she does it. Until recently, that was a motivator for Watts. She thrived off the praise others heaped on her for working so hard. But that changed after she attended a series of leadership seminars about balancing the personal and professional sides of her life. "I am done subscribing to the superhero façade," she says.
She pauses. The media center is quiet, except for the piercing beeps of a librarian scanning book barcodes. Watts talks about the time when one of her sons, 9-year-old Mitchell, asked why she never took him to tae kwon do. A big, lone tear rolls down Watts's left cheek.
"I was sacrificing a lot," she says. "My doctor said to me, 'You're going to save everybody else and you're going to die yourself or lose your own family in the process.'"
This is part of what makes Watts so appealing to both business leaders in uptown skyscrapers and to single mothers in threadbare homes off Beatties Ford Road—she's relatable. She doesn't have it all figured out. Despite the high-powered job, six-figure salary, and white Lexus, she's not pretentious or overly intellectual. "People expect me to be this kind of ice princess. I'm a real person and I don't try to hide that."
Watts believes her personality has helped earn at least partial trust from the community. She's knocked on doors, shown off pictures of her sons, and had iced tea in strangers' living rooms. She's listened to residents' stories.
"There is a distrust in the school system and lots of things have happened to cause that."
Like pencils and erasers, public education and race are so closely tied in Charlotte, it's hard to separate one from the other. From desegregation until 2002, CMS bused kids around the district to achieve racial balance in each school. In the late 1990s, courts ordered the end of that practice, and in 2002 CMS reverted to neighborhood schools, a system many people believe is de facto segregation. Within a year, schools in poorer neighborhoods, like West Charlotte, went from lauded to troubled.
Watts's "challenge is unbelievable," says Mary Nell McPherson, executive director of Freedom School Partners, a nonprofit that partners with Project LIFT. McPherson, a veteran of Charlotte nonprofits that serve impoverished neighborhoods, remembers the days when West Charlotte was a standout school. She's watched poor minority students fall behind while affluent white students pull further ahead. McPherson believes Watts can help close the achievement gap. "She doesn't make excuses for how we're failing our kids."
Superintendent Heath Morrison, who has worked in suburban, predominantly white districts as well as urban, largely black ones, is straightforward about the racial tension in CMS. But he's unwilling to assign blame. "I think we all are responsible for where our schools are and where they're going," he says. That's why Morrison has been such an ardent supporter of Watts's efforts to engage members of the west Charlotte community, to get them to buy into the initiatives. "I want them to feel like they have a voice," he says. "We all own the results of Project LIFT."
That attitude hasn't been popular with everyone, though. Plenty of people are skeptical of LIFT. "It doesn't address how these schools get in the shape they're in now," says Richard McElrath, a retired teacher who spent 33 years in CMS and now represents much of west Charlotte on the school board. McElrath believes LIFT will give students in his district a better education. But, he says, the initiative doesn't address the underlying causes of poverty. When the money runs out, the demographics in westside neighborhoods will be the same. "If you have economically segregated housing patterns, you're going to have economically segregated schools," he says.
Watts says some prominent members of Charlotte's black community have flat-out told her they want the program to fail. If it succeeds, Watts characterizes her critics as saying, "it's going to prove to Charlotte that it's OK to have segregated schools … because Project LIFT has proven that we can do that and still educate our kids at a high level." She's been cursed at, threatened, and told to go away. "I've had to get some tough skin and get over it," she says. "I think the kids who are in these schools deserve a chance and this is their chance. So why would we not take advantage of that opportunity?"
Watts says she knows the risks. In the short run, there's the possibility of getting fired for lack of progress. But there's also the deeper threat—the one Watts says she's more concerned about—of failing the students. Watts often loses sleep about the $55 million question: what if it doesn't work? What if test scores don't improve?
"There is valuable learning in failure," she says, using her teacher's voice—soft, but firm. It will be several years before the district has a firm grasp on LIFT's impact on test scores, though early indicators are encouraging. Students who participated in LIFT-sponsored summer tutoring last year can read better than their peers. And perhaps more importantly, nine out of every 10 children who received the extra attention say they enjoy reading more than before.
At the end of the five-year partnership, when the private money runs out, Watts hopes to have results strong enough to convince city, county, and state lawmakers to pick up the tab. She's savvy enough to know that's going to be a tough sell. "There's no new money. Budgets do not allow for new money."
She believes the program's benefits run far beyond test scores. She and others hope it is an incubator for ideas—like the calendar change and performance-based pay—that could revolutionize public education in North Carolina. "Philanthropy has always been a part of education," Watts says.
"Sesame Street derived from philanthropy. Kindergarten derived from philanthropy." What makes LIFT unique is the partnership among businesses, philanthropists, and the school district. "It's not just throwing money at the problem," Watts says. The $55 million investment serves two goals: paying for things that public budgets could never cover (like laptops) and giving people a reason to care.
"We're only going to be as great as we want to be as a city if we can make sure all kids are successful," she says. "The role that I have is to keep the marriage together. When you have people donating a lot of money, they want to see change happening fast."
This summer, when students drag their backpacks to class for the first time on a steamy July morning, Watts will be waiting to greet them. The calendar shift is the first major test for this grand experiment. It comes one-fifth of the way into Project LIFT, one year closer to the money running out. And then it will be Denise Watts's turn to be graded.
Adam Rhew is a reporter at News 14 Carolina and a regular contributor to this magazine.