Derby Day: 10 Charlotte Bars Serving Mint Juleps
Plus, a simple blackberry julep recipe you can make at home.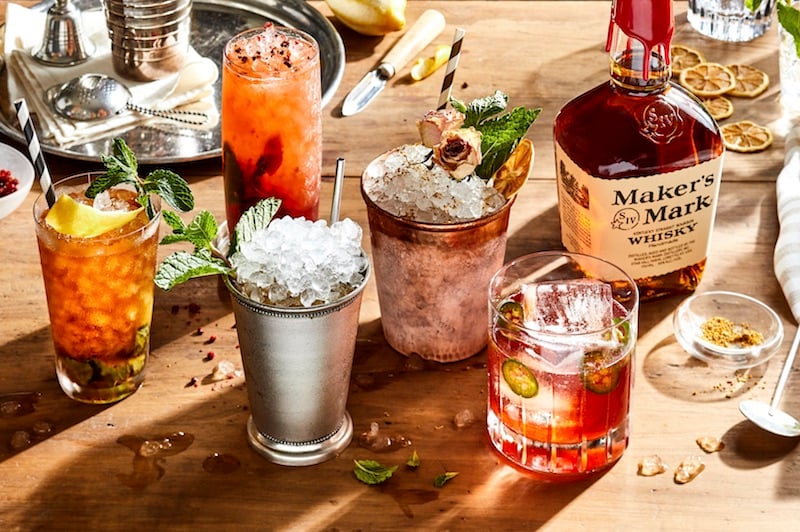 "The most exciting two minutes in sports" just got even more exciting in Charlotte.
The Kentucky Derby falls on the same day as Cinco de Mayo this year (May 5, for those lacking Spanish skills), and the party starts now. The official drink of the Kentucky Derby, as many know, is the mint julep—a sweet, refreshing concoction traditionally made with bourbon, mint leaves, sugar, and water over ice—and some of Charlotte's favorite bars are partnering with Maker's Mark to offer creative renditions on the Derby Day drink. These participating restaurants are also pledging to either go strawless or offer sustainable straw options instead of plastic straws. The #MintJulepMonth movement, launched by Garden & Gun, Maker's Mark®, and Bourbon Country®, is aimed at eliminating wasteful plastic straw use. Straws, interestingly enough, were invented in the 1800's to sip mint juleps; however, the paper straws of yesteryear have since been replaced by plastic ones, which contribute to heavy ocean and roadway pollution.
Be part of the solution and sip on a strawless mint julep this weekend.
Through the end of May, order one of the customized mint julep cocktails from its corresponding Charlotte restaurant listed below. These juleps may not be on the menu, so don't feel shy asking for the off-the-menu item—embrace the secrecy. These cocktails are available upon request and will undoubtedly make you feel like an insider when you order them.
For those who have Kentucky Derby plans of their own, we've also given you a twist on the classic cocktail recipe to whip up at home if you're hosting a hat-tastic soiree—just remember to think twice before serving with plastic straws. Metal or paper straws can be used as a sustainable option.
Derby Day: Where to Drink Mint Juleps in Charlotte
These Charlotte bars and restaurants have partnered with Maker's Mark to celebrate Mint Julep Month.
127 N Tryon Street, Suite 8; 704-919-1322
What they're serving: Fabulous for a julep first-timer, this version of the drink draws in fresh, floral notes. The bourbon is complemented by a house-made hibiscus cordial that includes sugar, vanilla, star anise, and orange peel. A mix of honey syrup is topped with mint and Maldon sea salt.
3106 N Davidson Street; 704-817-1084
What they're serving: Kentucky meets Carolina in Haberdish's twist dubbed the Carolina BBQ Cherry Julep. Inspired by Lexington, N.C., barbecue, this sip features fresh muddled mint, sweet-spicy black cherry shrub syrup, a generous pour of bourbon, shaved ice, and a bouquet of mint leaves to top it off.
131 N Main St., Davidson; 980-231-5000
What they're serving: Kindred brings playfulness to a refreshing rendition of the mint julep, eliminating bourbon. Their version features gin, lemon juice, Manzanilla Sherry, simple syrup, and a homemade muscadine grenadine. Blake Pope, the cocktail program's overseer, swizzles a handful of fresh mint into a chilled glass with ice, and the sweet drink is garnished with mint tops.
129 East 5th Street; 704-412-2616
What they're serving: Brave souls who love a good mouth-sizzle, step up to the Firecracker Julep. Uptown's go-to oyster spot has formulated a spicy version of the mint julep, with much of the kick attributed to the housemade firecracker syrup, which is blended from Szechuan peppercorns, mint, citrus, strawberries, and Serrano peppers. The sip also includes Peychaud's Bitters to accompany the bourbon and mint.
303 S Church Street; 704-455-2550
What they're serving: Take everything you love about the mint julep—the bourbon and mint—then add lavender accents to it. The uptown rooftop bar accomplishes this flavor by adding lavender syrup and Angostura bitters to the two base ingredients.
512 Brandywine Road, Suite 500; 704-503-9945
What they're serving: Offering a "true celebration of the South," The Julep from ROCKSALT has the two mainstay ingredients, plus a special one: bacon-infused maple syrup.
715 Providence Road; 704-372-8110
What they're serving: This Italian restaurant named its Beduino Mint Julep after a strong racehorse, Beduino, bred in Mexico. To pay homage to the original Beduino (now in the American Quarter Horse Hall of Fame), this drink combines classic mint julep characteristics with aged tequila. With muddled mint, blackberries, a dash of honey, and a splash of soda, Stagioni's rendition of the Derby Day drink sounds like a good bet.
330 N Tryon Street; 980-939-1166
What they're serving: While we're not sure what else the drink entails, Duckworth's version of the classic cocktail promises to use bourbon, fresh mint, and sugar "to provide the perfect balance between sweet and boozy," so it can't be bad, right?
127 N Tryon Street, Unit D; 980-260-3227
What they're serving: Make sure your phone is close by for this one—you're going to want to snap some pictures. The bourbon-based drink from Sophia's Lounge marries lemon with blackberry simple syrup. Then, the cocktail is encapsulated under a glass dome with smoking dried mint leaves—an olfactory experience worth catching on camera.
100 W Trade Street; 704-353-6005
What they're serving: With rye in place of bourbon, the East West Julep from Stoke spices up the old favorite with muddled ginger, mint, and honey syrup.
Blackberry Mint Julep Recipe
Ingredients:
1/2 ounce simple syrup
4-5 small mint leaves (or 2 large, torn)
2 1/2 parts Maker's Mark® Bourbon
1 ounce blackberry puree (see below)
Blackberries and mint leaves for garnish
Blackberry Puree Ingredients:
2 6-ounce containers of blackberries
1-2 tablespoons of water
For Blackberry Puree: Place blackberries and water in a high powered blender and blend until smooth. Pass through a fine mesh sieve using the back of a spoon to coax the mixture through the holes. Discard seeds and pulp.
Place simple syrup and mint leaves in the bottom of a julep glass or a double old fashioned glass. Muddle gently to release the oils of the mint, but do not shred the leaves. Add Maker's Mark and blackberry puree. Stir gently to combine. Fill glass with crushed ice and stir until sides of glass are nice and frosty. Top with more crushed ice and garnish with a mint leaf and a few blackberries. Serve!