Derek Braun's Moving to Vegas and Wants You to Go out More in Charlotte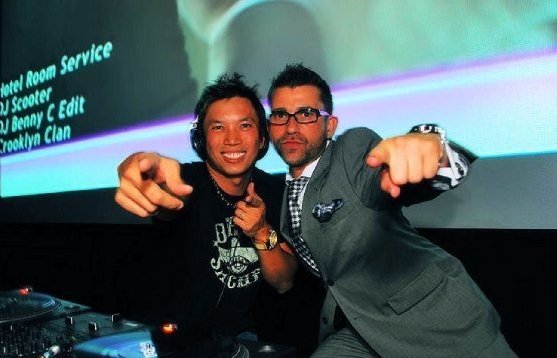 Derek Braun has been a go-to party promoter in Charlotte for several years. Chances are you've danced, drank, and had a good time at one of his events. For the past year and a half, he's handled the parties and special events exclusively at Mez and Kazba, the neighboring venues inside the EpiCentre. Last weekend he threw a Mustache Party, and the weekend before a Candy Land event in which Mez was decorated to look like the iconic board game (except with sexy models included).
But this Saturday, August 6, 9 p.m. at Kazba, there's the "Derek Braun's Moving to Vegas Party." Yep, the guy is taking his talents to Sin City. But before his big party and big move, I talked to him to find out what his plans are in Las Vegas, what he thinks of the competition between local nightclubs, and how he believes Charlotte's nightlife has changed in recent years.
Why are you moving?
I'm moving to Las Vegas to open a booking agency for DJs and other talent, called Sounds of Anarchy Agency. I'm basing it out of Las Vegas just because it's easier to do bookings out of Vegas as opposed to out of Charlotte. I'll have a group of, when we get up and running, probably twenty to thirty DJs and we'll place those DJs at nightclubs around the country. At the same time, I'll keep my promotions company, DBraun Promotions, and continue to do promos in Charlotte and other cities, too.
Is there a market for that kind of booking agency?
I've been doing it without being an agent for years. I had an exclusive contract with Mez and Kazba, they hired DBraun Promotions to do all of their marketing and promotions for the last year and a half, almost two years. It was time to do it; I've wanted to do it for awhile now. And I was planning on moving to Vegas anyway. So I just went ahead and pulled the trigger on it. The Sounds of Anarchy is just a spinoff of the promotions company. Doing promos the last six or seven years, people keep wanting me to book them DJs. It's a legitimate other side of the business, being an agent for all these DJs—handling their calendars, their travel, the contracts, getting them placed in clubs around the country; not just Vegas. I just feel like I need to be based out of a bigger city to get more business.
How did you get started in the nightlife industry?
I've lived in Charlotte for about twenty years, and about six or seven years ago started doing parties. I had a friend, DJ Rowshay, who'd just started in the DJ business. He wanted to get his name out there, so he was like, "Let's start throwing some parties. Use me as the DJ and you do the parties and we'll get started in the game." So that's what we did. Then I did the big, controversial social club called The Beautiful Club, which got national attention with FOX News and went all across the country (click here to watch the FOX News segment from 2007 in which Shepard Smith interviews Braun). That kind of blew up things big time for me. And then I worked with nightclubs around Charlotte, and other cities started using me to do their promos and do nights for them. In Charlotte, I've done parties at Sunset Club, The Men's Club, HOM, Mez and Kazba—I did their exclusive deal; Suite and Whisky River, and just about every club in Charlotte. It started out as something sort of part-time and for fun. Then it blew up into a real business.
I imagine your business has grown since there are so many more nightclubs in Charlotte compared to when you started.
Five or six years ago, there were only a few clubs around. That was before the EpiCentre became what it is today. There, you got four or five clubs in one spot. It started bringing more people downtown. I've brought a lot of promos from bigger cities to Charlotte—some of them have worked really well and some of them haven't worked as well as I would like because people aren't used to some of the crazy things I've done in the past. But it's been good. I still plan on coming back once a month to throw some unique parties in Charlotte. I'm not going to leave something I've built up.
What do you think of the increased competition in nightlife?
I bring uniqueness. Every party I've done has either never been done before in Charlotte or if it has been I've taken it to another level. And I bring that to the clubs I do bookings with. EpiCentre is the 800 pound gorilla nobody can beat. It's in the middle of Charlotte, it's got other things to bring in people—it's got restaurants and it's all within walking distance. [N.C.] Music Factory is a good venue too. It's just a little bit out of the walking distance that people like in uptown. Then you have Phoenix and RE:PUBLIC and all them [on College Street], and that's a good area too. That was the king of Charlotte for awhile before the EpiCentre came and kind of took that business away from them. Now they've remodeled and are trying to get it back. The EpiCentre still has more nightclubs slated to be built. You have Bubble coming up. So they're battling back and forth for the crowds. But what Charlotte really needs is for more people to go out, so all the clubs can do well. I don't want to see my parties or one particular club take somebody's business. I don't like to see that. What I'd like to see is more people living downtown or going downtown to support all of the nightclubs.
What challenges do you face in promoting parties?
The biggest party issue is that during the week there aren't a lot of people in Charlotte who go out. The only people really going out during the week are the college kids, because they're in college and every night's a party for them. What's tough is that Charlotte is basically a financial city and the financial guys do have the money for the upscale clubs—like Mez and Kazba, that don't do a college night—so they're slower during the week. But they're successful in taking the higher-end crowd, that everybody wants, on Friday and Saturday because that's when more of the adults go out. In bigger cities you have more tourism and more people who are into going out during the week. That's what I really wish Charlotte had.
The concept of bottle service has exploded in Charlotte the last few years.
I would say, probably, Suite, when they came into the market three years ago, they're pretty much the ones that really kicked off bottle service. They had them at the tables. Other clubs, in the past, didn't do as good a job with it. They would keep your bottle behind the bar and serve drinks from there. They didn't have them at the tables. The club HOM, which was a few years back, along with Suite are probably the two clubs that got tableside VIP going in Charlotte. Forum did it pretty good in certain areas too. Those were the ones to bring it here, then everybody followed suit.
With bottle service comes the need for a more affluent clientele who can afford it. How do you attract them?
VIP is two things. One is you have your own bottle there and your own server. But it's also about who's who. The VIP table is about status. People are willing to pay $400 or $500 for a bill, and most of those people have money and they want to be seen. Everybody knows what it costs so it's like a "Look at me" thing. It's also about not having to deal with the crowds and not having to go to the bar. It's status and convenience. The $400 or $500 people are paying is bargain basement. In other cities like Miami, New York, Chicago, and Vegas, with a big DJ playing, tables go anywhere from $5,000 to $20,000. It's funny in Charlotte that sometimes people are like, "Oh my god, a $500 table. There's no way I'm paying that." I think everybody should have to party in a bigger city first and realize how good we have it here in Charlotte with VIP.
What has been your most memorable party?
The most memorable would be one of my first ones when we had The Beautiful Club. We had a Pink Party (to support breast cancer) at the courtyard at Hearst Tower. And we had about 1,000 to 1,200 people all dressed in pink. I had the Hearst Tower lit up in pink and a lot of the buildings around it. The DJ was outdoors. It was such a huge event that we ended up getting shut down at 12 a.m. by the police. For my first year throwing big parties, that was definitely a memorable one.