Design Discussion with Caleb Clark of Enemy to Fashion
Chatting with Caleb Clark, the creative force behind vintage-chic line Enemy to Fashion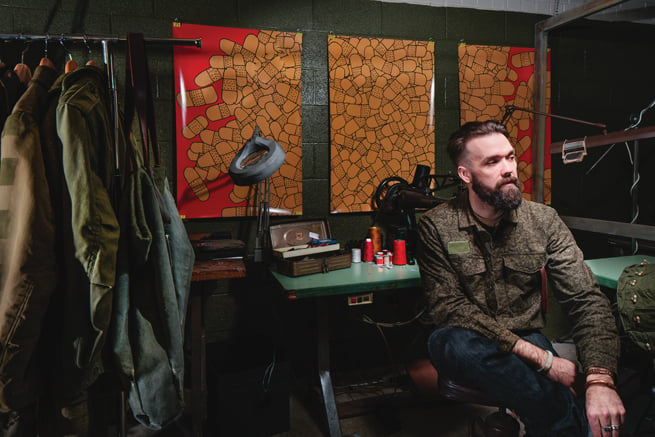 Five years ago, Caleb Clark, 32, was growing restless in his desk job as a creative director for a NASCAR management company. He wanted to get more hands-on with his creativity. He retrieved an old industrial sewing machine from storage, gathered some vintage fabrics, sewed 20 bags, and posted them for sale on his blog. By lunchtime the next day at work, he had an email from PayPal saying that he needed to restock. His fashion line, Enemy to Fashion (enemy2fashion.com), was born. In 2012, he left his job to focus on Enemy to Fashion and Weapon Collective, a creative services firm that he also founded.
Where do you find inspiration for your bags?
I always look to the past for advice and inspiration. I collect vintage clothes and have a thing for vintage military. To me, it shows respect to reuse battle-worn fabrics, rather than discarding them. I buy all the military fabrics at auction; I literally buy a ton of it and then send it to a washhouse before putting it into the manufacturing process.
What is your typical day like?
I spend about 40 percent of my time managing Enemy to Fashion and the rest on my design firm, Weapon Collective. I get up at about 5 a.m. and come down to my studio to work, take a break to take my son to school, and then work until dinner. I typically come back in the late evening until about midnight and get up in the morning and do it all again.
Where is the line available locally?
The bags will be available at Silverfly (1111 Metropolitan Ave., 980-819-7216) beginning in March and Boris + Natasha (1214 Thomas Ave., 704-375-0079). For us it's
not about the sales, it's more about the relationships. I only work with people I love.
What is your most popular bag?
We've done really well with the helmet bag pattern (pictured), but we are going to phase it out in 2013. We've probably made 10,000 or more. Bags retail anywhere from $200 for the helmet bags to $1,400 for large leather bags.
What's next for Enemy to Fashion?
We are doing a sale with Fab.com in March, including limited-edition bags that will be available exclusively on the site. The bags will feature special materials that we have curated for Fab and will be sold at a discounted price. We are also starting a new line, called Trophy Athletics, focusing on fleece and knit sportswear.