Design Lab
With a nod to Hollywood glamour and midcentury modern design, designer John Bossard reworked his 1960s Myers Park apartment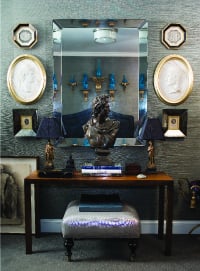 For some men, their home is a castle. For John Bossard, it's a laboratory. The Georgia native spent years working with high-profile interior designers and clients in New York and abroad before returning to the South to launch his own business, the Bossard Design Group, in 2005. And when he took an apartment in the Queens Tower Condominiums, he found the perfect place to experiment with his personal style.
Bossard was instantly sold on the building's 1960s façade. "It reminded me of midcentury architecture of L.A. and Palm Springs," he says. "Everything else in Charlotte has been built to look like a Georgian castle. This building strays from the mold—just like me."
The interior, however, was another story. With architecturally unimpressive white walls and generic wall-to-wall carpet, the 1,500-square-foot space was every bit a blank slate. "It couldn't have been plainer," says Bossard. "There was nothing terribly inspirational about it. I had to bring everything to the table."
But Bossard was more than up to the challenge. Drawing on the influences of his favorite decorators, Billy Baldwin, Albert Hadley, and Mark Hampton, he spent the next two years experimenting with color and texture, pattern and scale. He scoured vintage shops, flea markets, and antique stores for pieces in the neoclassical European style he loves; the remaining furnishings are either custom made or gifts. "The process was more about adding and editing than taking away," Bossard says.
The result is an eclectic mix as unique as the designer who created it. "Everyone who comes to visit says my house looks like me: sophisticated and collected." Although his work still requires him to travel often, Bossard says it's always a great comfort coming home now. "I treat my home like a New York apartment," he explains. "It's definitely a place I can retreat. That's how I treat Charlotte, as a matter of fact. It's a respite for me."
And although there's nothing about the place that he would willingly change, Bossard says he would do the entire project over again, given the chance—if only for the opportunity to see what else he might mix up in the lab.