Designer Curates Georgian Home
For Cathy Austin, a passion for art and color shines through in her brick Georgian home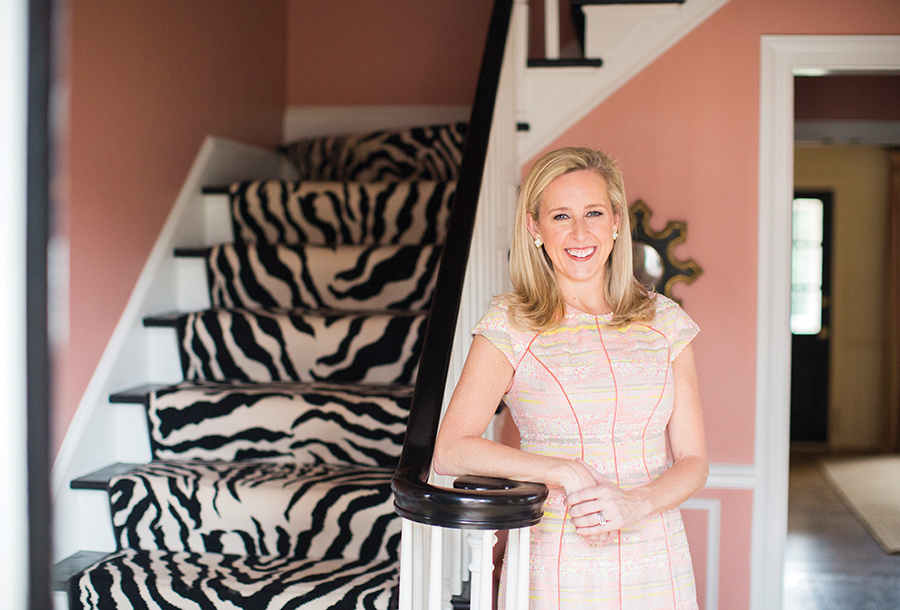 How would you describe your personal design style?
Curated and colorful, tailored, and very personal. Our house really does tell the story of our lives, so I want every item to have some sort of value. It feels very collected—everything from a small painting given to me by a college professor as a wedding gift to a Chinese Chippendale table that I inherited from my grandmother… even furniture that I designed and had custom-made for our house.
What's your favorite piece?
I have two. My background is in art, so my favorite pieces are artwork. One is a painting I had commissioned by this adorable artist out of New Orleans named Amanda Talley. It's the focal point of our library, which I absolutely love. My other favorite is a small modern painting I picked up at the Paris flea market. This fabulous little painting was done by Maurice Morel, who was one of Picasso's contemporaries—they painted in the same circles. It was really fun to discover. I was a French and English major with a concentration in art history, but I hadn't used French in a really long time. Trying to glean information from this dealer, learning more and more about the painting—the whole experience was really fun.
And how about your favorite space?
I really love our dining room. I had worked with one of my favorite local artists, named Terry Reitzel, to create a mural. I didn't want a super-busy traditional mural for our dining room; I wanted something that was more spare and modern in feeling, with a lot of negative space. He had these huge canvases stretched and painted in his studio, which were installed onto the walls in our house. He would come back and connect it so the branches of cherry blossoms would run around the corners. Working with him was really fun, and I was over the moon by how it turned out.
What's your approach to color?
When we were trying to figure out the design of this house, I wanted to find one unifying concept that went through everything. Our entry hall is a dirty-pink color, and David Hicks, a designer from the 1960s, used this color a lot. I ended up having this dirty-pink color in everything that I had—a spark of it was in a painting, a little bit in a rug—and it ended up being a great unifying concept. We're always going in and out; this is the central hall of our house, and it just brightens everything up. It's a bold use of color, but it really does tie all the other rooms together.
How does your home reflect your personality?
I'm not afraid to take risks for myself. I treat my own house like it's my own little design lab. I use a lot of different techniques and styles so when clients come over, I can show them, "Oh you don't need to be afraid of an animal-print stair runner. Here's what it looks like in my house!" or "Yes, you can use a bold color in your entry hall—it doesn't need to be a safe tone-on-tone stripe," or even something so small as painting the inside of your bookcases. That's something so small and so easy, but people can be scared of something if they've never seen it before.
Where are your favorite places to shop for things for your house?
Locally, I love Circa Interiors and Antiques. They have a great mix of everything. For trade [interior designers only], I love Darnell & Company. I also love shopping on 1stdibs [1stdibs.com], and Sotheby's arcade sales are a great way to get one-of-a-kind items. And when we travel, we always try to go to the flea market, especially the Marché aux Saint-Ouen in Paris.
Editor's note: Read more about the cherry blossom mural on Cathy Austin's design blog, "Bespoke Banter," bespokebanter.blogspot.com.